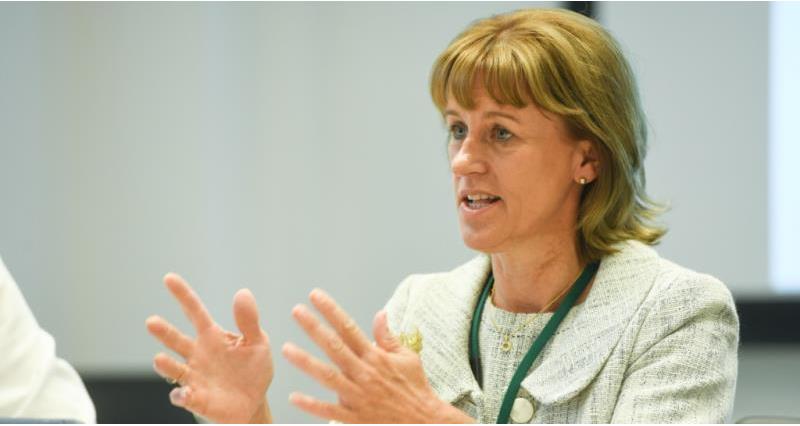 Above: NFU President Minette Batters pictured at the UK Farming Unions' Farming Brexit Roundtable in September 2018
The NFU is seeking an urgent meeting with the highest level of Government, after the lack of progress at the EU Council meeting on Wednesday night.
NFU President Minette Batters said that the uncertainty now facing farmers and growers is hugely damaging, reminding Government that this is a sector that produces the raw ingredients for the UK's largest manufacturing sector, food and drink.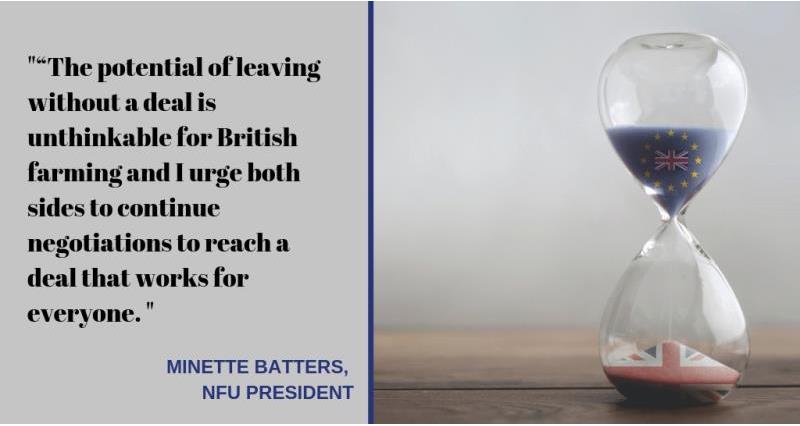 Mrs Batters said: "More than two years on from the EU referendum, farmers and growers are still faced with considerable uncertainty around what the future will look like for their businesses.
"From a new EU trading relationship to how businesses will be able to recruit a competent and reliable workforce, the lack of clarity and current timescales are now seriously undermining farming's ability to plan ahead.
"Understanding the trading environment you are operating in is vital to any business. For long-term businesses like farming, it is completely unacceptable. Farmers are having to plan now what they will produce and where it will be sold. To do this without any awareness of what the trading environment will be is impossible.
"It is vital to both the UK and the EU that a deal is reached which allows the food and farming sector to have a viable future. The NFU has maintained that free and frictionless trade is central to that. This trading relationship allows British farmers to provide safe, traceable and affordable food to the public, all while adhering to some of the highest animal welfare and environmental standards in the world.
"Farmers deliver for our economy, providing jobs and driving growth in rural communities. We provide the raw materials for a domestic food industry that employs 3.8m people and generates £113bn in value for the UK economy.
"The potential of leaving without a deal is unthinkable for British farming and I urge both sides to continue negotiations to reach a deal that works for everyone.
"I am now seeking an urgent meeting with the highest levels of the UK Government to stress the urgency of the situation now facing us."
Brexit milestones: NFU work pre and post the Referendum, 2015-17
1 July 2016
Extraordinary meeting of NFU Council which agreed the principles on which the NFU will base their vision for key policy areas, including trade, access to labour and domestic agricultural policy.
29 June 2016
NFU sector board chairs set out their priorities as a reaction to the vote.
26 June 2016
EU Referendum vote and result – UK votes to leave the EU.
April 2016
NFU presents its Wageningen Report to thousands of NFU members at roadshows across England and Wales. Members quiz expert panel.
24 February 2016
NFU hosts an in/out debate as part of its annual conference with more than 1,300 delegates.
October 2015 to June 2016
NFU hosts scores of branch meetings, debates and events across England and Wales.
September 2015
NFU writes and publishes report: UK farming's relationship with the EU and makes copies available to all members.