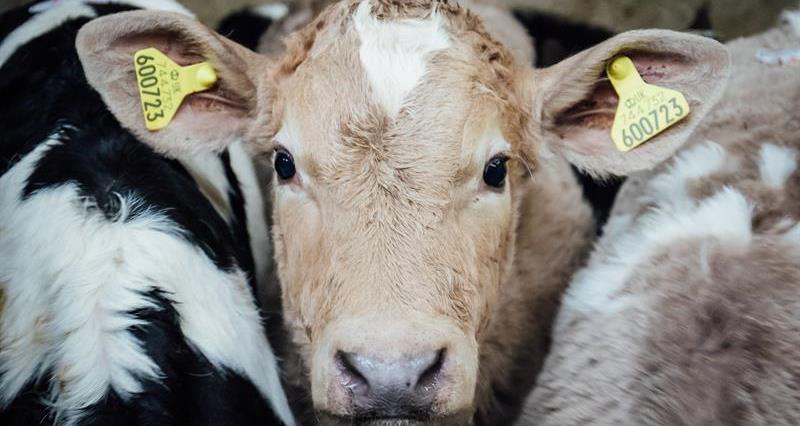 The NFU's policy and commodity advisers are working to provide up to date advice on the issues impacting the livestock sector as a result of the coronavirus outbreak. This page will be updated as and when information is available.
Page updated: 28 April
Beef markets
Pre COVID-19 the UK all prime cattle average was around 335p/kg which was marginally below the 2019 price, and around 20p/kg below the 2018 price but remained within the calculated five year average. The UK beef price had been steadily regaining some value to reach some degree of stability. However, week ending 18 April prices fell sharply and 8p/kg was taken off the UK prime cattle base price and 15p/kg for young bulls. The situation for cull cows had also seen some stability averaging 233p/kg but again prices came under significant pressure resulting in a dramatic fall in the last two weeks. The cull cow price for w/e 18 April is now averaging 209p/kg.
Beef and cull cow prices have both felt the effects of the closure of food service markets. The demand for mince is putting significant pressure on carcass balance. By mincing a very small % of higher value cuts the change to the base price can be significant.
Sheep markets
Pre COVID-19 the GB liveweight lamb SQQ had been on a steady upwards trajectory since November last year with prices averaging 242.8p/kg well above the five year average. The GB OSL deadweight SQQ was also demonstrating steady growth to reach an average dwt price of 530.9p/kg which is around £1 above the five year average. On Monday 23 March several large lamb exporting abattoirs began turning away lambs and as a result the liveweight lamb price dropped over 20p/kg and many went unsold at markets. The GB liveweight OSL SQQ lost a further 18.6p, to average 202.15p/kg in the week ending 1 April. In the last two weeks the OSL price has lost 47.9p/kg. Cull ewe prices were also down by £30 to average £60/head.
Since then the market has regained some stability with demand increasing slightly in Europe and due to Easter. Throughputs are relatively low at the moment due to time of year and reduction in the number of livestock market open. Due to it being a high value product and consumers uncertainty to cook lamb it's likely that prices will not stabilise until the return of food service in the UK and Europe. To read more about the sheep market click here.
Retailer meetings
During these unprecedented times where food service has come to a grinding halt and we are left with retailers being our only route to consumers, National Livestock Board Chairman Richard Findlay wrote to retailers to remind them of their responsibility and commitments to Back British Farming. To read the open letter click here. Following this, the Livestock and Foodchain teams have had meetings with individual retailers to discuss what they can do they help promote British meat. Chief food chain adviser Christine McDowell explains why carcass balance is the key to unlocking fairer returns for producers here.
AHDB
The AHDB have launched a new promotion to encourage and inspire consumers to cook and enjoy the perfect steak at home. They have a recipes and advice for how to cook the perfect steak and are asking you to get involved by sharing your top tips on social media. For more and to access their information and infographics click here.
Fallen stock
During the coronavirus pandemic the rules have not changed on the disposal of fallen stock. Farmers are not allowed to bury animals on farm, they must be disposed of through a knacker yard, hunt kennels, maggot farm, incinerator or renderer. Your local knacker yard may not be open for drop offs so please call ahead and they will come and collect. If you do not have an outlet you may choose to contact the National Fallen Stock Company (NFSCo) who will be able to put you in contact with your local fallen stock collector. The NFSCo is a membership organisation but membership is free. You can call their office on 01335 320014 to activate your membership. If you end up with other peoples fallen stock on your land it is your responsibility to dispose of it unless you can track down the owner. If you have an ear tag for the sheep you can call APHA on 03000 200301 and they will assist you.
Sheep shearing
Around 20% of the labour force who shear sheep in the UK come from overseas every year, as this may be a difficult resource to access this year the National Association of Agricultural Contractors (NAAC) have set up an online matchmaking service to help connect shearers and sheep farmers as well as a check list to make sure social distancing measures are maintained whilst shearing over the summer months. For more click here.
Red Tractor inspections
Red Tractor has announced that they intend to do remote inspections for new applicants and those who wish to maintain their Red Tractor status. Farmers will be able to upload their documents through the Red Tractor online portal; members will then have a virtual assessment using numerous different technologies. Those that have a successful virtual assessment will not require an additional physical assessment outside of their normal audit. For more information please click here.
Livestock auction markets
The initial guidance that prevented livestock auction markets from holding breeding sales has been revisited by the LAA and Defra. They have agreed that due to people adhering to the previous social distancing rules it will be safe for auction marts to open for breeding sales again from Monday 27 April. This will not include bull sales or other sales that might attract large numbers of people. To see the full statement click here. Rules for buyers and vendors are below:
Buyers
Markets will enforce buyer restrictions to allow for social distancing, not allowing more people at the ringside than the 2m gap allows.
Markets strongly advise purchasers to 'double up', with one person to buy for multiple clients.
All purchasers must register with the market and only 'known' purchasers will be given access to the market.
Markets will ensure that the highest hygiene prevention measures are in place.
All potential 'gathering' points WILL be prevented and all cafes, mobile units etc WILL be closed.
Markets will keep a register of those that attend their sales – contact name, address and telephone number.
At the conclusion of the sale buyers will be asked to enter the sales office in a way that does not result in too many entering at any one time.
Buyers will be asked to sanitise on entry to the market and again on exit.
Vendors
Markets will implement a 'drop and go' policy for vendors to prevent any sellers from entering the market.
Vendors MUST remain in their vehicles when they arrive at the market, the market staff will unload the vehicle at the loading dock, and the vendors vehicle must then leave the mart site immediately.
The sale documentation will be collected by the market staff from the vendor's vehicle when they arrive at the unloading docks – vendors MUST NOT take the paperwork to the market office, or enter the market pennage area for any reason.