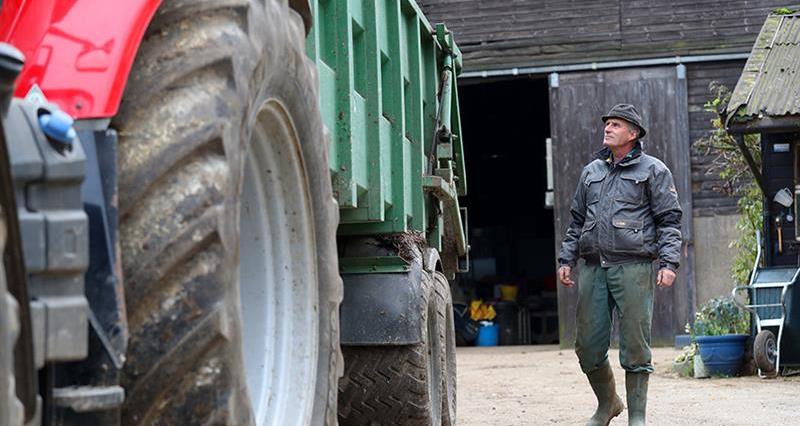 The NFU's policy and commodity advisers are working to provide up to date advice on the issues impacting members as a result of the coronavirus outbreak.
On this page you'll find details on self-isolation and how that translates on farm, tips for staying at home, lone working and farm safety advice during the COVID-19 pandemic.
This information will be updated regularly and more detailed briefings on some of the topics are below or will be published in due course.
Last updated: 30 July 2020
Looking for more advice? These pages contain more information related to COVID-19:
Government support for businesses Farm business concerns Public rights of way Fly-tipping Environment and rural issues Supply chain issues
What is the government saying about self-isolation?
All persons displaying symptoms of coronavirus should self-isolate and stay at home.
What are the symptoms?
The most common symptoms of coronavirus (COVID-19) are recent onset of:
New continuous cough and/or
High temperature 37.8°C or above
For most people, coronavirus (COVID-19) will be a mild illness.
How long do I need to stay at home if I have symptoms?
Anyone with symptoms should stay at home for at least 10 days.
If you live with other people, they should stay at home for at least 14 days, to avoid spreading the infection outside the home.
After 14 days anyone you live with who does not have symptoms can return to their normal routine.
But if anyone in your home gets symptoms, they should stay at home for 10 days from the day their symptoms start. Even if it means they're at home for longer than 14 days.
What if I'm over 70, or have a long-term condition, are pregnant or have a weakened immune system?
If you live with someone who is 70 or over, has a long-term condition, is pregnant or has a weakened immune system, try to find somewhere else for them to stay for 14 days.
If you stay at home together, try to keep away from each other as much as possible.
What if I still have symptoms after seven days?
After seven days, if you no longer have a high temperature you can return to your normal routine.
If you still have a high temperature, stay at home until your temperature returns to normal.
If you still have a cough after seven days, but your temperature is normal, you do not need to continue staying at home. A cough can last for several weeks after the infection has gone.
Use the NHS 111 online coronavirus service 111 if
You feel you cannot cope with your symptoms at home
Your condition gets worse
Your symptoms do not get better after 10 days
Only call the telephone 111 number if you cannot get help online.
---
Tips for staying at home
It's important to stay at home to stop coronavirus spreading.
Do
Try to keep at least 2 metres (3 steps) from other people in your home, particularly people over 70, or those with long-term health conditions
Ask friends, family and delivery services to deliver things like food shopping and medicines but leave them outside
Sleep alone, if possible
Regularly wash your hands with soap and warm water for at least 20 seconds
Drink plenty of water and take paracetamol to help with your symptoms
Don't
Have visitors (ask people to leave deliveries outside
Leave your home, for example to school or to public place
More information and advice is available on the NHS website and on the Gov.uk website.
---
NHS Test and Trace - what does it mean?
NHS Test and Trace is intended to help move the country out of lockdown for all and towards more targeted measures to control COVID-19. It is intended to find people who have come into contact with those infected by COVID-19 and so help stop the spread of the virus.
Similar schemes will apply in Wales and Scotland.
What should I do if I develop symptoms of COVID-19?
There is no change to the current guidance for people who develop symptoms of COVID-19. Symptoms of COVID-19 are a persistent cough, fever or a sudden loss of taste or smell. If you develop these symptoms you must self-isolate for seven days and the rest of the household self-isolate for 14 days from when you started having symptoms.
The new step is to ask for a test. You can do this online by clicking here or by calling 119 to arrange a test.
What happens if the test is positive?
If you get a positive result:
Complete the remainder of the seven-day self-isolation period.
Any one in your household should complete self-isolation for 14 days from when you started having symptoms.
The NHS Test and Trace team will get in touch with you either by text, email, or a phone call within 24 hours with instructions as to how to share details of people you have been in close, recent contact with and places you have visited. It is important that you respond quickly so that appropriate advice can be given to those who need it.
I have been contacted by NHS Test and Trace-what does this mean?
If you are contacted by NHS Trace and Test it means you have been identified as having been in close contact with someone who has tested positive for COVID-19. You will be asked to self-isolate for up to 14 days, depending on when you last came into contact with the person who has tested positive. It is important to self-isolate for 14 days even if you do not feel unwell as the symptoms can take up to 14 days to develop. Your household does not need to isolate with you
If you go on to develop COVID-19 symptoms you should contact the NHS and arrange for a test to be carried out.
---
How to deal with self-isolation on farm
Self-isolation may help keep you physically well but mental wellbeing is important and a prolonged period of isolation can have a detrimental effect on mental health.
Here are some ideas to help you deal with self-isolation and help keep you mentally well:
Eat healthily and avoid constant snacking on sugary and salty snacks.
Exercise regularly and wherever possible get outside for some fresh air even if it has to be just the garden. If you can't get outside things like bird watching from the window or tending to house plants can help to add variety to routines and keep minds active.
Establish and keep to a routine to help get things done and give a sense of achievement having done so.
Avoid looking at a screen all day whether it is for work or pleasure. Too much blue light from screens can be disruptive to sleep and wellbeing.
Stay connected. Just because you may be self-isolating does not mean that you have no contact with the outside world. Use the phone, email, Facetime or Skype to keep in regular contact with friends and family. Regular social contact will be good for you but will also benefit whoever you are talking to as well. Keep in touch with neighbouring farms so that you can have the opportunity to talk with people who can relate to the situations and issues you may be facing.
Limit news intake. The World Health Organisation says: "A near-constant stream of news reports about an outbreak can cause anyone to feel anxious or distressed. Limit news updates to certain times and use trusted sites such as the NHS and Gov.uk to get information and guidance on how to cope with coronavirus."
Advice from people who understand farmers and farming is available from the FCN on 03000 111 999.
---
What help and support can I get?
The Farming Help Charities – Addington Fund, Farming Community Network (FCN), Forage Aid, Royal Agricultural Benevolent Institution (R.A.B.I), and Royal Scottish Agricultural Benevolent Institution (RSABI), supported by The Prince's Countryside Fund - are working together to support the farming community during the current coronavirus (COVID-19) outbreak.
The charities say:
We recognise that this could be an anxious time for many farmers and farming families and periods of poor health or self-isolation may result in temporary practical difficulties on farm.
In conjunction with The National Federation of Young Farmers Clubs and The National Farmers Union, we can offer the following help.
Utilising our Farming Help helpline (operated by FCN) and respective organisations / volunteer networks, we can offer the following local support.
Call our helpline on 03000 111 999 if you:
Feel concerned or anxious and would like to talk to someone who understands farming, will listen to you and help you think through your options.
Would like help to draft a contingency plan to ensure you and your farm are prepared, should you be unable to work for a time.
Become ill or are self-isolating and cannot find help locally from friends or neighbours. We can discuss an individual plan to try and find you help with feeding livestock, shopping, or collecting prescriptions. In this instance we will need to share your details with our wider networks and ensure that we follow guidelines to protect you, our volunteers and to prevent the spread of infection.
---
Lone working
It is vitally important that you consider your safety when lone working. Please see the NFU guidance for more information.
---
Beware of scams
The NFU is aware that some members have been targeted by fraudsters who are using the COVID-19 pandemic as an opportunity to set up scams.
Click here to find information on current identified scams, tips for cyber security and how you can protect yourself from fraud.
---
Farm safety
For some people, respiratory protective equipment (RPE) will be a key part of PPE during the COVID-19 outbreak, therefore it is important to ensure that such equipment is fitted correctly.
The NFU have provided advice on how to use respiratory protective equipment correctly.
---
Health and safety guidance for the workplace
The government has set out general guidance on dealing with health and safety issues in the workplace in relation to coronavirus, as well as food business guidance and more recently, sector related guidance. Amongst other things the first two sets of guidance covers items like:
the wearing of masks (which the government does not recommend outside heath care settings)
social distancing in the workplace wherever possible
the need for frequent hand washing for 20 seconds
procedures for dealing with staff who become ill while at work
advising staff who become unwell at home with coronavirus to not come into work and follow government stay at home guidance
frequent cleaning of objects and surfaces with cleaning products
strategies like shift working, staggering of processes and use of fixed working groups (cohorts).
The sector specific guidance in its section on outdoor working and farming advises that:
Where it is not possible to follow the social distancing guidelines in full in relation to a particular activity, you should consider whether that activity needs to continue for the business to continue to operate, and, if so, take all the mitigating actions possible to reduce the risk of transmission between staff.
If a 2 metre distance cannot be maintained, staff should work side by side, or facing away from each other, rather than face to face if possible.
You should communicate to all staff that they should wash their hands with soap and water for 20 seconds or more and more frequently than normal.
If workers have to share enclosed spaces such as the cabs of vehicles, they should keep the window open for ventilation and they should be careful to avoid touching their face at all times. On leaving the enclosed space, they should wash their hands with soap and water for 20 seconds or more or use hand sanitiser when they cannot wash their hands.
If customer-facing, you should consider how you can safely sell your products or services without encouraging crowds and ensure hygiene measures are in place. This could be done by taking orders online or by telephone in advance and pre-packing orders to limit face-to-face time, or considering delivery services if possible. When interacting with customers, you should maintain a 2 metre distance as much as possible.
To protect your staff, you should remind colleagues daily to only come into work if they are well and no one in their household is self-isolating.
Farming: visiting farms for animal health and welfare
Farming and maintaining animal welfare are important and can continue if done in accordance with the social distancing guidelines wherever possible.
If you provide services such as sheep shearing, sheep dipping and foot trimming to different farms it is not possible for workers to stay 2 metres apart at all times.
You should communicate to all staff that they should wash their hands for 20 seconds or more and more frequently than normal, and always when arriving at or leaving a farm or premises, or use hand sanitiser when they cannot wash their hands. They should be careful to avoid touching their face at all times.
You should arrange work so that you and colleagues can frequently clean and disinfect objects and surfaces that are touched regularly, using your standard cleaning products. This should be done both during the working day and when moving between premises.
Wales
In Wales, the government have decided to introduce a legal duty with regard to social distancing which will apply to any workplace, including homes, where work and repairs are being undertaken and outdoor spaces. These regulations mean that all businesses will have to take all reasonable measures to ensure the 2 metre rule is maintained between people on their premises whenever work is being carried out. The guidance recognises that there are some workplace settings in which this distance may not be possible to maintain all of the time and in this situation, it makes clear that other measures should be considered e.g. minimising levels of interaction; physical barriers, improved hygiene, hygiene reminders, hand washing after close contact with others and ensuring those with symptoms are not present on the premises. Enforcement where all reasonable measures have not been taken will either entail a fixed penalty of £60 (this reduces to £30 if paid within 14 days but is doubled to £120 for a second a subsequent breach) or if charged and convicted, payment of a fine.
---
Protecting people who are at higher risk in the workplace
The Government has published guidance on working safely during COVID-19 and five steps that will help to create a safer workplace for business that are permitted to open.
A list of work places that are permitted to open is here.
The five steps needed to help create a safer workplace are:
Carry out a COVID-19 risk assessment and share the results with workers.
Have cleaning, handwashing, and hygiene procedures in line with guidance.
Take all reasonable steps to help workers work from home.
Where people are in the workplace take all reasonable steps to maintain a two-metre social distance in the workplace.
Where people cannot be two metres apart do everything to manage the transmission risk.
NFU guidance on working safely during COVID-19 is available here.
Some people have been identified as being at a higher risk from the effects of COVID-19 and additional consideration must be given as to how the risks from the virus are managed with respect to them and whether it is appropriate for them to return to the work place.
Who is at higher risk?
Two higher risk groups have been identified.
1. Clinically extremely vulnerable - these are people who will have received a letter telling them that they are in this group or will have been told they are by their GP. The group includes:
Solid organ transplant recipients.
People with specific cancers:

people with cancer who are undergoing active chemotherapy,
people with lung cancer who are undergoing radical radiotherapy,
people with cancers of the blood or bone marrow such as leukaemia, lymphoma or myeloma who are at any stage of treatment,
people having immunotherapy or other continuing antibody treatments for cancer,
people having other targeted cancer treatments which can affect the immune system, such as protein kinase inhibitors or PARP inhibitors,
people who have had bone marrow or stem cell transplants in the last 6 months, or who are still taking immunosuppression drugs.

People with severe respiratory conditions including all cystic fibrosis, severe asthma and severe chronic obstructive pulmonary (COPD).
Guidance on who is in this group can be found here.
People who are in the clinically extremely vulnerable group are strongly advised to stay at home and avoid any face-to face contact to protect themselves.
People in this group are advised to carry out 'shielding' and:
not leave the house.
not attend any gatherings, including gatherings of friends and families.
strictly avoid contact with someone who is displaying symptoms of COVID-19.
2. Clinically vulnerable – this group includes those aged over 70 and those with underlying medical conditions such as:
under 70 with an underlying health condition listed below (that is, anyone instructed to get a flu jab each year on medical grounds).
chronic (long-term) mild to moderate respiratory diseases, such as asthma, chronic obstructive pulmonary disease (COPD), emphysema or bronchitis.
chronic heart disease, such as heart failure.
chronic kidney disease.
chronic liver disease, such as hepatitis.
chronic neurological conditions, such as Parkinson's disease, motor neurone disease, multiple sclerosis (MS), or cerebral palsy.
diabetes.
a weakened immune system as the result of certain conditions, treatments like chemotherapy, or medicines such as steroid tablets.
being seriously overweight (a body mass index (BMI) of 40 or above).
pregnant women.
Guidance on who is included in the clinically vulnerable group can be found here.
Can workers who are in the clinically extremely vulnerable group return to the workplace?
As the clinically extremely vulnerable are strongly advised to stay at home and avoid any face to face contact to protect themselves they should not be in the workplace. They should be helped to work from home in their current role or an alternative role if possible.
Can workers in the clinically vulnerable group return to the workplace?
The default position is that the clinically vulnerable should be helped to work from home in their current role or in an alternative role if possible.
If the clinically vulnerable cannot work from home, they should be offered the option of the safest available onsite roles which allow them to stay two metres away from other workers.
If they must spend time within two metres of others a very careful risk assessment must be carried out to determine whether this is an acceptable risk. Mitigation measures must also be used as much as possible to limit the risks from COVID-19 such as using screens or barriers to separate people from each other.
Do I need to record a risk assessment?
The Government advice is that COVID-19 risk assessments should be shared with workers and a written record of the assessment will enable this. In addition, there is an expectation in the guidance that all businesses with over 50 workers will publish the result of a risk assessment on their website.
Do I need to discuss my risk assessment with workers?
There is a requirement under health and safety law for employers to consult with employees on health and safety matters. If there is a recognised trade union operating at business the consultation should be with the relevant person from the trade union. If there is no trade union consultation should be carried out with a representative of the workers chosen by the workers.
Communication with employees is vital and will help in establishing an understanding as to why any adaptations made in the workplace to manage the risks from COVID-19 are have been made.
Employers should display the 'Staying Covid-19 Secure in 2020' notice in the workplace to show that they have followed the guidance on staying safe issued by the Government.
A copy of the 'Staying Covid-19 Secure in 2020' notice is available here.
---
Covid-19 and reporting under RIDDOR
The HSE has issued guidance on what needs to be reported to them under the Reporting of Injuries, Diseases and Dangerous Diseases Regulations 2013 (RIDDOR).
What is required from an employer under RIDDOR?
RIDDOR puts duties on employers, the self employed and people in control of work premises to report certain serious workplace accidents, occupational diseases and specified dangerous occurrences (near misses).
A full list of what must be reported is available here. Some examples of what must be recorded are:
Serious workplace accidents:

All deaths
Fractures
Amputations loss of sight

Occupational diseases:

Carpal tunnel syndrome
Occupational asthma
Hand arm vibration

Dangerous occurrences (near misses) incidents involving:

Overhead power lines
Lifting equipment
Pressure systems
More information on RIDDOR and employer duties is available here.
Covid-19 and RIDDOR – what needs to be reported?
A RIDDOR report needs to be made when:
An unintended incident at work has led to someone's possible or actual exposure at work. This would be classed as a dangerous occurrence e.g. a test tube containing coronavirus was broken in a laboratory and a worker exposed.
A worker has been diagnosed as having Covid-19 and there is reasonable evidence that it was caused by exposure at work. This would be classed as an occupational disease occurrence e.g. a health care worker who has been diagnosed as suffering from Covid-19 after caring for a patient or a person working in a retail environment who is exposed as a result of their work duties.
A worker dies because of occupational exposure to coronavirus. This would be classed as a workplace fatality e.g. the death of a heath care worker where the cause of death is confirmed by a medical practitioner as being caused by exposure to coronavirus.
How do I make a RIDDOR report?
A RIDDOR report is made using the online forms available on the HSE web site.
Further information is available from CallFirst on 0370 845 8458.