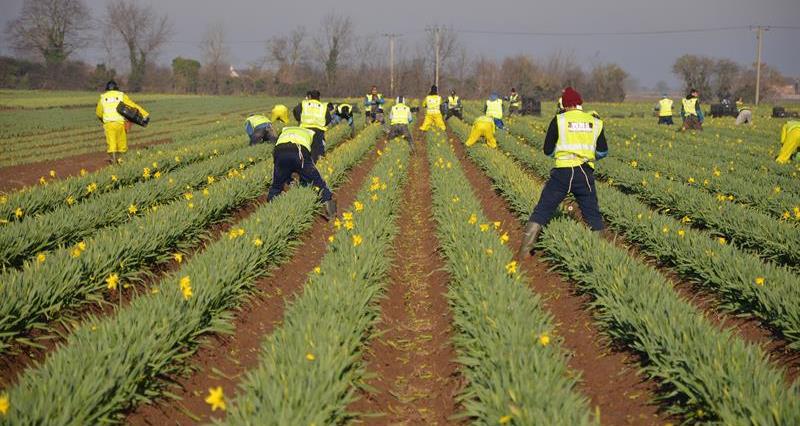 The NFU continues to lobby for appropriate mitigations against the impacts on the sector from COVID-19. The situation is evolving and members are encouraged to get in touch with the NFU to ensure all issues are picked up. Here are the key priorities:
Updated: 1 June
Loss of sales in the ornamental sector
The reopening of garden centres will have brought welcome relief to many growers, the lost months will have had a significant impact, while for growers in other ornamental sectors their sales opportunities remain limited. A number of other EU countries have implemented measures to support the ornamentals sector and we need the UK government to do the same.
The NFU continues to work across industry and government to collate, analyse and provide robust evidence to back up our asks to support ornamentals growers, and this week we have launched a new survey in collaboration with HTA and AHDB to capture the latest impacts. This evidence will support our priority asks:
1. The Government should explore all possible financial support mechanisms for businesses which have suffered losses.
2. The Government should enable growers to access existing government support, including the CBILS scheme, and extend the repayment period.
Read more about our work for ornamentals growers here.
Loss of sales in the potato sector
Coronavirus rapidly introduced a huge amount of market disruption and uncertainty to the potato industry. While the retail sector continues to see strong sales (as much as 30% above normal), others have been severely impacted by the closure of McDonald's, fish and chip shops, and the wider food service industry. Although some of these outlets are now recovering, many remain at a lowered capacity for the time being. The NFU has worked with the National Federation of Fish Friers to offer support and guidance for their reopening, and has facilitated the redirection of potatoes to other markets by working with the AHDB on a portal to connect growers with potential buyers.
In addition, a derogation on CIPC maximum residue limits has enabled some processed potatoes to be sold through the retail market, predominantly in the wonky/imperfect ranges. The uplift in retail sales is expected to manage this volume without disruption to existing supply chains.
The NFU has launched a survey to help capture some of the business impact that the market disruption has had on growers. This survey will help back up existing data on the impact, as well as measure how it has affected future cropping plans. It will also help identify the uptake of existing government support measures such as CBILS and Bounce Back Loans.
Attention has also been turned to concerns around potato storage, with the phasing out of CIPC and the need for store decontamination. Discussions are ongoing around a possible CIPC MRL extension and the approval of DNM.
Access to Labour
UK recruitment: The Pick for Britain campaign has generated a significant volume of applications from UK nationals, but conversion into employment remains fairly modest. Many workers are unable to commit to the hours/weeks required and withdraw their application. Of those that have taken on roles, some have left early or have returned to their 'day job' when they are un-furloughed.
There has been a number of success stories and many businesses are benefitting from the hard work and enthusiasm of their domestic workforce. Growers that are concerned about filling vacancies this year should consider registering on the Pick for Britain website.
EU recruitment: While some travel restrictions are being lifted across the globe, including in the EU, there are still challenges in recruiting sufficient workers from overseas. It continues to be very difficult for workers to travel by road or rail, and many commercial flights are being cancelled. The industry relies on its experienced returnee workers and it is encouraging that many businesses are reporting that they are continuing to successfully bring them in.
Seasonal Workers Pilot: The seasonal worker pilot scheme has been effectively put on hold as visa offices in the source countries were shut. However, offices in the Ukraine are opening up this week and we expect others to follow suit in the near future. The scheme operators are reporting a good level of interest from workers to come to the UK.
Quarantine requirements: The NFU successfully lobbied for an exemption for seasonal workers from the strict quarantine requirements which are due to come into force on 8 June. There are conditions attached to the exemption which mean workers still have to have a 14-day isolation period, but can do this while living and working in cohorts on farm. Further guidance on the practicalities of managing these quarantine requirements are expected in the next few days.
The NFU was disappointed to learn that the exemption does not apply to non-edible horticulture, and we are making urgent representation to government to see if this can be rectified as soon as possible.
Social distancing on farm: The NFU was part of an industry steering group that developed a set of guidance for farm businesses that employ large numbers of workers. The guide, endorsed by Public Health England, sets out best practice measures for living, working and transporting workers within a business. The guide can be viewed here.
Loss of sales in the cider apple and hops sectors
With the closure of pubs and the cancellation of key events such as the Grand National, Euro 2020 and Wimbledon, the demand for beers and ciders has fallen. It is expected pubs and restaurants will be some of the last businesses to reopen. The NFU has submitted an impact assessment to Defra to highlight the issues and build support for a financial mitigation package. Further evidence is currently being gathered and discussions with Defra continue.
Government support for businesses and other financial measures
There are no guarantees that grant/compensation packages will be secured for farming sectors and it remains critical that businesses under financial pressure consider the other available measures introduced by the government. The NFU provides up to date information on the support measures available and how businesses can access them. Read the latest briefing on CBILS and Bounce Back Loans here.
Member communications
The NFU Horticulture & Potatoes team has been taking part in numerous member meetings, organised by the NFU regional teams over the last few weeks. If you would like to listen to the latest news and speak to the team directly, please contact your local County Adviser to find out when the next meetings are due to take place.
Read more: