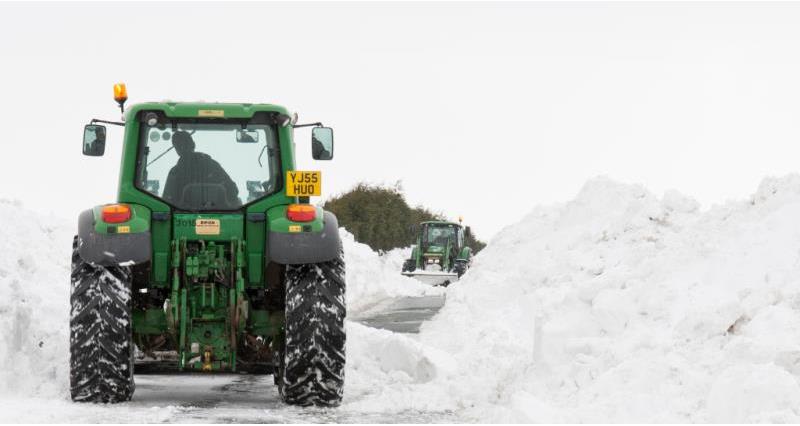 Advice for NFU members: Severe temperatures and snowfall
Quick links:
Fallen stock
Red diesel and gritting
Dairy
Driver hours
Tractors, snow clearing and insurance
Flooding
Driving
NFU Mutual – advice on making a claim
Buildings
Personal safety
Third parties
Highways
Power cuts
Working in low temperatures – what the law says
Bad weather and pay
Useful numbers and contacts
The last time the government stepped in to assist with disposal costs following adverse weather was in 2013.
A mechanism is in place for the National Fallen Stock Company (NFSco) to credit the farmer's account when the exact numbers collected are known – this is a simple and accurate way of ensuring the support goes to those that have lost animals.
Disposal costs for a sheep carcase over 12 months will range from £15 to £20, therefore a farmer that has lost 80 ewes could have a disposal bill of over £1,600, and when this is compounded by the loss of the lamb sales and breeding value of the ewe this weather event will have had a serious impact on many businesses.
To aid the above, we ask encouraging members to keep accurate records of the number of stock they have lost.
Many members may take part in gritting this winter to help keep the roads open and vital services moving. Here is a quick explanation on the rules on red diesel and gritting:
Red diesel can be used by tractors, material handlers and light agricultural vehicles for road activities. Use of red diesel is allowed for the gritting of road, travel to and from where gritting takes place and for the collection of equipment and material for gritting.
Red diesel is not permitted for gritting used on private land eg supermarket car parks.
Further guidance on the use of red diesel is available from CallFirst on 0370 845 8458, Excise Notice 75: fuel for road vehicles on the HMRC website and the NFU Business Guide 101 Red Diesel available here.
Farm access
In wintertime, access roads, farmyards and milk collection areas must be free from snow and gritted as necessary. Farmers should ensure that they have sufficient quantity of salt and grit to keep these areas clear of snow and ice.
Hauliers and tanker drivers have the responsibility to determine whether the farm access road is passable or not.
Tanker drivers will always do their very best to collect milk, but health and safety will always be of paramount importance. Driver safety assessment of the situation will be final.
If the farmer considers that the access road may not be passable or may be too dangerous for the haulier, this must be reported to the transport department or haulier as soon as possible.
If hauliers are delayed they will alert farmers.
Insurance
Advisable for farmers to take out bad weather insurance as a contingency against milk losses through any exceptional inability to collect milk.
Milk storage and disposal
In extreme situations, any milk that has been stored for more than 48 hours will not be able to be collected.
A briefing from the Environment Agency about the disposal of milk can be read here. (England only)
Welsh farmers should contact Natural Resources Wales (NRW) on 0300 065 3000 for more information.
Other
Please ensure that your milk buyer has your up-to-date contact details.
Under EU and UK domestic rules driver's hours rules can be suspended in emergency situations. Vehicles that are used for deliveries of animal feed that are at risk of running out and for the delivery of fuel may be regarded as vehicles used in an emergency or rescue operation.
The DfT has said that exemption from the rules can be applied in situations to avoid:
Danger to life or health of people or animals
Serious interruption to the maintenance of public services (eg water, gas, electricity, drainage or in the use of roads
Serious interruption in private or public transport
Serious damage to property
Exemptions because of emergencies only apply for a strictly limited time and end as soon as the immediate emergency is over.
Further advice for members is available from CallFirst on 0370 845 8458 and from the Dft: Emergency Exemption & Temporary Relaxation of Drivers' Hours and Working Time Rules - Guidance (January 2017).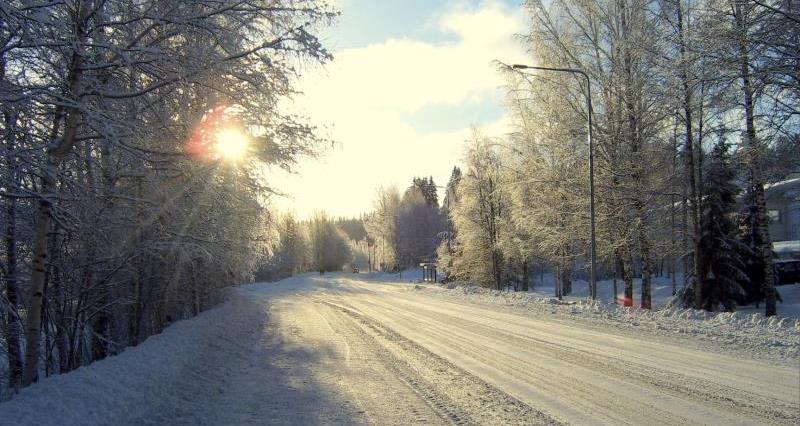 Many insurers will automatically provide insurance cover for snow clearing activities or action to rescue stranded motorists but only if it is on a not for profit basis. This means that the farmer concerned is not being paid or making any sort of profit. In any event best advice is to check with your insurance provider before starting activity.
If farmers have a contract with councils or other organisations and they are being paid for snow clearing or recovery work then this should be notified to the insurer who will amend the policy to extend cover for these types of commercial activities. There will most likely be an additional premium to pay for this type of "diversification" activity as it is not pure farming work.
If there is any doubt as to whether correct insurance is in place contact the insurer to clarify the cover in place before starting any activity.
Members may want to confirm snow clearing rates with regards to any contracts for snow clearing before the start of winter.
For more information, check the NFU's weather toolbox or the Environment Agency's five day flooding forecast.
Vehicles should be fit for the road at any time of the year but extra care should be taken during winter and periods of extreme weather:
Check your vehicle – fuel and fluid levels, electrics and tyres before setting out
Be prepared with an emergency kit in your vehicle, including warm clothes, food, water, boots a torch, a spade and any regular medication.
Listen to weather bulletins on radio , TV and media
If the weather is severe, consider whether your journey is essential or travel at a different time. Weather can change quickly so be prepared for bad weather.
Remember that even when roads have been treated with slat, the local road layout or landscape can mean a greater risk of ice forming, such as on bends or under overhanging trees.
What to do if you're involved in an accident:
Record details, names, addresses and locations - take photographs of any damage not just to your vehicle but to any other vehicles involved. And report the accident to the local police.
Heavy snow can impose weights on building roofs above the design loadings but do not be tempted to climb onto roofs to clear snow during or after snowfall.
Falls from height are one of the main causes of farm work place death and injury. Work at height should be avoided whenever possible but especially so during extreme weather.
Roofs are fragile and may be even more so due to loading of snow and cold. Sudden slips of snow can knock people from ladders.
Remember even a fall from a modest height can be fatal.
Whatever the weather conditions the number one priority for farmers must be the safety of themselves and their employees.
Lone working is common in agriculture and during extreme weather events the first consideration should be can lone working be avoided – can tasks be postponed till better weather conditions?
If lone working cannot be avoided steps to mitigate risks include:
Making sure that your work plans are known and that a nominated person can inform the emergency services your planned work locations in the event of any mishap.
Ensuring that there are robust communication plans in place.
Making sure that fully charged mobile phones are carried together with a charger.
Consider loading a lone working app onto a smart phone. Apps often contain motion sensors to detect when something is wrong and may also provide a listening service for certain situations.
Not relying on apps alone. Establish formalised contact arrangements – agree times to call a nominated person who can raise the alarm if agreed contact times are missed.
Dress appropriately for the weather conditions.
Be aware of third party lone workers likely to come onto your site eg delivery drivers, vets. You must inform them and their employer of any risks and measure you have put into place to control them.
More information on lone working is available from the HSE: Working alone: Health and safety guidance on the risks of lone working and from CallFirst on 0370 845 8458.
The Traffic England and Traffic Wales websites give an overview of the live traffic situation.
Members should ring 105 (anywhere in the country) and they will go through to their District Network Operator (DNO).
NFUonline's adverse weather page has links to real-time warnings powered by Met Office data.
Temperatures in indoor workplaces are covered by the Workplace (Health, Safety and Welfare) Regulations 1992 - available on legislation.gov.uk here. These regulations place a legal obligation on employers to provide a 'reasonable' workplace temperature.
The regulations do not apply to fields, woods or land forming part of an agricultural holding.
They do apply to agricultural buildings eg pack houses.
There is an Approved Code of Practice and Guidance from the HSE which recommends the minimum temperature in a workplace should normally be at least 16 degrees Celsius. If the work involves vigorous physical effort the temperature should be at least 13 degrees Celsius.
Further information on work place temperatures is available from the HSE here and from CallFirst on 0370 845 8458.
Workers generally have no entitlement to pay if they are unable to get to work due to bad weather, unless there is a contractual arrangement to the contrary or custom and practice arrangements in place for such payment.
In the absence of any entitlement some practical options include:
Agree for the worker to take paid leave
Employers may, at their discretion, decide to pay workers. It is important to make clear that you are not setting up a precedent
Agree that any missed time is made up at some future point
The employee works from home instead or it is treated as unpaid leave
If the employer has decided not to open due to bad weather they are still legally obliged to pay their employees. Failure to make payment could lead to a breach of contract and a claim of an unlawful deduction of wages by employees. The exception to this would be if there is a contractual right to lay off staff.
Agricultural workers in Wales and agricultural workers in England employed on or before 1 October 2013 whose terms have not been varied in light of the abolition of the Agricultural Wages Board cannot rely on contractual lay off rights in the event of bad weather.
Further information is available from CallFirst on 0370 845 8458 and on the ACAS website - travel disruption and bad weather web page here.