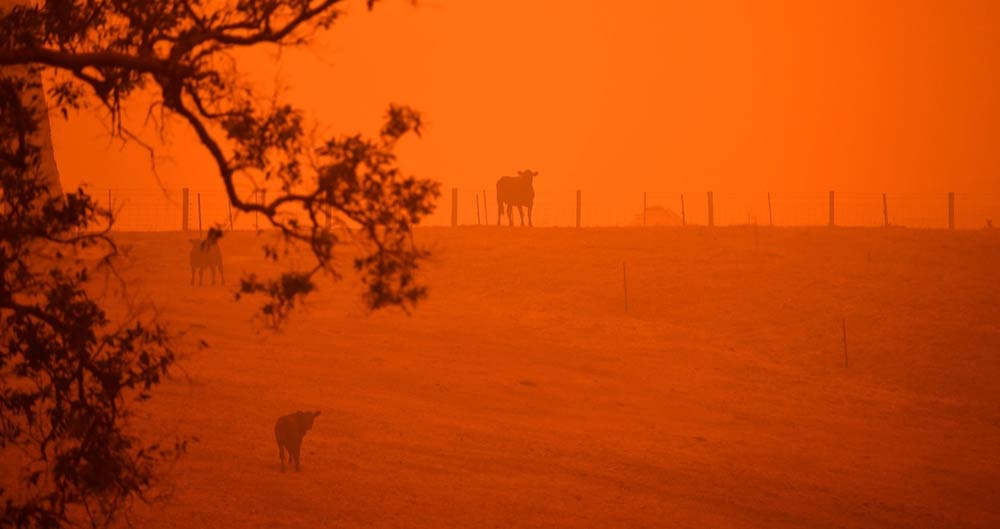 Pictured above: Cattle stand in a field under a red sky caused by bushfires in Greendale, New South Wales, January 5, 2020. Photo by Saeed Khan/AFP via Getty Images
The NFU has spoken to the National Farmers' Federation (NFF) in Australia to offer support for those affected by the recent bushfires.
The NFF has advised that FarmHub, an organisation connecting Australian farmers to a range of services and support, is providing details on how you can donate to ensure funds go directly to impacted farmers.
NFU President Minette Batters said:
"Seeing the Australian bushfires in recent weeks, and the damage they have inflicted on huge swathes of farmland and wildlife, has been devastating and my thoughts are with all those who have been affected.
"As farmers, we are continuously at the mercy of the weather and this is a distressing reminder of just how vulnerable we are to climate change.
"Many of us have shared our concerns for our colleagues in Australia. We have spoken to the National Farmers Federation in Australia to offer our support and, for those who want to, the best way to do this is to donate via the organisations listed at the FarmHub link below."
Fiona Simson, President of the National Farmers' Federation, said:
"Australia's farmers deeply appreciate the thoughts and best wishes of our UK cousins while we battle unprecedented drought and bushfires. While we will pick ourselves up, knowing you are thinking of us at this time is truly heartening."