BPS applications webinar: Your questions answered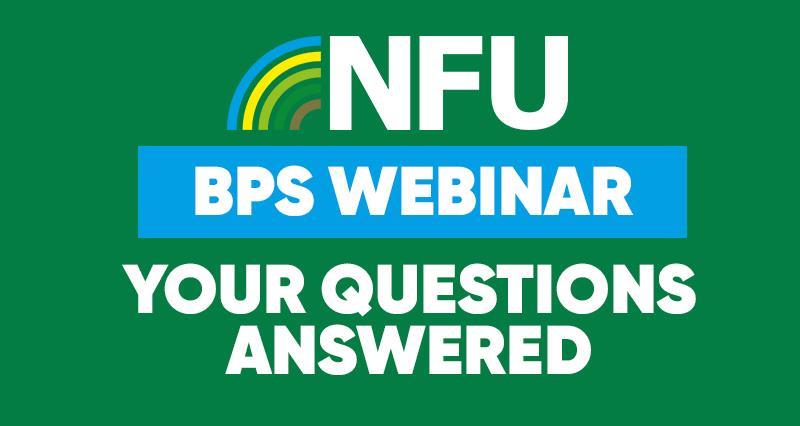 On the 30 April the NFU organised a live BPS webinar for members. This was recorded and can be watched back here. During the webinar a number of questions were posed by attendees, which we have captured below and also provided a response.
To help you navigate this page, we have collated the questions into themes.
Click on a topic to go straight to the Q&A on this subject:
Further NFU help on BPS can be found in our BPS channel, or give us a call at NFU CallFirst on 0370 8458458.
RLE 1 forms
What is the latest information on sending in RLE1 forms? Can we send them in electronically yet? If we post them 'signed for' is there someone at the RPA to sign for them?
You are still able to post RLE1 forms to the RPA and they have a process in place to deal with them. However, the RPA is looking to make an editable PDF version available shortly, which can be emailed to the RPA. Only the new RPA PDF version can be emailed, and not a scanned copy of the paper version. Please also read any accompanying instructions carefully for this new version of the PDF.
If posting in an RLE1 form, does it have to be with the RPA by 15 May?
The deadline for the RLE1 form depends on the reason why it is being used. If it is to transfer entitlements, then the deadline is 15 May. If you are submitting an RLE1 form to notify the RPA of mapping changes, then it can be submitted after your BPS application is submitted. The RPA encourages claimants to notify mapping changes as soon as possible, which should help reduce any delays with processing your application.
---
Catch/cover crops
What code should be used for cover crop mixes that are being drilled before a future autumn crop? The ground has been sprayed with glyphosate prior to drilling.
The code to use will depend on what the mix is and if you are using these towards your EFA. If they are being used towards EFA and meet the rules, you enter them at rotation 2 online within the edit of the land use table entries. You start typing cover crop, and it will show you the code. If these are not being used towards your EFA, then there is mixed arable crop codes AC58-AC62, which may fit your situation, but the intention of these AC codes is for the land use on 15 May or the majority of the period 1 May to 30 June. Please call NFU Callfirst on 0370 8458458 to discuss further.
Can you confirm that for BPS it is the location of the cover crop that WILL be planted this autumn that should be entered on this year's form? The RPA helpline gives a different answer each time. They do not understand that cover crops are not in the ground on the 15 May.
Assuming you are referring to EFA cover crops, then the answer is yes. When you submit your 2020 application, you are telling the RPA you intend to drill an EFA cover crop after harvest this year.
I am growing cover crops for mid-tier stewardship not EFA. Do they have to be added under rotation 2 as cover crops like EFA have to be?
No. You only enter cover crops that are being used for EFA under rotation 2 on the land use table screen.
I don't meet EFA requirement. Can I correct this with a commitment to grow a catch crop post-harvest on rotation 2?
Yes, you can declare on your 2020 BPS application, that you intend to plant a catch or cover crop after harvest. Please refer to page 55 of the 2020 BPS handbook, to read the rules you need to follow. You can find the 2020 BPS handbook on gov.uk here.
---
Agri-environmental schemes
How do I treat Countryside Stewardship AB8 and AB9 on the application? Do they have a separate land use code or just included in the rest of the field code?
Grass strips (such as tracks, strips, margins, headlands, including agri-environment field margins, buffer strips, field corners and beetle banks) do not need to be identified separately from the main land use of the parcel, unless you want to count the areas for:
Separately for crop diversification (not relevant for 2020)
As a permanent grassland buffer strip or fallow land for EFA
Towards your permanent grassland total for a greening exemption, or
Towards your temporary grassland and/or fallow land total for a greening exemption
Within the RPA's published Land Use code list found here, there