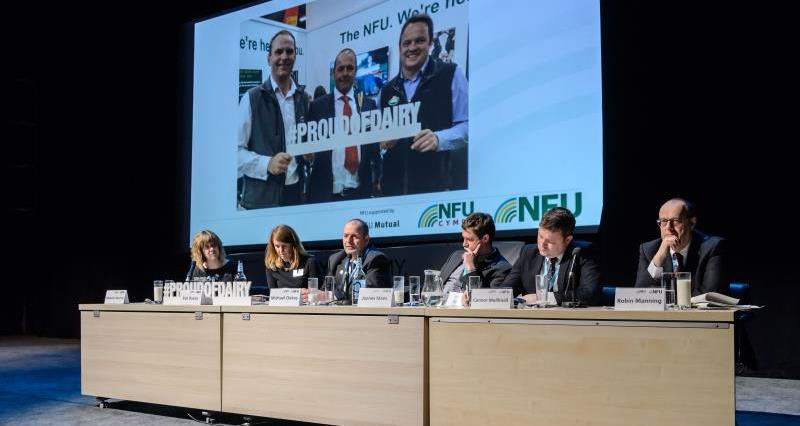 Pictured: The NFU's dairy team at NFU Conference 2018
Now is an exciting time to join the NFU Dairy Board with an opportunity to influence and guide future farm policy. Defra's Command Paper, launched recently, talks about reform and a successful future for farming. The detail refers to public money for public goods, enhancing our environment, animal health and welfare, risk management and resilience as well as ensuring fairness in the supply chain. These are all key areas in which the dairy sector can deliver.
To help navigate this path, we are looking for four professional dairy farmers to join the sector board from May 2018. The new appointees will sit alongside the existing eight regionally elected members and their elected chairman. Applicants should be active dairy farmers, with a good general understanding of the dairy industry and strong communication skills.
Appointees with skills and interests in the dairy supply chain, retail or processing, skills and training, exports, farmer collaboration, and succession (share farming, contract farming etc) are welcome.
How to apply:
Interested members should contact Sian Davies, Chief Dairy Adviser c/o TmFuY3kuRnVsbGVyQG5mdS5vcmcudWs= with an up-to-date CV and covering letter setting out the reasons why they believe they are a suitable candidate. You should clearly mark any correspondence, including your application with the words 'Dairy Appointees 2018' in the subject line.
What you need to know
Successful candidates are appointed for two years and will be expected to attend six meetings a year, typically at Stoneleigh, Warwickshire. Attendance at other supply chain, government or NFU meetings as a representative of the board will be required from time to time. In return you will receive a monthly honorarium and reimbursement of reasonable expenses.
The closing date for all applications is Wednesday 28 March and candidates may be invited to an interview with the selection panel on 11 April. If successful, appointees are expected to attend an induction day at Stoneleigh on 19 April and the first official board meeting will be on 8 May 2018.
Deadline for applications: Wednesday 28 March (noon)
Interview (if shortlisted): Wednesday 11 April in Stoneleigh.
Induction day (if successful): Thursday 19 April in Stoneleigh
May Dairy Board: Tuesday 8 May in Stoneleigh