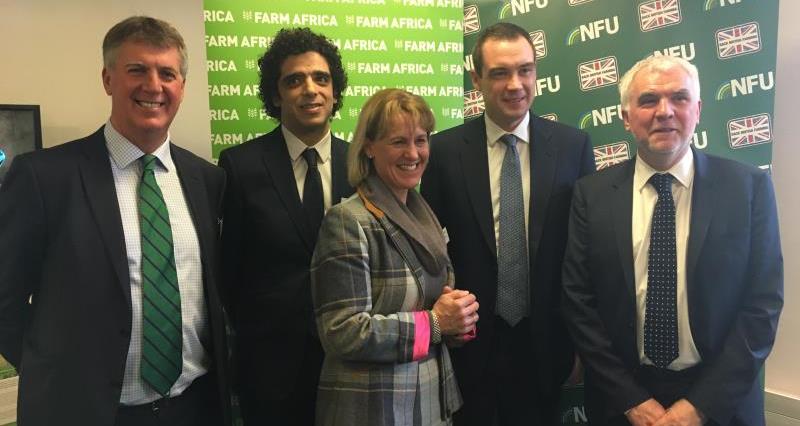 Food security at home and abroad was at the top of the agenda as the NFU and Farm Africa bought together representatives from across the industry.

NFU Deputy President Minette Batters and Farm Africa CEO Nicolas Mounard emphasised how important food security was to all nations and the need to address it becomes ever more pertinent with a growing population.

As food security has declined over the past 30 years, Britain's farmers face similar problems to their global colleagues and work in the international agricultural community remains as crucial as ever.

Ms Batters said: "The link between the NFU and Farm Africa has always existed and the work both organisations are doing to increase food security, both at home and abroad, is so important. Farms all around the world share many of the same challenges and food security remains at the top of that list.

"The NFU is thought of as working within the domestic market but our involvement within the World Farming Organisation ensures we have a voice on how farms across the globe can solve our global challenges. It was encouraging to hear from speakers today, including retailers and government, that they are fully committed to international development in agriculture now and in the future."

Mr Mounard said: "I would also like to thank the NFU, not only for welcoming us today, but also for acknowledging that food security is a challenges that needs to be addressed globally, both in the UK and overseas, particularly in Africa.

"Long term change is possible and we have seen that first hand. And to see all of us here tells me that we can not only continue this but do more in the future."

James Wharton MP, Parliamentary Under-Secretary of State at the Department for International Development, noted that "the space in which you operate will continue to grow in importance" as we move forward.

Mr Wharton said: "It's thanks to organisations like Farm Africa and the NFU that project British both expertise and British values in what is an uncertain political age."

Tim Smith, Group Quality Director at Tesco, attended and reaffirmed his commitment to providing the public with what they want, all while abiding by "sustainable, affordable and healthy values".

The joint event held by the NFU and Farm Africa was attended by politicians, corporations across the supply chain and UK farming representatives.