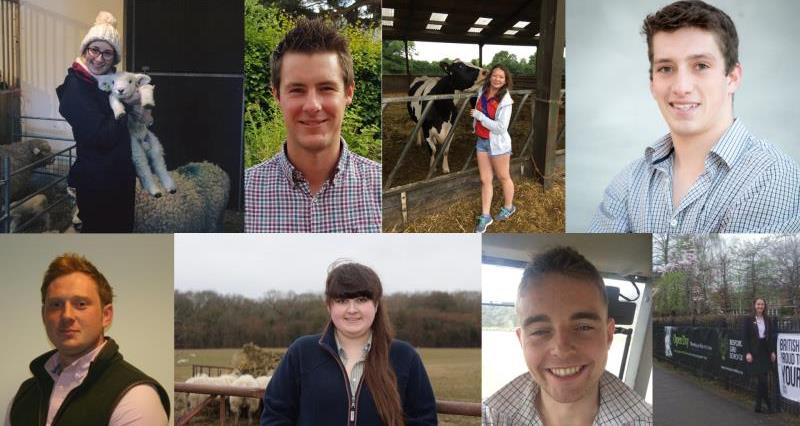 The 803rd Lord Mayor's Show takes place on Saturday 10 November and the NFU will again be supporting The Worshipful Company of Farmers alongside Massey Ferguson, Red Tractor, the UK's largest farm and food assurance scheme, and Surrey Docks City Farm, to help take the Back British Farming message into the heart of the City of London.
This year's entry is led by Rosemary Carne, Master of the Worshipful Company of Farmers, features a Massey Ferguson IDEAL 9T combine harvester, one of the most advanced combines on the market, a new Massey 6714 S tractor and a hamper of food that will be presented to the new Lord Mayor, Peter Estlin.
Our eight farming champions were chosen to take part after a nationwide search by the NFU for young farmers who have made an outstanding contribution to agriculture from each of its seven English regions and Wales. As an additional prize this year, one of them will be invited by Massey Ferguson on a special trip to Beauvais in Northern France as a guest to tour the factory and enjoy an overnight stay.
Meet our young farmers:
Francesca Beswick - North West
28 year old Francesca is extremely passionate about British Farmers. Having grown up on a dairy farm, she's always been involved with the dairy herd. Alongside farming Francesca is a self-employed farm secretary working for businesses to improve the day to day running of their agricultural business. She was chosen as a dairy 'Ask The Farmer' by the team at Cotswold Farm Park to attend Countryfile Live and spoke to the general public and answered their questions about British dairy farming.
Matthew Donald - North East
Matthew Donald, 27, has been part of his family's pig and poultry business, in North Yorkshire, for seven years and became a director four years ago. His thorough research into building performance over three years has guided recent investment in new farrowing, weaning, finishing and gilt accommodation in the 280-sow pig unit. This has resulted in better performance and improved pig health. Matt runs the finances for the pig business and is always looking for where efficiencies can be made. In 2017 he won Young Pig Farmer of the Year at the National Pig Awards.
K

atie

Smith - West Midlands
Despite the fact that Katie doesn't come from a farming background, the 19 year old has a real passion for the British countryside and the work that goes into feeding the nation. As a young farmer ambassador for Love British Food, as well as a member of Worcestershire Young Farmers, she likes to take any opportunity to help promote British Farming. Katie also writes a rural blog where she discusses her own experiences of dipping a toe into the agricultural sector as well as promoting agriculture to other young people. You can find Katie on social media @woesofwellies.
Matt Launder - Wales
For the last 3 years Matt has been a keen ambassador for British agriculture. The 25 year old has been using social media to showcase all aspects of our industry. He has worked hard for the past 6 years starting his journey into the industry and jumps at any opportunity to represent the sector. As a first generation farmer Matt is a committed and enthusiastic member of the NFU Cymru Next Generation Policy Group. He is a first generation sheep and pig farmer in mid Wales, with an interest in genetics and farm diversification.
Ben Theaker - East Midlands
Ben,23, is not from a farming background but started working on a farm in Nottinghamshire when he left school. His employer persuaded him to go to Brackenhurst College, part of Nottingham Trent University, and sponsored him through the level 3 course in Agriculture. He completed the course in 2017 achieving a triple Distinction, the highest grade available, whilst holding down his job on the farm. At college he was instrumental in establishing the Brackenhurst YFC and chairs the club. Today, Ben is working at Worksop Manor Estates and is currently starring in the Farmers Weekly Farmers Apprentice Programme.
Anna Hunt - East Anglia
Anna, who is 19, sets a brilliant example for British farming and embodies the passionate future generation. She recently added media profile for the NFU's farm safety campaign on Twitter and by attending a farm safety day. She also supported the Farm 24 initiative through her farm's social media presence. Anna is an active young farmer, exhibits prize winning Red Polls and hosts Farm Open days on the mixed Bedfordshire farm.
Luke Cox - South West
Luke was recently nominated for the Farmers Weekly Awards Agriculture Student of the Year. The 22 year old is very active in local YFC, at present Public Relations Officer. He has just finished an Agricultural Degree at Reading University. He has run the London Marathon, trained as tennis coach, and is a qualified football referee.
Katie Anderson - South East
Katie, 27, is a first generation farmer, coming from a commuter town in Essex born to a family of London office workers. She now works as an Assistant Manager on a rare breed beef cattle farm in Kent and is a huge supporter and champion of British food and farming. She actively promotes young people into the sector on her social media feeds @femalefarmeruk.