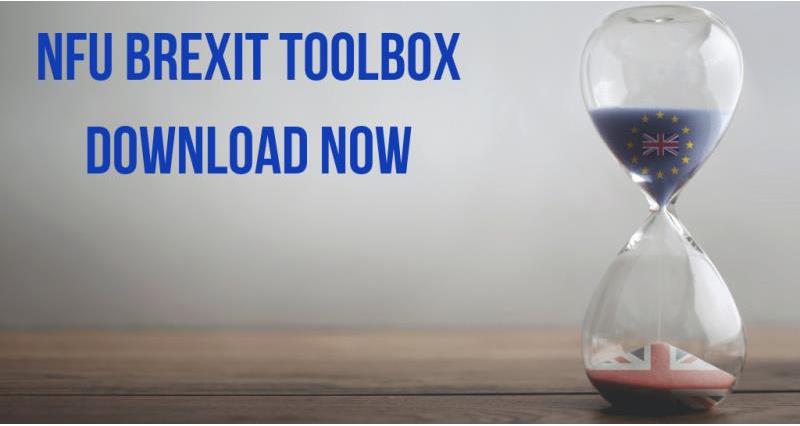 The NFU has put together a 'Brexit Toolbox' aimed at helping members prepare for Brexit.
While the EU and UK are currently negotiating the UK's withdrawal from the European Union, it remains unclear whether agreement will be reached on the terms of departure, and if so what the exact terms will be.
What this means is that with less than two months to go, it is still not known whether the UK will face an 'orderly' or 'disorderly' withdrawal in March 2019.
With that in mind, the NFU's Brexit team has prepared a document for members setting out the current situation and containing practical advice on preparing for both types of Brexit.
The NFU's director of EU exit and international trade, Nick von Westenholz, said:
"We think it's vital for the NFU to be providing this important information for our members. While only they will know the details of their businesses and so how they might be impacted by Brexit, this toolbox sets out the current information as we know it in a range of key areas, such as domestic support, international trade, access to labour and regulation. It also covers the technical notices recently published by government setting out the risks and issues that arise across a range of areas in a 'no deal' scenario.
"While the NFU continues to make it clear at the highest levels how important it is for farming that the UK and the EU achieve a deal, given the uncertainty surrounding the negotiations we feel it is important that this toolbox covers both 'deal' and 'no deal' scenarios.
"We hope this toolbox provides some reassurance and certainty to members where it can be given – for example the guarantee that BPS will remain for 2019 and 2020 regardless of whether a deal is reached. However it cannot provide the answer to every question presented by Brexit, and here we suggest the key questions members should be asking of themselves and their businesses to ensure they are as prepared as they can be.
"As more information becomes available we will be looking to update this toolbox, but with less than two months to go we felt it important that our members are equipped now with the information they need to get their businesses ready for Brexit."
AHDB develops Brexit website:
The AHDB has developed a dedicated website to help farmers to navigate what a no deal Brexit may mean. The information provided through the site, complements the NFU's own No-Deal Brexit hub and its Brexit Toolkit.