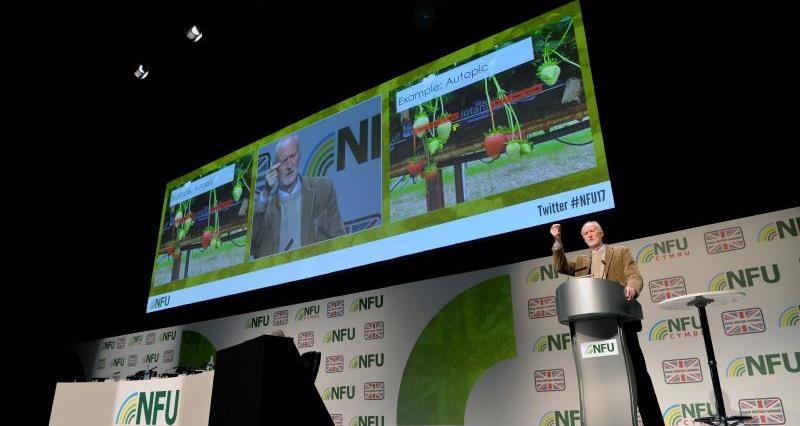 Watch how four farmers are making use of cutting-edge technology, as showcased in the Competitiveness Session on day one of NFU Conference.
See also: Agri-research vital for farming's future - report
ARABLE
Tom Bradshaw, Essex

Tom grows a range of combinable crops including oilseed rape, malting barley, milling wheat, peas and beans.

Challenge: To optimise seed and fertiliser spreading to gain maximum efficiency and yield from his crops.

Solution: Using sophisticated computerised mapping technology, Tom has optimised the "spatial variability" of his fields using field maps, yield maps and fertiliser application maps which allow him to change his seed rates and treat areas of field more accurately.

"I am able to put fertiliser in the right place at the right time," says Tom, "and putting more seeds where there is a lower germination rate.

"It's got to be beneficial treating the areas of the field more accurately than we were before.

"It is hugely beneficial and has to make good sense although, economically, it is still difficult to say whether or not we are better off because we have adopted all this technology.

"I think in the future the sky is the limit. We've seen machinery get bigger and bigger for efficiencies and economy of scale. I wonder if there is going to be a time when it gets smaller because it becomes automated."

POULTRY
David Speller, Derbyshire

David Speller owns and runs Applied Poultry. He is a former poultry farmer of the year and now also consults and advises fellow farmers throughout the UK and abroad.

Challenge: To accurately monitor the welfare of his chickens to increase efficiency and, therefore, productivity.

Solution: Through the introduction of very sophisticated sensory, audio and video technology David has been able to revolutionise how he farms chickens.

"We started out with simple static sensors, measuring temperature, humidity, then moved into monitoring CO2, simple CCTV cameras providing visual analysis of behaviour and movement, to more sophisticated cameras recording distribution and, now, very sophisticated sound sensors that listen to the noises the birds make," says David.

"We have had a prototype robot in the house and even sensor that pick up on the signature smells of the birds which can indicate any health issues well in advance so we can treat them earlier."

The Applied team has even been in touch with the scientists who put the rover robot on Mars in the hope of further developing sensory software.

"It may open doors to other sectors and enables us to invest in bringing future efficiency and knowledge into farming."

HORTICULTURE
Harry Hall, Berkshire & Sussex

Harry Hall grows strawberries and other soft fruits across seven farms. He actively encourages sustainable farming, biodiversity and community.

Challenge: Improve productivity, yields and, hence, profitability.

Solution: Under glass or in poly tunnels, Harry and his teams are using artificial light to replace sunlight to enable them to continue growing throughout the dark months of November to February.

"We are using different breeding techniques to come up with varieties where we can improve yields, berry shape and the way the fruit is presented to the pickers," says Harry.

"This has included switching from halogen to LED lights which require less energy. It also enables us to change the colour spectrum to impact on different times of the crop.

"We have also elevated the crop to eye level to help the pickers, making sure the berries stay dry and disease-free which helps us to maintain sustainability."

Harry is also exploring more robust tunnels – capable of withstanding 80mph winds, investment in reservoirs and even "black box growing" a method which will ultimately be dictated by the end consumers' tastes and willingness to accept that sort of growing.

"It is all about maintaining service levels to the retailers who don't want empty shelves. Such new technology is helping us to future-proof the business."

DAIRY
Andrew Griffiths, Cheshire

Dairy farmer Andrew Griffiths switched to robots to milk his herd and, after initial frustrations, has seen his productivity increase.

Challenge: To efficiently milk his dairy cows while improving the methods of monitoring their welfare.

Solution: After introducing automation to the milking sheds, Andrew, initially found manhandling his cows into the robots quite challenging but, after six weeks of perseverance and patience, it got easier.

"My cows also have transponders which give us unbelievable feedback, including heat time, activity, rumination and the conductivity of the milk, which means we can tell if cows are going to get mastitis and treat it early," says Andrew.

Healthier dairy cows, a quicker and more efficient system has meant a great improvement in productivity.
"The animals have reacted very well to automation. We have gone from 9,500litres to about 10,500 litres now," adds Andrew.