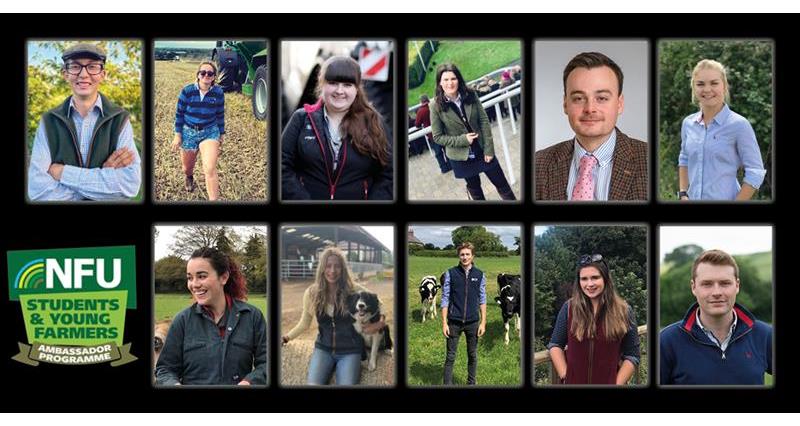 Eleven students and young farmers have been selected as the NFU's second cohort of Student & Young Farmer Ambassadors, giving them a unique opportunity to represent the next generation of farmers for the NFU.
The 11 ambassadors were chosen from a pool of more than 130 applicants and represent every region of England and Wales, many sectors of the industry and many academic backgrounds.
They will begin their tenure as ambassadors with a two-day induction and training session, however this will happen via video link from their homes due to COVID-19.
NFU President Minette Batters said:
"We were delighted with the first year of our Student & Young Farmer Ambassador Programme. Those taking part played a vital role in helping us tell the incredible story of British farming at public events, in magazines and across national, regional and trade media and on social media.
"This new group of ambassadors will be representing British farming at a unique and critical point in time for our industry. This autumn will see the formation of a new Agriculture Bill, a new Environment Bill and a new Trade Bill. And from the start of 2021, UK agriculture is going to be finding its feet in a new world outside of the EU and we will need this next generation of farmers to be advocates, representing a bright and progressive future for farming.
"It's great to see these young people already making their mark in the farming industry and reaching out to different audiences to share our back British farming message. The programme aims to give them a fantastic opportunity to amplify their voice and I can't wait to start working with them."
NFU Next Generation Forum chairman David Ractliffe said:
"The NFU Student & Young Farmer Ambassador Programme was an unrivalled success in its first year and gave the industry fresh new voices to help back British farming and share their concerns for the future. I want to welcome the new group of ambassadors and am looking forward to seeing them work alongside the NFU Next Generation Forum in the coming months.
"I met some of last year's group at the UK Next Generation Conference at Stoneleigh last year. They were very engaged in the skills and net zero workshops we were running and I look forward to meeting this years group in due course to see where we can collaborate."
Meet our new Student & Young Farmer Ambassadors: