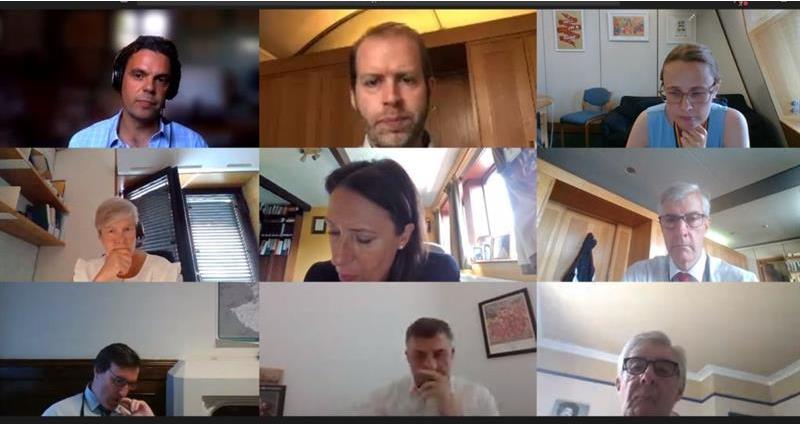 Pictured above: NFU Director or EU Exit and International Trade, Nick von Westenholz (top left) leads a call with Labour MPs from the north west.
The NFU recognises the complications of safeguarding standards while accepting the government's ambition to liberalise trade post-Brexit.
However, we believe this liberalisation must be carefully managed in a way which does not undermine the government's manifesto commitment to uphold UK farming's high animal welfare and environmental standards.
To manage these complexities, the NFU is calling for an amendment to the Agriculture Bill (which is currently progressing through the House of Lords) which introduces a Trade, Farming and Food Standards Commission that can review trade policy and develop solutions to ensure that new Free Trade Agreements successfully manage different interests.
This includes ensuring UK farmers are not undercut by food which would be illegal to produce in this country, avoiding sharp and sudden price increases for domestic consumers and making sure developing countries are not disadvantaged by denied access to UK markets.
See also: Our petition on food standards with one million signatures - the story so far
As part of the NFU's efforts to garner support among MPs to establish a Trade, Farming and Food Standards Commission, the External Affairs team has been working with regional colleagues to organise an MP conference calls in each region where MPs can ask experts about the intricacies of the Commission.
The conference calls, which are chaired by a NFU Regional Director (RD), begin with the RD setting out our proposal, debunking some common misconceptions, before opening up the session to questions. NFU Director or EU Exit and International Trade, Nick von Westenholz, then answers any questions MPs may have.
With only a select group of MPs on the regional conference calls, they are afforded the time to ask in depth questions, which are given fully considered responses by the NFU's EU Exit and International Trade team. The calls have been an enormous success so far, with discussion delving beyond rhetoric to the crux of the food standards issue.
In the calls, NFU colleagues have focussed on the nuances of the food standards debate. They have explained why existing organisations such as the FSA are deficient in safeguarding standards as they can only stop imports produced to lower food safety standards not lower environmental and animal welfare standards, as well as issues around labelling, protectionism and many other topics.
See also: Latest on trade talks, including those between the EU-UK
As each of the sessions so far drew to an end, many MPs left the call as supporters of Trade, Farming and Food Standards Commission.
With the remaining regional calls continuing over the next couple of weeks, we are hopeful that this success will continue. There is still a challenge of converting those less convinced MPs – but rest assured the NFU will keep up with its lobbying efforts on this.
There of course other aspects of the Bill that the NFU wish to see amended and again we will be working closely with Peers in the House of Lords to ensure that the necessary changes we believe are made to the Bill.
If the Commission amendment or indeed any other passes in the Lords in September, when the Bill returns to the Commons, we've got to make sure that we get enough numbers in the Commons to get any change across the line. Still lots of work to be done but these calls are a step in the right direction.
Read more on NFUonline: