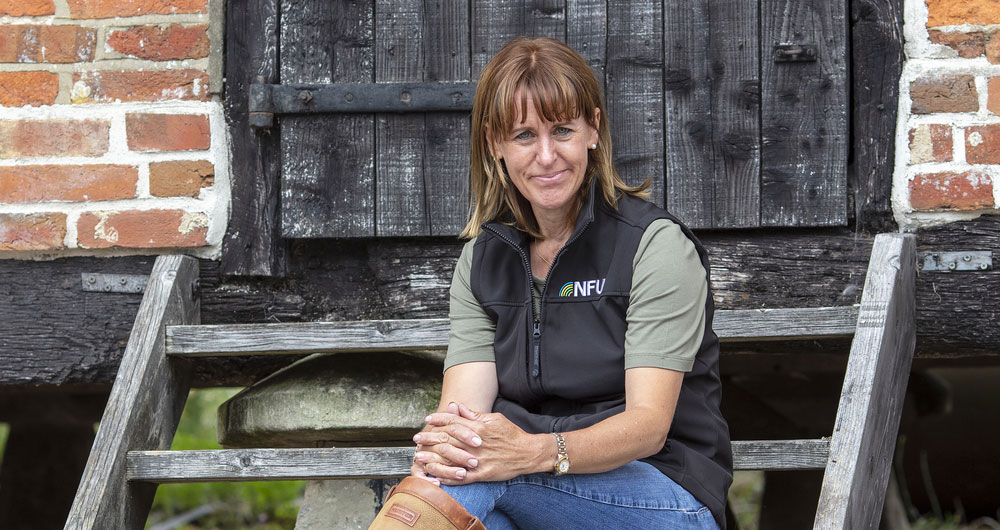 NFU President Minette Batters featured in the Yorkshire Post on Sunday 21 June, in a column entitled 'One million reasons to uphold farming and food standards'. In the article, Mrs Batters promoted the high standards that British farmers adhere to and detailed the NFU's food standards campaign, calling on the government to uphold its manifesto commitments and to implement a Trade, Food and Farming Standards Commission.
Mrs Batters wrote:
Every time I visit Yorkshire, for the fantastic Great Yorkshire Show or when I'm visiting one of the NFU's 6,000 members across North East England, I'm reminded of the rich, vast and varied farmed landscape here. I'm also reminded how much pride you take in tasty, local produce. Whether it's traditional roast beef to go with those fluffy Yorkshire puddings, Wensleydale cheese, or rhubarb from the famous Rhubarb Triangle, farmers here are delivering high quality food produced to world-leading standards, for the nation to enjoy.
With that love of food comes a passion. Whether it's been the uncertainty of the past few years as we negotiated our exit from the European Union or during the Coronavirus pandemic and lockdown, it's absolutely clear to me that the nation cares passionately about where its food comes from and how it's being produced. You all, like me, expect high welfare, traceable, quality, affordable food.
This issue has united not just the people of Yorkshire, but the whole country. I've been staggered by the response to the NFU's food and trade standards petition, which has now reached one million signatures, yes one million. It's up there with some of the biggest petitions the country has seen recently.
This proves to me that whether you live in Scarborough or Skipton or in Harrogate or Huddersfield, none of us want to see food on our supermarket shelves, or in restaurants, pubs or cafes, that falls below the standards British farmers adhere to. By signing our petition, a million people have urged the Prime Minister Boris Johnson and his government to ensure future trade deals do not import food that would be illegal to produce here.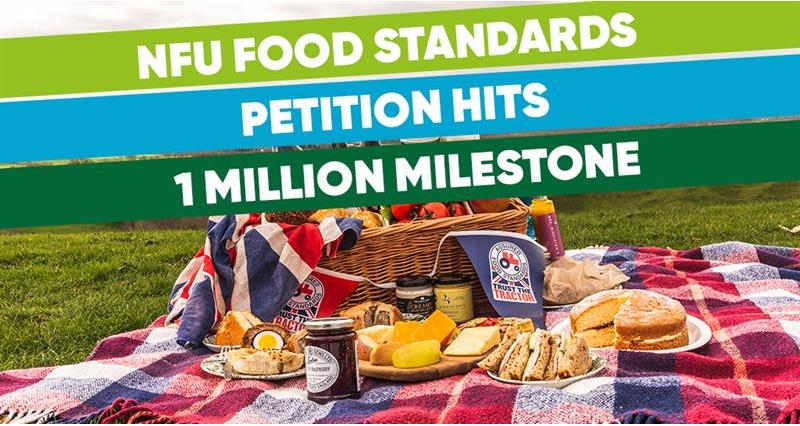 Just a few weeks ago the Agriculture Bill moved from the House of Commons into the House of Lords unamended, despite a huge amount of campaigning and widespread support from the farming industry, environmental and animal welfare groups and many MPs; two of whom tabled amendments. That was frustrating.
So, what can be done?
The NFU has proposed a Trade, Food and Farming Standards Commission. This independent body would review trade policy and develop solutions to ensure we're not importing food that would be illegal here. More than 78,000 people have now written to their MP urging them to support its introduction. MPs here in Yorkshire, including the Chancellor Rishi Sunak, who is MP for Richmond, have been contacted by local constituents on the topic. 4,700 emails have been sent to Yorkshire's MPs. In fact, all the country's 650 MPs have now received correspondence in some shape or form.
We have heard plenty of warm words from ministers and, given the very clear commitments in the Conservative Party manifesto at the last General Election that they will not compromise British farming's high standards, is it not a logical next step to put in place a panel of experts that can carry out that commitment?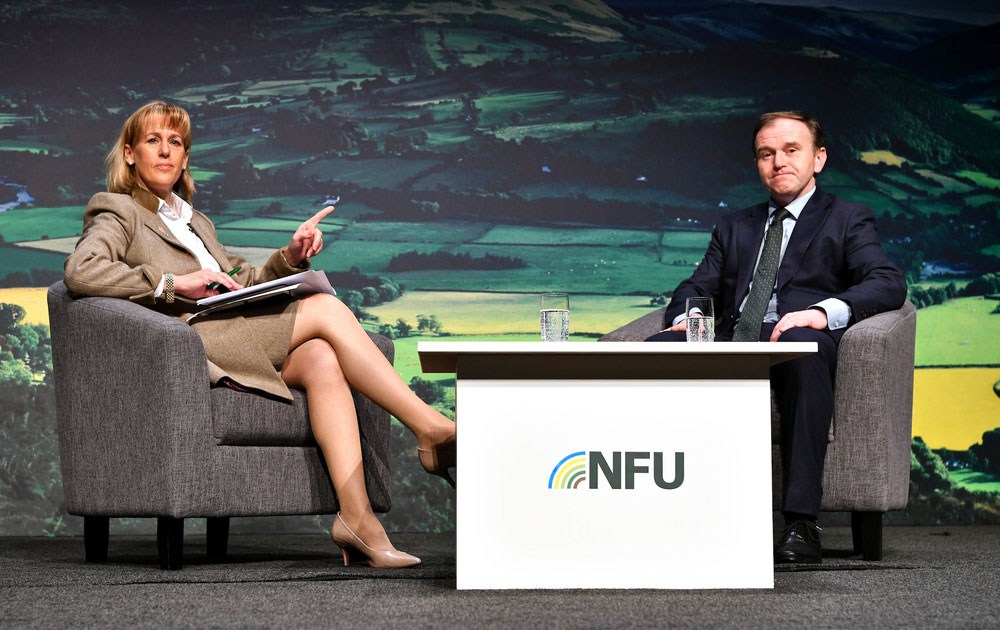 Pictured above: NFU President Minette Batters in conversation with Defra Secretary of State George Eustice at NFU Conference in February 2020
Here in Yorkshire, food and farming is enormously important. Farming alone accounts for 35,000 jobs and contributes £843m to the local economy every year. This is the bedrock for the region's hugely successful food and drink businesses – which collectively make up our largest local manufacturing sector. But, of course, it's not just about food. Equally important is the way farmers protect, maintain and enhance our wonderful countryside which people visit in their millions every year - iconic spots such as the Yorkshire Dales National Park or North York Moors, full of small, hard-working family farms which are the backbone of local communities and rural life. Farmers here, many who've experienced tough times and continue to run businesses on wafer thin margins, say if they were forced to compete against imports that are produced using production methods illegal in this country, it would be catastrophic for their businesses.
Farmers, animal welfare groups, environmentalists and, most importantly, the great British public, have made their views crystal clear. Through our petition, they have pledged their support for our world-leading animal welfare and environmental standards – no one wants to see chlorinated chicken or hormone-fed beef on supermarket shelves or on our plates
Decisions being made now by politicians in Westminster will leave a legacy for decades and generations to come. Your children and their children's future depend on it. That's why it is so important that we get this right. Access to safe, traceable, affordable and nutritious food produced to the highest standards should be a right for all of us. We must not throw that away in the pursuit of free trade.
We have the opportunity now to promote our sustainable, climate-friendly food across the world and I am eager to achieve this ambition. I would urge anyone reading this today and who shares these values to sign our petition and send a simple message to the government - that you want all food eaten in the UK to match the high standards expected of our farmers.
More from NFUonline on food standards:
You might also be interested in: