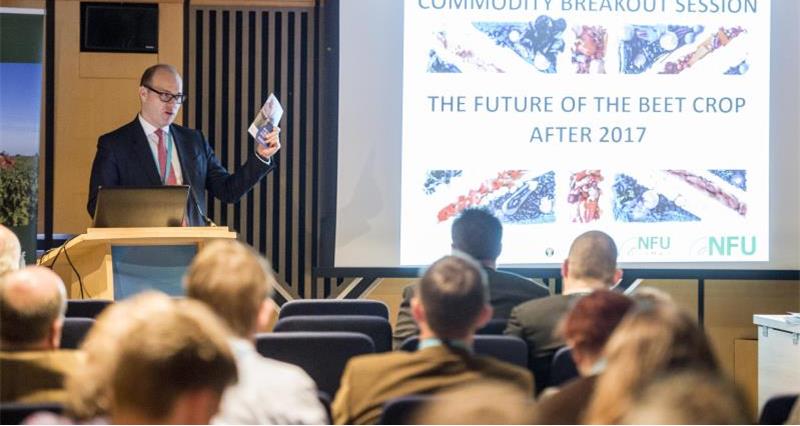 A positive perception of sugar and a robust deal for growers in a rising market were key topics of discussion among sugar producers.

Capitalising on market share
Chairman of NFU Sugar William Martin said: "The key role for NFU Sugar in 2017 will be to ensure that we capture our growers' share of a rising market. The price deal for beet for the 2017/18 crop includes a fixed price with an uplift connected to the EU price for sugar. Growers also had the option of capturing a bigger slice of any price uplift by committing to a three-year contract rather than the conventional one year arrangement.
"This is a bold new step for growers and the processor and it is our intention to work in partnership with British Sugar to secure a strong UK beet industry when the EU sugar regime ends and with it, the removal of a sugar quota."

Making the case
Mr Martin said: "We are continuing our efforts to secure the grower's share of any increased efficiencies in growing, harvesting and hauling beet to the factories.
"NFU Sugar is pleased to present the work of Matteo Iagatti who was commissioned by the Sugar Board to provide a report on whether the world market price can help sugar growers predict domestic European market price. The presentation showcased the need for transparency within market price reporting and highlighted the importance for NFU growers to have up-to-date market information and monthly market insights."

Championing the sector
Paul Kenward, managing director of British Sugar said: "We are hoping to promote sugar among the British public and we are looking to increase our media campaigns in the future. Through increasing and developing our advocacy work we are making the case for sugar as a product alongside promoting how the sugar beet industry delivers for the UK economy and the consumer.
"The government is currently very interested in what we as the sugar beet industry are having to say, and we are having frequent discussions ensuring that the strength of UK sugar production is communicated. It is imperative that a trade deal and a post-Brexit sugar policy is developed that helps and not hinders the UK industry."