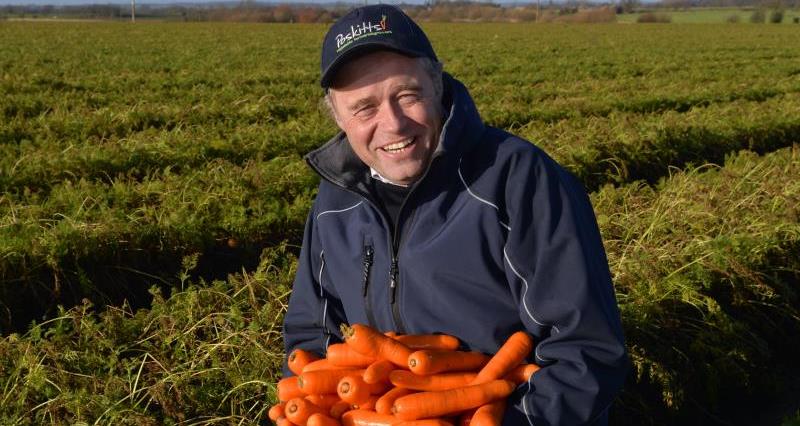 Vegetable farmer Guy Poskitt writes in the Yorkshire Post on Back British Farming day about why the nation should support environmentally-friendly, sustainable farming.
In Yorkshire we grow fantastic food in abundance. Any field you go past, whether it's growing wheat or rearing cattle, the likelihood is you're seeing the food which could end up on your plate in the near future. I farm near Goole and if you go past one of my fields, you'll see a variety of root vegetables – think every veg you'd want on your dinner table on a Sunday afternoon, from potatoes and carrots to parsnips and swedes.
On my farm we grow, wash, pack and distribute all our veg from the site. It's a big operation, but it means we can ensure the highest quality from planting the crop right through to sending it off to the supermarket. For me, quality is everything – not just of the food itself, but the whole system. I take great pride in knowing that the food I deliver is seriously tasty, highly nutritious and grown sustainably.
Chances are that most of the food you will eat today has been grown in this country. This is why today, on Back British Farming Day, I am asking all in Yorkshire to show their support for our nation's farmers who, like me, are working to build a progressive, climate-friendly food production system in Britain.
Today is also a chance for the whole farming community, Westminster and the great British public to unite over an issue that concerns us all – food production standards.
When we talk about food standards, we are talking about the strict regulations governing how we produce food while maintaining high levels of animal welfare, environmental protection and food safety. Not all countries have the same approach.
Quite often the standards issue is focused around the threat of importing chlorinated chicken and hormone fed beef. This is completely understandable – no one wants to see these products back on UK shelves after being banned for decades. But just as important is environmental delivery, and becoming even more so as we work towards a net zero economy.
Now I have always considered myself very much your traditional farmer. I base decisions on what makes good business sense. And as a farmer, whose livelihood depends on the land, it makes good business sense to look after it. A thriving, diverse landscape means a thriving, diverse business.
Every day I adhere to a strict set of regulations on the environment. I supply Asda and they require all their suppliers to be Red Tractor assured, which means minimising fertiliser and pesticide use as much as possible and adopting methods to limit any impacts on the environment and wildlife.
What's more, in this country we hold our countryside in high regard. Take Yorkshire as the example, here we enjoy a vast and varied landscape that attracts people from every corner of the country, flocking to roam the hills, admire spectacular views and take in a breath of fresh air.
The majority of this land is cared for by farmers – it's our home. In my experience, every good farmer wants to leave their land and in better shape than they found it. This means encouraging biodiversity, providing habitat for wildlife, maintaining clean waterways and keeping our soils healthy.
My farm also produces renewable and bioenergy. We have solar panels that produce just under 50kW of power and back in 2014 we installed an Anaerobic Digester (AD) plant that turns any food waste we have into biogas.
I did all this before the government announced its net zero by 2050 plan and my farm has been working in harmony with the environment for as long as I can remember. This was because, not only was it the right thing to do, but it also made sense for my business and I can now say with pride that I am farming with limited impact on the environment and the climate.
But this will mean nothing if the government undermines the high regulatory standards I adhere to, and choose to take even further, by accepting a trade deal that accepts food imports produced in ways that would be illegal here.
This Back British Farming Day we need to put this issue in front of our MPs. We all want high welfare, environment and climate-friendly food and we need to show our MPs that this is an issue their constituents care deeply about. Because this is not just about food standards, this is about the very values we stand for.
We need a trade and agriculture policy that supports sustainable food production. Farmers are already doing so much for the environment, but with the right policies in place we can do so much more. Our politicians need to recognise that this is not just a farming issue, it's an issue for every single person who wants to achieve a greener Britain. So if you're out enjoying the iconic British countryside today, I ask you to show your support on social media for the farmers who sustain it and shout loud and proud about why you #BackBritishFarming.