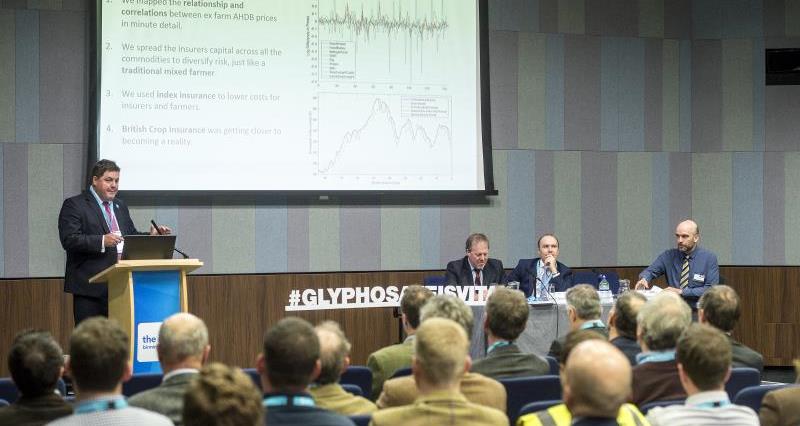 'Influence, change, future and success' - all very powerful and positive adjectives but did the combinable crops workshop at #NFU18 live up to its description?
More than 200 members heard about the NFU's work and wins in the arable sector and were thanked at a local, regional and national board level for their hard work in recent campaigns work, including #glyphposateisvital.
NFU Combinable Crops Board Chairman, Mike Hambly, ran through the work of the board and their priorities going forward.
"The work on the reauthorisation of glyphosate was a huge piece of work and our #glyphposateisvital campaign won an award. This resulted in a five year re-approval which wouldn't have happened without the effort of members writing to MPs and MEPs – the letters made a difference.
"We built on this for neonicotinoids and launched #SaveOurSeedTreatments. It's disappointing that the Secretary of State has moved the position of the UK to vote in favour of the proposed ban on non-flowering crops. But we're still waiting for an EFSA Report and a judgement from the European Court of Justice on the legality of the initial ban.
"Erucic Acid is an important issue so we've worked with the supply to try and tackle the problem. And with biofuels we had issues with Red Tractor's approval of an EU voluntary scheme going past the expiry date. That's now resolved, but we have longer-term work to do on MIFID-II.
"The board are concerned about fertiliser costs – which can be 40% of the cost for growing wheat. UK growers are being put at a disadvantage. We want to secure the removal of phosphate tariffs and anti-dumping measures."
Jack Watts, who joined the NFU as chief crops adviser in January, explained that the UK had good yields compared with the rest of the world.
"The global marketplace is becoming an extremely dangerous place. The growing share of Russian and Chinese crops is worrying. We need strong and robust home grown production in order to provide resilience against risk.
"The UK is morally obliged to make productive use of its land. If we stopped growing wheat overnight then the UK would become the world's largest wheat importer.
"It's easy for the reality to be skewed. We need to myth bust how we grow crops to consumers and what this industry can do to provide consumer protection.
"Grain is relatively cheap and easy to move around the world, which means that if we have a policy which disadvantages us, then we're going to feel it.
"We have a once in a generation opportunity to shape the arable sector – to highlight its importance to the economy, wider society and the environment.
"The national and regional board are central to our influencing and lobbying work, we have a story to tell about home grown grain in a dangerous world market."
Mr Watts made it clear that the key areas of focus for NFU crops would be putting members first, perfecting an arable deal for the DAP (Domestic Agricultural Policy) and keeping the tool box open for crop production.

Richard Counsell NSch, outlined how his new crops insurance tool, Stableprice.com, could be used by members in order to protect, to a certain degree, farm income from crop production.
With a background in farming, Richard spent 15 years working in the futures and technology industries. From this experience, coupled with extensive travelling through his Nuffield Scholarship he saw there was room for improvement in managing price risk.
Stable Price can be used to insure crops against price falls - the level of cover depending on the price the farmer would be happy for his wheat to be sold at. The lower the premium the higher the risk.
"Farming has a depressing price rise and price drop cycle, taking a risk can be exciting but it can also end badly. You can't make risk go away but you can transfer it on an exchange or pay a premium to transfer it to an insurer," he said.