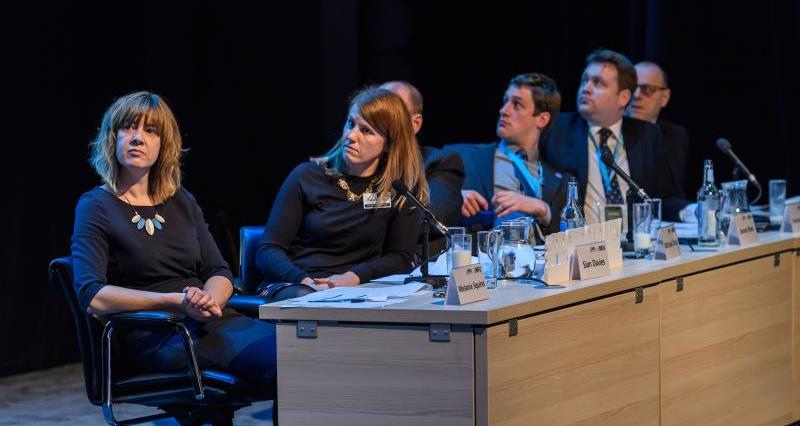 The dairy break-out session saw a broad discussion on issues from environment, labour, trade, Brexit, the next generation, risk management and data.
The whole panel of industry experts: Jannes Maes, CEJA; Robin Manning, Defra; Conor Mulihivill, Dairy Industry Ireland and Dairy Board chairman Michael Oakes agreed that there is a clear need to improve data in the dairy market – both on farm and in the supply chain and it was positive to hear Defra state that this was a priority.

A major focus for all is also risk management, having seen incomes vary from loss to record incomes within a year it's clear that there needs to be more solutions for farmers to help manage market volatility. Better data is key for this.
At conference, delegates heard regularly about the need to increase productivity. To do that agriculture needs a guaranteed supply of farm labour.
Robin Manning, agricultural policy and trade specialist at Defra, told delegates that the industry needed to attract and train up skilled staff as well as investing in robotics to mitigate the fact that a third of dairy workers are not British. But Defra also recognised the need for continued access to labour from outside the UK and there will be solutions for this going forward.
Dairy farmers may be forced to change their business models unless the issue of skilled labour is addressed, Mr Oakes, warned government. Mr Oakes said: "If we want high animal welfare, we need stockmen and stockwomen, it's all about stockmanship. And with the best robot in the world we won't be able to tell if a cow is off colour but a good quality stockman will pick those things up, and it's a win-win for the animal and the business."

The chairman of the European Council for young farmers, Jannes Maes, who is also a Belgian dairy farmer, said that animal welfare means very different things in the West and other parts of the world. In Europe we view welfare as the conditions the animal is kept in, whereas in Africa and south-east Asia it means freedom from disease. He said: "It surprises me that in a country like the UK where you have very hard movement on animal welfare you are not able to control TB, because that is real animal welfare."

On Brexit Mr Maes commented that he had heard a number of speeches from Secretary of State, Michael Gove, over recent months and it was surprising that we were still talking about the ideology of Brexit rather than moving forward with the details.

Conor Mulvihill told attendees that he had difficulty getting Brexit on the agenda at European meetings. He said the feeling in the EU is that they are sorry to see us go but "don't let the door hit you on the way out". Mr Maes agreed and said that in Brussels there were far more pressing matters for agriculture such as the new CAP and the EU-Mercosur trade deal.

Mr Mulvihill said he spent 30% of his time on Brexit and that his organisation was preparing for a hard, no deal Brexit.

Mr Manning disagreed and said other European countries were just as interested in maintaining a good trading relationship with the UK, he mentioned several Brexit meetings he had attended where the future of the port of Zeebrugge and the Polish trade gap had been major concerns for Europe.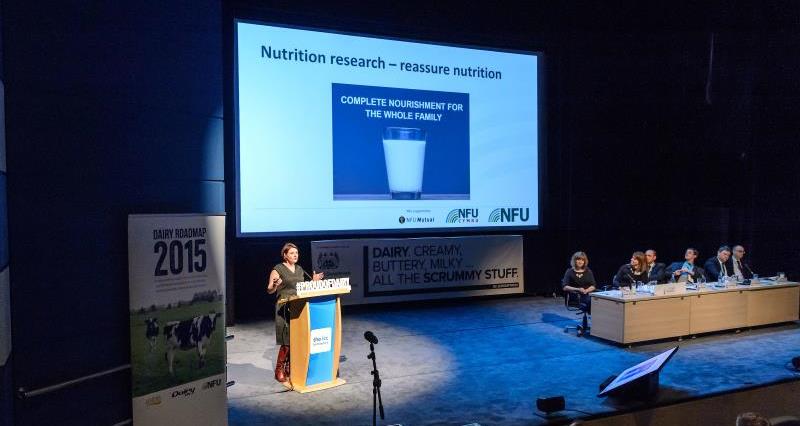 AHDB unveiled the next stage of its new campaign which aims to remind consumers why they fell in love with dairy in the first place. The light-hearted, department of 'Dairy Related Scrumptious Affairs' video campaign is aimed at millennials to remind them what an essential part dairy plays in the pleasurable moments of everyday life – from warm buttery crumpets on a cold day to creamy yoghurt as a healthy morning snack.
The campaign has also created a go-to page for farmers to help them engage with consumers and promote their businesses; "Tell it like it is" is an online platform where farmers can find advice on using social media, nutritional information about dairy products and also help dealing with militant activists. They can also order packs containing banners, car stickers, posters and further merchandise promoting dairy here.
AHDB estimated that around one billion people are involved in or supported by the dairy industry across the world. As part of the campaign they therefore intend to connect these people with influential social media users to help tell the story of dairy on a global scale.
Speaking after the session, chief dairy adviser Sian Davies said: "What was quite clear today is that the issues we're facing in dairy here in the UK are exactly the same in Ireland, Belgium and further afield. We don't need to find these solutions ourselves, we need to engage with others to learn about what's worked elsewhere and put it in place here. Better data, managing market volatility and access to labour are clear areas where we need to find solutions, and these are key priorities for the NFU Dairy Board. "