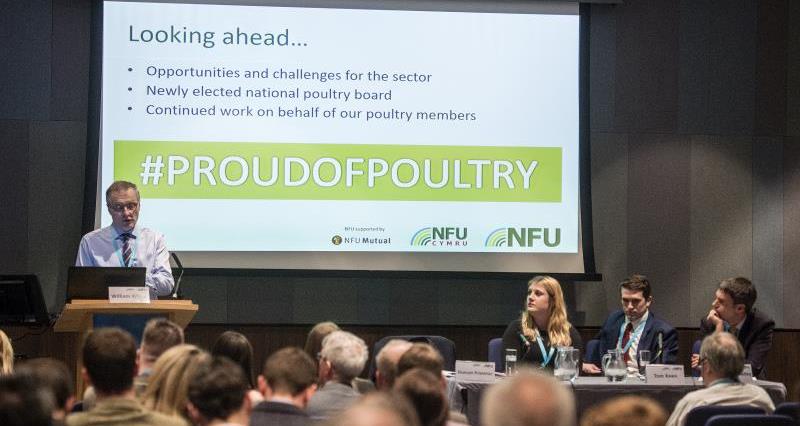 The reasons to be Proud Of Poultry were clear at NFU Conference, when Kantar's Helena King broke down the consumer developments for the poultry sector.
Results showed that broiler and egg volume and sales were up, driven by a significant trend towards healthy food.
Ms King said: "Existing shoppers are more engaged with eggs, not just eating them for breakfast but being inspired by international cuisine and eating them throughout the day. As a consequence, the sector has grown by 19%. Free range has increased its share of the egg market by eight percentage points compared to five years ago.
"Additionally, people are moving away from red meat and into poultry as it's seen as better value and more versatile. We are also seeing growth in dark poultry meat, such as drumsticks and legs, which are featuring in a lot of dishes. We're seeing in decline in whole birds but there is a decline in roasting occasions across the sectors."
The pride in the sector was highlighted in a brand new Proud Of Poultry 'Training' document – the first in a series of eight that will also cover Demand, Food Safety, Economy, Efficiency, Environment, Welfare, and Innovation and Technology.
Poultry board chairman Duncan Priestner introduced the document, which was produced by the NFU Poultry team, echoing the information that Ms King presented.
He said: "We need to share the message of healthy poultry and eggs. If there's somewhere we can get all that information in one place, then if anyone wants to do training, it will be easy to find."
The leaflet explains why the poultry industry should be proud of its commitment to training, highlighting the 47,000 jobs the industry directly supports, with more than 15 poultry specific short courses in 25 education establishments. It also features case studies about how poultry board member Claire Bragg and the NFU poultry adviser Aimee Mahony have developed in the industry.

A major theme of the session, as it was throughout the conference, was the EU and Brexit. To answer some of the sector's burning questions, the NFU Poultry team funded research by Dr Dylan Bradley, who previously designed an AHDB study into three possible outcomes from Brexit: Evolution (a continuation of the same system after the UK leaves the EU), Unilateral Liberalisation (no trade deal with the EU), and Fortress UK (reverting to World Trade Organisation rules).
Dr Bradley warned the results were provisional, but the NFU will publish a report within a few weeks. A major area of concern is the poultry sector's access to labour and increased costs.
He said: "Broiler output prices are likely to remain level under all scenarios, but labour costs are likely to increase. And in the egg sector, access to labour and increases in costs are likely to become critical."
Download a copy of Proud of Poultry clicking here.