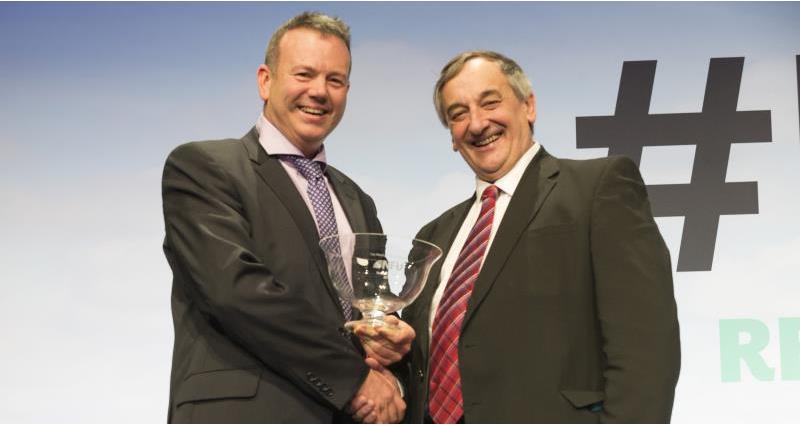 A farmer from North Yorkshire has been honoured at this year's NFU Conference for his dedication and commitment to the NFU and to the farming industry.
Richard Bramley is the first ever recipient of the Meurig Raymond Award – named after the NFU's outgoing President who steps down this week after 14 years as a national officeholder.
Mr Bramley, who farms 500 acres of combinable and root crops near York, is highly regarded for his work in making the case for farming in the corridors of power both regionally and nationally and securing a number of lobbying wins for fellow NFU members.
He was one of the first to sign up to the voluntary Campaign for the Farmed Environment, is a member of the NFU's Environment Forum and played a leading role in developing the environment strand of the North East regional Pride and Provenance initiative.
Mr Bramley said: "I'm shocked and completely overwhelmed. It really is a lovely thing to happen as the NFU is such a fantastic organisation. It's great that your peers recognise the work you undertake. I don't do it for anything other than for the industry and for my utter belief that we're doing the right thing
"All of the eight nominees are great members - we're just part of one big team. We've all got the same idea and to be picked out from that group must have been a very difficult decision."
NFU Director General Terry Jones said: "I'm absolutely delighted for Richard who is a worthy winner of this inaugural award.
"As we say farewell to Meurig, one of our longest serving post-war national officeholders, we wanted to mark his tenure and also acknowledge what engaged grassroots members do for the organisation, highlighting best practice and encouraging others to act similarly.
"Richard is the embodiment of what the NFU is all about. He's one of those unsung farming heroes who provide an authentic voice as part of NFU campaigns and who lobby tirelessly for a better trading environment both politically and commercially.
"He's been at the forefront of raising awareness of the importance of a farmed environment alongside producing high quality food and running a profitable and viable business."