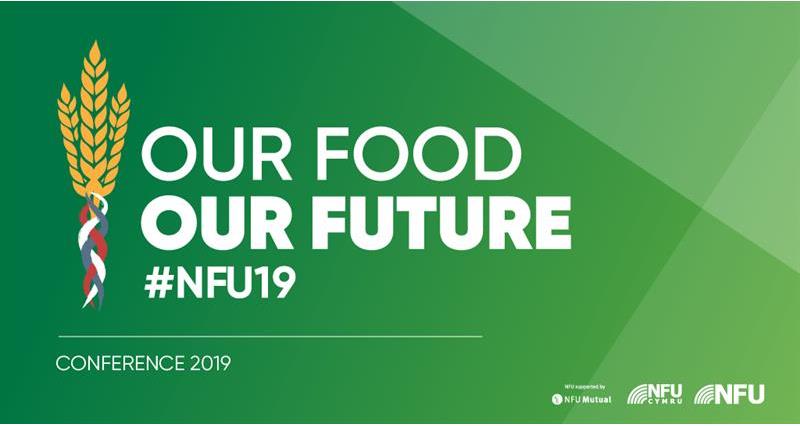 10.15 - 10.35 Opening Address (Hall 1)
Minette Batters, President, NFU
Watch live and again here
10.45 - 11.45 Political Session (Hall 1)
The Rt Hon Michael Gove MP, Secretary of State for Environment, Food and Rural Affairs
Chaired by Minette Batters, President, NFU
Watch live and again here
11.45 - 12.45 The Future of Food - where are we going? (Hall 1)
Dr Andrea Graham, Head of Policy Services, NFU
Jack Bobo, Vice President for Global Policy and Government Affairs, Intrexon Corporation
James Walton, Chief Economist, IGD
Chaired by Guy Smith, Deputy President, NFU
Watch live and again here
12.45 - 14.00 Lunch (Hall 3)
14.00 - 15.30 Workshops:
A TASTE FOR THE FUTURE (Hall 1)
The future diet of our society will ultimately define the end market for the food produced by UK farm businesses. Not only that, but how the structure of the retail sector evolves will change the way in which our members will interact with their customers both directly and indirectly. This session will take delegates through the eyes of the consumer of tomorrow, with insight into future trends and market demand, all of which can help you stay ahead of the curve.

Speakers:
Judith Batchelar OBE, Director of Sainsbury's Brand, Sainsbury's
Nathan Ward, Business Unit Director, Kantar Worldpanel
Eve Simmons, Deputy Health Editor, Mail on Sunday
Derek Scuffell, Data Strategist, Knowmatics
Chaired by Julia Glotz, Managing Editor, The Grocer
To be video recorded and available on NFUonline.
GAME CHANGING INNOVATION (Hall 8)
The technological landscape is constantly evolving. In order to be more competitive and meet the needs of their customers, farm businesses need to be early adopters of new tools and practices. In this session we look to the future to gain a better understanding of the technological possibilities that will be available to the industry.

Speakers:
Professor Mark Rutter, Professor of Applied Animal Behaviour, Harper Adams University
Julian Gairdner, Managing Director, Rezare Systems UK Ltd
Dr Alison Bentley, Director of Genetics and Breeding, NIAB
Jonathan Gill, Co-developer of the 'Hand free Hectare' & Researcher, Harper Adams University
Dr Helen Ferrier, Chief Science & Regulatory Affairs Adviser, NFU
Chaired by Andrew Clark, Director of Policy, NFU
To be video recorded and available on NFUonline.
FUTURE PROOFING YOUR FARMING BUSINESS THROUGH PEOPLE (Hall 4)
The continuing consolidation of farm businesses, a wave of new and exciting technologies, a generational changeover of the ageing farming population, and the removal of direct support in the format we know it today will gradually create a transformation of farm businesses over the next few years. This session will look at future proofing the farm business and chart the flow from engaging new entrants, changing farm structures for succession and key considerations for exiting the industry.

Speakers:
Dr Andrew Francis, Chief Economics Adviser, NFU
Louise Taylor, Managing Director of Taylor Millbrook and partner in Barbers Rural Consultancy
Sean McCann, Chartered Financial Planner, NFU Mutual
Abi Reader, Vice Chair, NFU Cymru Milk Board
James Small, Farmer
Andrew Burgess, Co-Owner, Produce World, RB Organic & Burgess Farms
Chaired by Terry Jones, Director General, NFU
To be video recorded and available on NFUonline.
ENERGY: THE ALTERNATIVE INCOME STREAM (Hall 10)
In the years ahead many farm businesses will look to renewable energy generation and storage to provide a vital diversified income and reduction of on-farm energy costs. As a result, the role of the farm business as a provider of energy services will become even more significant. In this session we explore what the landscape for new renewable energy markets might look like.
Speakers:
Tim Pratt, Technical Director, NFU Energy
Dr Jonathan Scurlock, Chief Adviser - Renewable Energy and Climate Change, NFU
Oli Coe, Head of Technical Delivery, NFU Energy
Jon Swain, Head of Sales, NFU Energy
Chaired by Tim Crocker, Managing Director, NFU Energy
To be video recorded and available on NFUonline.
WELSH FARMING: FOOD AT THE HEART OF OUR FUTURE (Hall 5)
NFU Cymru is an organisation that is ambitious for the future of Welsh farming. Food production is at the heart of our ambition and our panel of leading industry experts will outline their thoughts on how Wales can position itself as a major food producing nation and build on our existing brand values in order to develop a thriving post Brexit industry.
Speakers:
John Davies, President, NFU Cymru
Kevin Roberts, Chairman, HCC
Dr Tim Render, Lead Director for the Environment and Rural Affairs, Welsh Government
Dafydd Jones, Chairman, Wales YFC
Andy Richardson, Chairman, Welsh Government, Food & Drink Board
Chaired by John Mercer, Director, NFU Cymru
To be video recorded and available on NFUonline and NFU Cymru.
15.30 - 16.00 Coffee break
16.00 - 17.30: The Future of Food - how do we get there? (Hall 1)
Speakers:
Trefor Griffith, National Head of Food and Beverage and Consumer Markets, Grant Thornton
Iain Ferguson CBE, Co-Chair, Food & Drink Sector Council
Sue Davies, Strategic Policy Partner, Which?
Chaired by Stuart Roberts, Vice President, NFU
Watch live and again here
18.30 - 19.15 Doors open for dinner (Hall 3)
19.15 Regional awards (Hall 3)
19.45 Dinner (Hall 3)
8.00 - 8.45 Meet your Officeholders (members only)
Get day two off to a flying start with a chance to discuss any aspect of the NFU's work with the Presidential team. Q&A format.
9.00 - 10.30 Commodity sessions:
DAIRY FARMERS AND THEIR CUSTOMERS, FORGING A FAVOURABLE FUTURE (Hall 5)
This session will look at how farmer's future relationships with their customers and shoppers may evolve in the future. This session will assess the forthcoming issues which are most likely to affect these relationships, specifically the noise from consumers to increase welfare standards. In addition the session will assess Defra's proposals to introduce minimum contract terms for dairy contracts and what affect this will have for producers.
Speakers
Michael Oakes, Dairy Board Chairman, NFU
Nina Winter, Chief Legal Adviser, NFU
Susie Stannard, Senior Consumer Insight Analyst, AHDB
Rebecca Miah, Senior Consumer Marketing Communications Manager, AHDB
Ruth Edge, Acting Chief Dairy Adviser, NFU
Chaired by Melanie Squires, South West Regional Director, NFU
LIVESTOCK: THE GLOBAL PERSPECTIVE, IN EVERY CHALLENGE IS OPPORTUNITY (Hall 1)
Delegates will hear from a range of speakers who will explore some of the challenges and opportunities for the UK red meat sector. We will examine domestic and global trends, where we see trade opportunities and how we overcome market access issues.

The NFU's livestock board chairman will review the work of the board and outline his strategy for a more efficient, productive and profitable sector that has the tools to adapt and change in these unprecedented and uncertain times.

And, how can government help drive forward productivity gains through a targeted support and policy framework that not only ensures a supply of safe affordable food but maintains a profitable livestock sector in the UK.
Speakers
Richard Findlay, Livestock Board Chairman, NFU
Stuart Roberts, Vice President, NFU
Richard Brown, Director, Gira
Christine Middlemiss, UK Chief Veterinary Officer, Defra
Will Jackson, Strategy Director, AHDB
Chaired by David Hall, North West Regional Director, NFU
COMBINABLE CROPS: A RESILIENT CROP SECTOR DELIVERING FOR FOOD, ENVIRONMENT AND BUSINESS (Hall 9)
Tom Bradshaw and Jack Watts will provide a comprehensive update on key projects and how they are delivering the four priorities set out by the National Crops Board for 2018-20. 2019 will provide some key challenges for the sector, so members will have a forward look of these and how the NFU Crops Team is preparing. Mike Green, Agricultural Sustainability Manager for BASF will focus on how the industry can use Natural Capital as a potential market to contribute to the financial resilience of arable businesses. Finally, members will have opportunity to put their questions to the National Board and sector staff. Members can email their questions in advance to amFjay53YXR0c0BuZnUub3JnLnVr or ask on the day.
Speakers
Tom Bradshaw, Combinable Crops Board Chairman, NFU
Jack Watts, Chief Combinable Crops Adviser, NFU
Mike Green, Agricultural Sustainability Manager, BASF
Chaired by Adam Bedford, North East Regional Director, NFU
HORTICULTURE & POTATOES: CRACKING THE LABOUR NUT (Hall 8)
How will the industry secure longer term access to the permanent and seasonal labour it needs, and what role does the government have to help bridge the automation gap? In this session you will hear the thoughts of NFU horticulture and potatoes board members and industry experts on the opportunities for 2019, followed by an open Q&A session where you get to ask your burning questions.
Speakers
Ali Capper, Chairman, NFU Horticulture & Potatoes Board
Derek Wilkinson, Vice Chairman, NFU Horticulture & Potatoes Board
Lee Abbey, Chief Adviser Horticulture & Potatoes, NFU
Prof. Simon Pearson, Director, Lincoln Institute for Agri-Tech
Sam Zubaidi, Operations and Development Manager, Concordia
Chaired by William White, South East Regional Director, NFU
POULTRY: OUR FOOD, OUR FUTURE - A GLOBAL AND DOMESTIC PERSPECTIVE? (Hall 10)
An opportunity to hear from Thomas Wornham, the National Poultry Board Chair on the Board's priorities and what we want to achieve during 2019 as well as the popular update on consumer buying habits by Rose Keen from Kantar.
The session will then hear from three speakers: initially continuing the focus on the domestic market with Professor Louise Manning, a leading academic focussing on the role played by poultry in feeding the nation before switching to an international focus with a presentation from Philip Wilkinson OBE, who has extensive experience in international trade, followed by Dutch farmer and chair of the Dutch Poultry Farmers association, Eric Hubers, focusing on the efficiencies of Dutch egg production, recent environmental challenges and the fipronil crisis.
There will be plenty of opportunity for delegates to ask questions during the panel Q&A session following the presentations.
Speakers
Thomas Wornham, Chairman, NFU National Poultry Board
Rose Keen, Client Manager, Kantar Worldpanel
Professor Louise Manning, Professor of Agri-Food and Supply Chain Security, Royal Agricultural University
Philip Wilkinson OBE, Executive Director, 2 Sisters Food Group
Eric Hubers, Dutch egg farmer and Chairman of Dutch Poultry Farmers
Chaired by Robert Newbery, West Midlands Regional Director, NFU
SUGAR: NEW WAYS TO IMPROVE TRANSPARENCY IN THE UK SUGAR BEET SUPPLY CHAIN (Hall 7)
Greater openness and transparency is an ambition shared by UK growers and British Sugar. In this session, we bring a fresh perspective, from Anders Lindkvist, Secretary General of Betodlarna, the Swedish Beet Growers Association, to our thinking.
Greater openness and transparency between Betodlarna and the private processor Nordic Sugar has helped the whole industry be more efficient and make better long term decisions. We will also hear examples where lack of transparency in the Swedish industry creates problems and consider implications for the UK.
Following the presentation there will be a panel discussion with Anders, Michael Sly, Chairman of the NFU Sugar Board and Paul Kenward, Managing Director of British Sugar, on what the UK sugar industry can learn from Sweden and elsewhere.
Speakers
Anders Lindkvist, Secretary General, Betodlarna (Swedish Beet Growers Association)
Michael Sly, Chairman, NFU Sugar Board
Paul Kenward, Managing Director, British Sugar
Chaired by Rachel Carrington, East Anglia Regional Director, NFU
10.30 - 11.00 Coffee break (Hall 3)
11.00 - 12.45 Political Session 2 - Brexit: Where next? (Hall 1)
Speakers
Nick von Westenholz, Director of EU Exit and International Trade, NFU
Gail Soutar, Chief EU Exit and International Trade Adviser, NFU
Andrew Clark, Director of Policy, NFU
Chaired by John Davies, President, NFU Cymru
Terry Jones, Director General, NFU
in conversation with Steve Richards, Political Commentator
Watch live and again here
12.45 - 13.00 Closing Address, NFU President Minette Batters (Hall 1)
13.00 - 14.00 Lunch (Hall 3)
14.00 - 15.00 AGM (Hall 1)