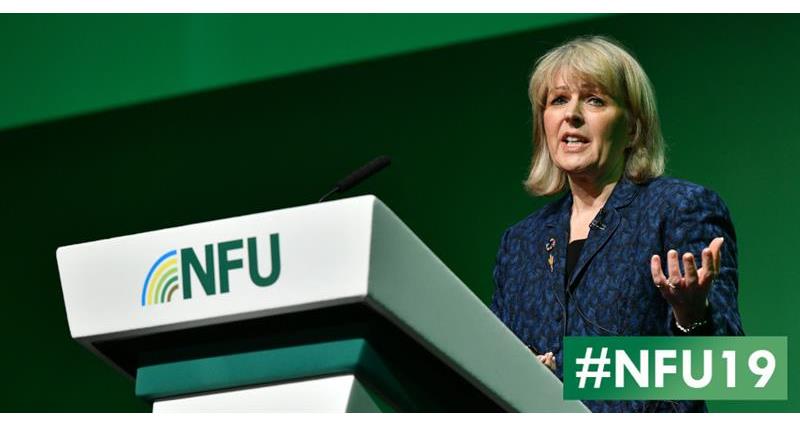 Pictured above: Judith Batchelar OBE, director of Sainsbury's brand
The future of how we shop, what customers want to buy, and today's key health and nutrition trends were the focus of this workshop session at NFU Conference 2019.
Speakers:
Judith Batchelar OBE, Director of Sainsbury's Brand, Sainsbury's
Nathan Ward, Business Unit Director, Kantar Worldpanel
Eve Simmons, Deputy Health Editor, Mail on Sunday
Derek Scuffell, Data Strategist, Knowmatics
Chaired by Julia Glotz, Managing Editor, The Grocer
Significant shifts in shopping and eating habits could potentially have a profound impact on farm businesses in terms of where future emphasis and opportunities should lie. Similarly, how the structure of the retail sector evolves over the next couple of decades will change and the way in which NFU members will interact with their customers, directly and indirectly, will similarly alter.
The NFU's acting chief dairy adviser Ruth Edge said:
"The UK's future dietary choices will ultimately define the end market for the food produced by UK farm businesses. The closer our farmers are to the end market, the better they will be able to make effective business choices and decide how and what to produce."
Nathan Ward from Kantar Worldpanel said:
"The shopper has huge choice these days, but we've seen a move away from quickness and ready meals and a shift to meals that take longer to cook but require less effort in the preparation.
"Interestingly, there was no drop-off in meat eating during Veganuary this year. Tastes and habits might be changing, but not quickly. There's a lot of noise about some of these trends, but it's not happening as quickly as some in the press seem to be suggesting."
Judith Batchelar of Sainsbury's said:
"I was struck by one of the speakers this morning who said that 'consumers have never cared more, but known less about their food'. It's important to reconnect customers to where their food comes from and also for farmers to de-commoditise the commodities and look where the market growth might be, and aim to capture some of that value.
"We have to provide transparency, traceability and disclosure to our customers and technology can help us do that."
Mrs Edge said:
"There's likely to be a continued disaggregation in the structure of the retail market as we know it today. Particularly with the impact of more information than ever being available to consumers. This could also represent an opportunity for farmers to use technology to strengthen the connection between producer and consumer
"There are continued developments in technology that have the potential to improve data from farm to customers – this provides a range of opportunities for farmers to differentiate in changing markets.
"It is imperative that farmer and the food chain as a whole engage with customers, both now and in the future, to ensure a profitable and sustainable agriculture sector."
Watch this #NFU19 session in full: