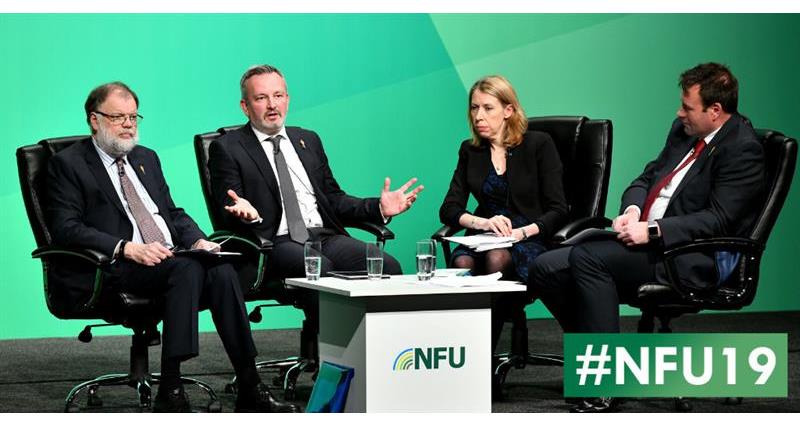 Innovation and excellence were the two big themes under the spotlight as food and drink industry leaders were asked how farmers can make the most of opportunities for their businesses in the next 20 years. But there was also a strong focus on the need to improve transparency within the supply chain.
NFU Vice President Stuart Roberts said: "It is clear to me that the farming, food manufacturing, retail and food service sectors are going to need to work more closely together in the future.
"While we do have some good examples of the supply chain working well we also have a distinct lack of trust between some players. That must be addressed if we are not only to fight off foreign competition but really maximise the opportunities that will exist in a world of growing demand.
"However, the most important person in any supply chain is the consumer. If we don't pay attention to what they feel, we are doomed to fail."
Closing the first day of NFU Conference 2019, Mr Roberts asked the panel what they thought consumers will look for when they make their buying decisions in the future.
Known as a consumer champion, Sue Davies, strategic policy partner at Which?, said: "It is essential that there is a focus on high standards and on excellence. Maintaining high standards and competing on this basis is essential for the domestic market – but also for imports – as this is what our consumer research shows that people expect.
"A Which? survey in October 2018 found that 90% of people think it is important that existing food standards are maintained. People want to support British meat and dairy products, for many reasons such as buying local and being fresher.
"The goal must be a truly joined up food and farming policy with a much stronger focus on the end consumer. Defra and the many other government departments with an interest in food must work together to ensure a joined-up and coherent approach.
"Consumer interests also need to be central to the drive for greater use of technology and innovation within the sector. It is reassuring to hear the importance of consumers' interests here today."

A Which? survey in September 2018 found that 69% of people thought that the government should provide financial support to farmers. Ten per cent disagreed, with 13% saying that they neither agreed or disagreed and 8% saying that they did not know. When asked what this support should be based on, animal welfare, food safety and animal health were people's top priorities.

For Iain Ferguson, co-chair of the Food and Drink Sector Council, it is crucial for farmers to build support in the food chain and with shoppers in the next 20 years. He told conference: "Be prepared and open to embrace new approaches, new technologies and new business models while playing an active role in shaping new relationships in the agriculture and food chains.
"Recognise that, as key members of the agriculture and food industry, there is a shared responsibility to create and promote career and investment propositions that will attract new people and new capital into the industry. Skills, nutrition and innovation are all priorities for the council.
"And there is an opportunity play a leading role in working with government and civil society – the electorate – to build a new consensus for longer term UK Agricultural Policy, public investment and support. It's an incredibly interesting time, there's a huge amount of change with new relationships being developed and old ones being tested."
Trefor Griffith, National Head of Food and Beverage and Consumer Markets, added: "The UK food and beverage sector has a world class reputation for its innovation, quality and standards.

"All operators throughout the supply chain, from farmers to manufacturers to retailers, need to respond as quickly as possible to fast-moving consumer trends and demands. In a post-Brexit world, it will be vital that the government helps the sector by ensuring there is adequate funding support available, by adopting policies that enable investment in innovation and uphold the UK's leading reputation, and to help showcase the strength of the industry with the aim of developing more export opportunities."
More from #NFU19: