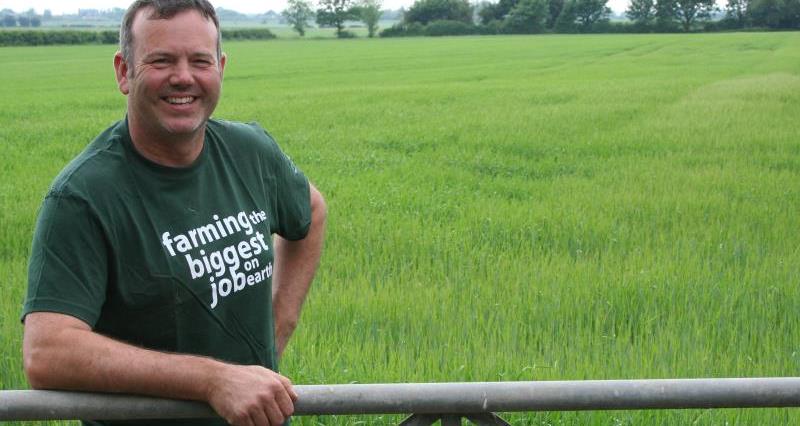 NFU Environment Forum member Richard Bramley considers European Green Week, the biggest annual gathering of environmental organisations. Richard is an arable farmer from near York. He farms 500 acres of combinable / root crops alongside an ELS scheme.

He writes:
This is my second appearance at the European Green Week; although this year I was only present in spirit as I'll explain in a moment.
As part of my role on the NFU's Environment Forum, I'm often asked to present my experiences as a farmer to different audiences and Green Week is the perfect opportunity to showcase what we do.
Green Week is a collection of events organised by the European Commission aimed at discussing environmental policy. It's the biggest annual gathering of environmental organisations and is attended by NGOs, conservation groups, policy makers, farming representatives and commission officials.
This year's theme is 'Investing for a Greener future'. Unfortunately, when I was invited to represent the NFU at the event, it clashed with a long-standing wedding invitation so instead, I polished off my autocue skills and was filmed on-farm presenting our work with the Campaign for the Farmed Environment.
The CFE is a farmer-led industry initiative that supports farmers to manage their land for the environment. Made up for 14 farming and wildlife organisations, the CFE understands the balance between production and taking care of the wider farmed environment.
Fundamentally the campaign supports farmers choosing the right environmental measures, putting them in the right place and managing them in the right way - a flexible approach to farm management.
Farmers and their representatives, like the National Farmers Union, are at the heart of the campaign, as they best understand the challenge. Making sure that environmental management is integrated into profitable and productive farming is vital for the future.
With the help of the CFE regional teams, who are a vital link in the delivery, farmers can access support and education on the best options through farm visits and talks. The CFE provides a range of guides from conservation management, to soil and crop protection guidance.
While I was sorry not to be able to make it over to Brussels for the actual event, it's absolutely vital that farming's voice is heard. One of the things that I've noticed during my time in Europe's capital, is that the 'deep green' lobby has a loud and prominent voice which can often drown out the call from Europe's farmers. Whereas we ought to be pulling in the same direction. After all, no farmer can profit if the environment doesn't profit too – so to pretend that we are on opposite sides of the debate is pretty outdated.
The Campaign for the Farmed Environment is a cross-industry partnership so hopefully our example could be successfully replicated across Europe.