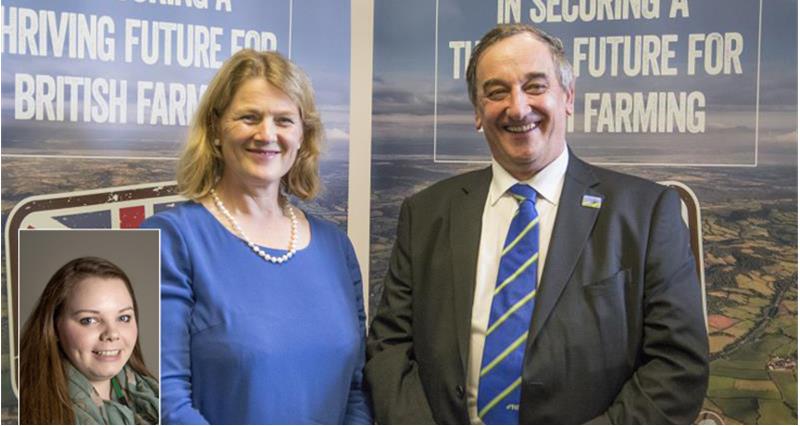 Main pic: NFU President Meurig Raymond meets Grocery Code Adjudicator Christine Tacon

NFU food chain adviser Christine McDowell (inset, above) says the UK agricultural industry is eagerly awaiting the results of a review of the Grocery Code Adjudicator's remit.
She writes:
I have heard in some cases that fundamental business decisions have been made further up the supply chain, changing processes and specifications within the supply chain; ultimately having a detrimental impact at grass roots level. Therefore, I am pleased Defra will be working with the Department for Business, Innovation and Skills who will shortly be commencing a review of the GCA. As part of the review it will be explored how the review can take account of the recent calls for the GCA's remit to be extended.
Now is the chance for farming businesses to highlight these concerns to government in order for appropriate action to be taken.
Fair and transparent supply chains has been an NFU ask for some time now. Voluntary Codes where introduced as a code of best practise at an attempt to resolve ongoing issues, but they have limited impact. Approximately 50% of the beef cattle within our food chain are sold under a Voluntary Code, and yet some processors are changing specifications, giving little notice.
More recently, within the dairy sector, I have heard of a milk buyer giving 48 hours' notice to their producers of a price change. If the UK is to compete on a global market place and stay competitive, our farming sector needs to have the confidence in the food chain to ensure it is sustainable and efficient as possible. It's challenging to operate a business with a poor price at the farm gate, but it makes it even more challenging when the goal posts are consistently being moved at the drop of a hat.
Changing GSCOP legislation or increasing the breath of businesses GSCOP relates to could help, but it won't be directly changing the relationships of farmers and their buyers - where the problem lies.
The principles of the voluntary codes need to be made mandatory and the consequences of breaking the code to be greater. The Spanish impose sanctions throughout the whole supply chain in a tiered hierarchy depending on the seriousness of the offence. It's clear that any ramifications of breaking a code isn't viewed as an industry black mark and repeat offenders are left to continue "business as usual". The UK can learn from this to better our current situation. The GCA has proven she can change and improve retailer behaviours; the next step is for this behaviour change at primary level.
Giving voluntary codes more teeth is the key. Mandatory compliance and bringing them under the remit of the GCA will help move the agricultural industry forward to a more transparent and open environment. It will also take into consideration sector complexities, ensuring a tailor-made code of best practise, identifying and resolving key areas of concern.

The Ornamental category remains the only sector within horticulture that isn't currently covered by GSCOP. We need to ensure this sector is not over looked this time, as I am aware of some major unfair trading within these supply chains.
I will be putting a call for evidence out to our membership, building case studies of key issues which will be submitted to BIS when they announce a public consultation post EU referendum. If you would like to be part of this, and your business has experienced unfair trading please get in touch using our online survey which can be found by clicking here. All case studies will be kept anonymous.