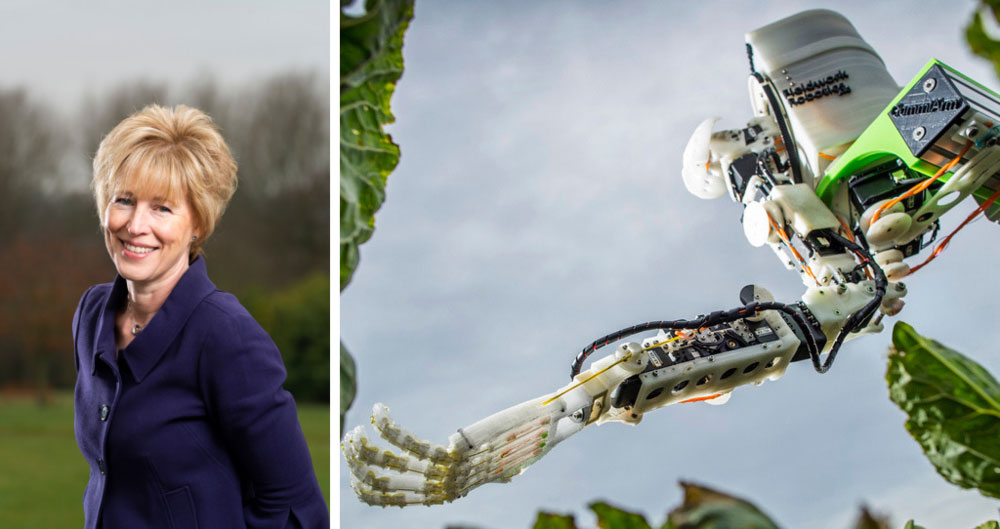 Last week the NFU's head of policy services Andrea Graham was invited to take part in the 'Matching Innovation to Farmers' Needs' panel at the World Agritech Summit in London. Here Andrea reflects on the event and the need for British farmers to be part of the conversation when it comes to finding technological solutions to farm business issues. She writes:
It's always good to take a look at what's emerging on the horizon in the world of agricultural technology and that's why I was particularly pleased to have the opportunity to attend and participate in the World Agri-Tech Innovation Summit in London last week. It's promoted as 'the most international gathering of agribusiness leaders, VC investors and agri-tech innovators' and last year attracted over 450 agribusinesses, start-ups and investors from 43 different countries.
The event was buzzing with agricultural technology companies and investors from across the globe – some big household names jostling for space among smaller start-up companies but all with something to sell. But what struck me was the absence of their target audience – farmers and growers. In our session right at the very end of day one our chair, Andrew Lazenby (CEO of RASE), asked how many delegates in the audience were farmers and one lone hand was put up. That spoke volumes to me. It's crucial that scientists and technology companies embed farmers into their work to get that vital cross fertilisation of solutions to address real practical problems on farm, and has been something the NFU has long advocated in its policy work.
In our particular session on "Matching Innovation to Farmers' Needs", the panel were asked to consider three pretty big questions. Namely:
What keeps farmers awake at night? From labour shortages and input costs to regulatory change, how do the biggest challenges drive farmers' strategy on the farm?
How do we connect consumer preferences, changing diets and environmental stewardship to farm profitability? What new framework is needed and how should costs be apportioned within the value chain?
How are farmers using data-driven farming and how do we match the insights that farmers are looking for now and in the future?
Even though the panel was diverse, there were strong common themes emerging around some of these questions, including the huge issue around the balance of power and trust and transparency, both within supply chain players and with customers. It was also interesting to hear how much of the discussion, not just in this session but others too, resonated with some of the key findings in our own Future of Food 2040 report launched at NFU Conference back in February 2019. There was a real sense of interest and optimism generated in terms of the potential technological and innovative opportunities for our industry.
However, the grand challenge and 'unlocker' undeniably pivots around what trading environment we find ourselves in. We have to have a level playing field for our food values, which includes environmental stewardship and animal welfare. This extends to making sure trade policy doesn't weaken our public and private investment supporting these values at home. If standards and values are undermined by importing competing products from countries who don't subscribe to them, we will both export our problems, consciences and our industries to other parts of the world with less control of the impacts. We have a highly refined, efficient and responsive marketplace that is world leading for giving consumers the right product and where they want. Connecting consumer preferences is exactly what we are good at. We rank 3rd in the world for food affordability and we should be careful not to damage this.
Farmers, processors and retailers will respond to the market and can deliver to the market while delivering on the public goods we describe. But, it must be a fair market. They cannot deliver these food values at a competitive price if we turn a blind eye to importing countries producing to standards that are illegal here. This is why we asked then Secretary of State for Environment, Food and Rural Affairs Micahel Gove to commit to a standards commission and, given that government has so far failed to set it up, why we will continue to press our case.
More from NFUonline: