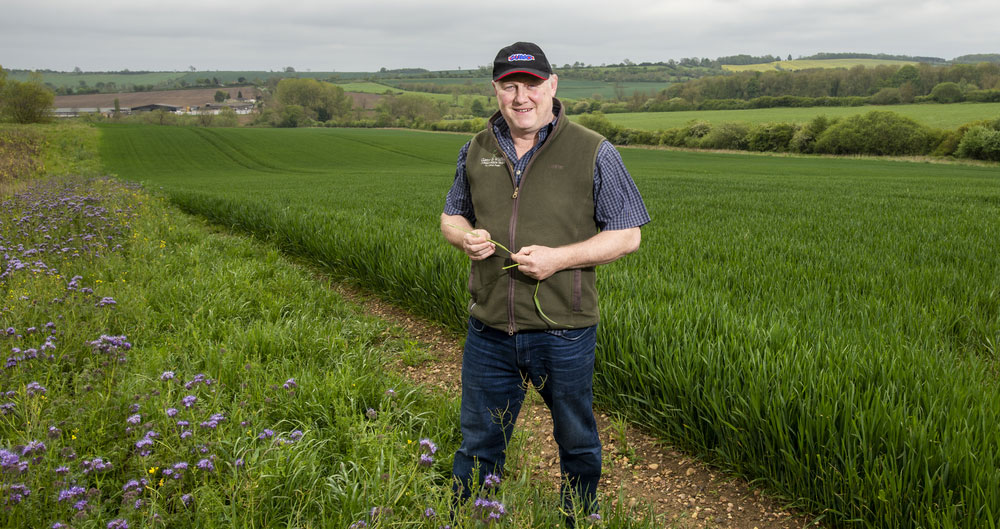 In light of the recent publication of the RSPB's State of Nature report, Phil Jarvis, chairman of the NFU Environment Forum, provides an insight into the ways farmers can continue to deliver for both food production and the environment in future.
He writes:
The State of Nature report presents a sobering message that the abundance and distribution of the UK's species has, on average, declined since 1970, with some metrics suggesting this decline has continued in the most recent decade.
Agricultural management, alongside other pressures including climate change, urbanisation, pollution, hydrological change, invasive non-native species (INNS) and woodland management and their impacts on nature are discussed in detail.
"We all acknowledge that there is always more to do or more that we can improve on. But I know that many NFU members will struggle to recognise this narrative from what they do and the wildlife that they see on their farms."
On the farm I have managed for more than 25 years, 11% of the land is out of production and dedicated to environmental habitats, striving to address many of the issues highlighted in this report.
I recognise the need for farmers and society to do more. Last year, in the NFU's own report Our environment, our food, our future, we found that farming has already embarked on a long journey of improvement, including:
10,000 football pitches of wildflower habitat have been planted, creating homes for bees and food for insects
More than 35,000 hectares of land are under positive management conserving field trees, grasslands, woodlands and orchards
47,000 ha of buffer strips protect watercourses and features
Agriculture accounts for only 1% of England's water usage.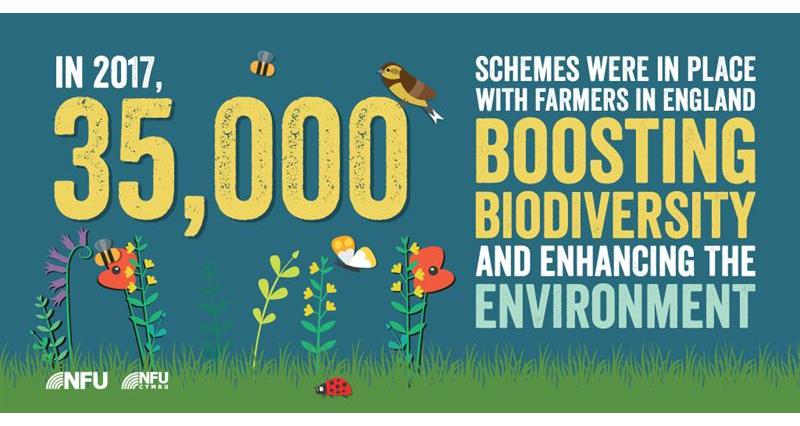 Below, I have drawn out just a few points from the State of Nature report to give my take on what is needed for the future.
Agricultural productivity
The report states that agricultural productivity, linked to the intensification of land management and the decline in farmland nature, is still increasing and this increase is a problem. As the NFU set out in its own environment report, from 1990 to 2016, the total volume of agricultural output (crop yield; livestock production) increased. In the same period, a number of key agricultural emissions decreased - although we do acknowledge that the reduction appears to have plateaued since around 2007. So, it is not as simple to link continued increase in productivity with the intensification of land.
There is also a moral imperative - increasing agricultural productivity is a core part of the UN Food and Agriculture Organization's (FAO) Sustainable Development Goal to reduce world hunger. The FAO states that 'agricultural production will have to increase by an estimated 50% by 2050 to meet the needs of a growing population'. But I would emphasise that we all need to work together to re-energise this historic trend and ensure further decoupling of environmental pressures from food production.
Wildlife
Sadly, the report states that the farmland bird indicator has fallen by 54% since 1970. Grassland, hedgerows and arable fields can all provide food, shelter and nesting habitat for birds. But we know that there are many other species that live on or around farmland which are not always captured by official statistics or supported by national objectives and we know that many more species are found on farmland, as demonstrated by February's Game & Wildlife Conservation Trust (GWCT) Big Farmland Bird Count. Results showed that 1,400 people – a 40% increase on last year – recorded 140 species over one million acres in the count. Encouragingly, a total of 30 red-listed species were recorded, with five appearing in the most-commonly seen species list. These included fieldfares, starlings, house sparrows, yellowhammers and song thrushes, with the first four seen by over 30% of the farms taking part.
There's also some encouraging evidence that past declines (1950s-1990) in the biodiversity of key pollinating insects such as wild bees and hoverflies have slowed significantly over the past 20 years, and the trends for a number of these species in the UK have stabilised in the last decade. Researchers are suggesting this recovery could be the result of increasing agri-environment measures of farms.
Climate change
Climate change is identified as a key pressure on nature. On this, I am pleased to say that agriculture is already doing its bit. The NFU is working towards an ambitious goal of reaching net zero greenhouse gas emissions across the whole of agriculture in England and Wales by 2040. There is no single answer to this challenge but improving land management and changing land use to capture more carbon, including increasing trees and hedges, is one solution. Reducing our emissions and counterbalancing them, through improvements in productivity and renewable energy production, also play a key role in helping reach our agricultural net zero targets.
Agri-environment schemes
Throughout the report, agri-environment schemes provide a mechanism to help improve nature. Here we agree. During the past 30 years, there has been substantial engagement by farmers with voluntary environment schemes, with 70% of agricultural land in agri-environment schemes at their peak. But we have begun to see a drop-off in the uptake in recent years – this has largely been driven by changes in policy, design and accessibility. One of our key asks is that we want environmental schemes that deliver, through fair reward, simplicity, accessibility for all and compatibility with production with the farmer at the heart. This is particularly pertinent to discussions about the development of a future environmental land management scheme, but more immediately, current schemes must be more workable and attractive.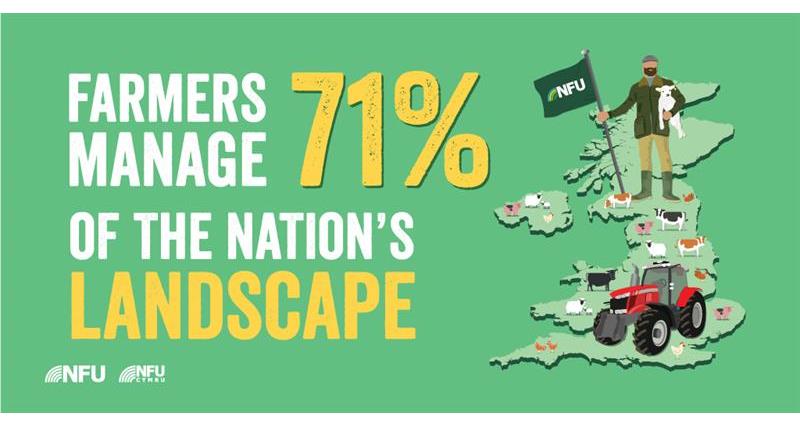 Partnership approaches
The report also draws out the importance of partnership. As the NFU Environment Forum chair, I completely agree that partnerships are key. Alongside a future environmental land management scheme, we believe that industry-led partnership will be key to addressing our future environmental challenges. Championing the Farmed Environment has promoted good environmental practice on farm and joined up messages on the best management practices endorsed by industry, environmental groups and government bodies. Now in its 10th year, CFE will continue to support events around the country, delivered by the CFE's established network of regional coordinators, to talk to farmers and industry partners about the future direction of the project and encourage others to get involved.
Lastly, I believe that we all need to shout more and more loudly about what we all do for the farmed environment. The NFU's Environment Forum will continue to promote and celebrate the good work our members do to protect, maintain and enhance the environment alongside producing food, through Championing the Farmed Environment, by promoting the Big Farmland Bird Count and by helping host Farm Nature Discoveries.
I truly believe that farmers are in a unique position to deliver for food production and the environment in the future. Having productive and viable businesses is a key part of this. Farm businesses need to be productive and profitable to continue to deliver the environmental benefits we all want to see.
More from NFUonline: