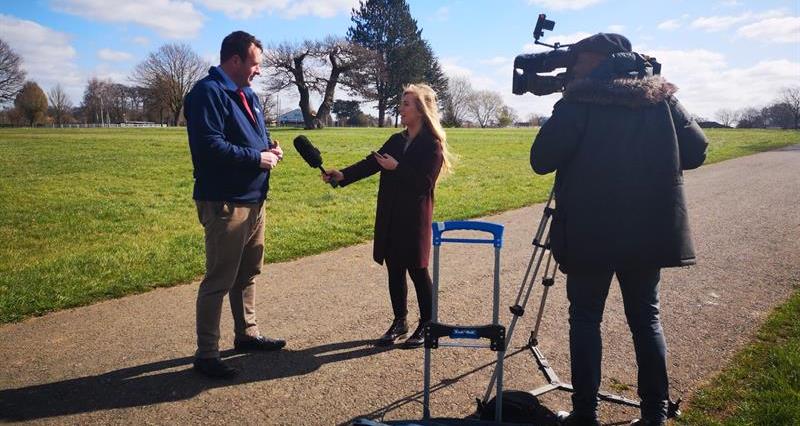 November 2020
NFU President Minette Batters was interviewed live on BBC Radio 4 Woman's Hour after being announced as number nine on its Power List, a list of women campaigning on environmental issues. She stressed that farmers want to be world leaders in producing climate neutral food. Listen from 29 mins.
The Daily Telegraph, Daily Mail, and the ipaper report Mrs Batters' inclusion on the Woman's Hour Power List. Minette is quoted saying she hoped her inclusion marked a change in how farming was seen in environmental circles and welcomed the recognition that, if we're going to get back to a sustainable way of living, the only way we can do it is through what we eat.
October 2020
Channel 4 News covered the Prime Minister's speech to the United Nations on Britain's commitments to protecting nature, and explored the Agriculture Bill, its impact on the future of farming and the role of agriculture in mitigating climate change with conservation manager of the Holkham Estate Jake Fiennes.
NFU President Minette Batters is featured commenting that we want farmers delivering in their role of managing our environment, and that with the right incentives we can achieve this by 2040
September 2020
Farmers Guardian net zero edition
Farmers Guardian's net zero edition featured a column from NFU President Minette Batters setting out the work farmers are undertaking to achieve the industry's net zero ambitions as well as NFU Student and Young Farmer Ambassador Harriet Bartlett in the Young Farmer Focus feature reflecting how she feels honoured to work with farmers towards a more sustainable future, collecting information from farmers and carrying out assessments to quantify their land use and impact on biodiversity, carbon footprint, animal welfare, and antibiotic use.
Greenpeace report on livestock greenhouse gas emissions
The Guardian reported new analysis by Greenpeace that suggests cows, pigs and other farm livestock in Europe are producing more greenhouse gases every year than all of the bloc's cars and vans put together. The NFU corrected these claims and explained why a focus on improving productivity is key to achieving net zero emissions.
July 2020
NFU President Minette Batters' responded to former president of the Campaign to Protect Rural England Max Hasting's op-ed in The Times and argued it is vital that we encourage entrepreneurial businesses to invest in the future of British food production, so as to provide carbon- neutral food.
The Times reported that taxes on methane and fertiliser have recommended, in a report by the Zero Carbon Commission, a group of scientists, economists and green campaigners, to give farmers an incentive to add methane-reducing supplements to their cattle feed. NFU Deputy President Stuart Roberts was quoted arguing that such measures could force increased reliance on imported food but farmers could instead boost production of renewable energy and carbon storage to become carbon neutral.
June 2020
NFU Deputy President Stuart Roberts featured on Sky News to talk about how farmers are investing in measures to tackle climate change. For Stuart, that means building a new cattle shed and grain store with a roof that will capture half a million litres of rain water a year.
May 2020
Business Green features an in-depth interview with NFU President Minette Batters centred around the NFU's commitment to net zero. Minette reflects that agriculture is a solution to climate change and expressed frustration with the focus on dietary change. She also covered Brexit in detail, arguing that if Britain's food standards are undermined, it would severely harm British farming businesses, and therefore seriously hamper the industry's ability to deliver on its 2040 net zero promise.
February
How farmers are tackling climate change
NFU environment forum member Richard Bramley featured as one of five farmers on the BBC Food website about how he makes his food production as environmentally friendly as possible.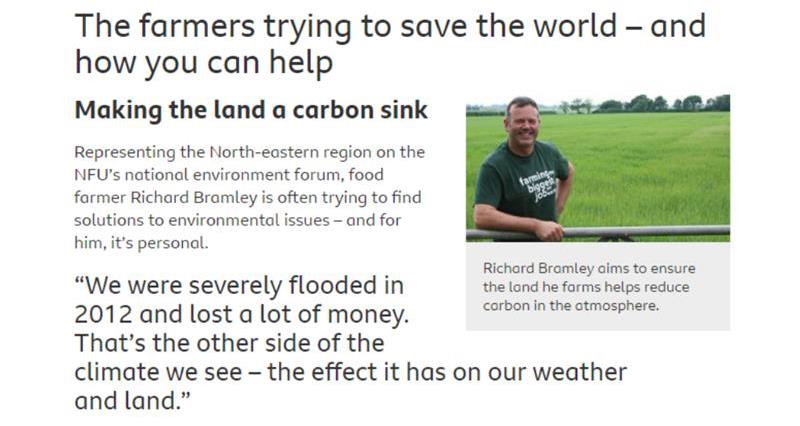 Tree planting
NFU member Frank Langrish told Sky News that we should think carefully about where we plant trees as our agricultural land is essential in producing sustainable food for the nation.
January
Sir Ian Boyd and rewilding
The NFU defended the farming industry after Sir Ian Boyd's comments that half of the nation's farmland should be turned into woodlands to fight the climate crisis.
NFU Deputy President Guy Smith was quoted in The Guardian outlining the NFU's net zero ambition and emphasising that we cannot halt climate change by exporting production abroad.
Mr Smith also featured on BBC Radio 4 PM.
2019
December
Tree planting
The Times reflected on each political party's promise to plant more trees, quoting NFU Deputy President Guy Smith saying that these plans must not diminish UK food production capacity.
Read the full article here.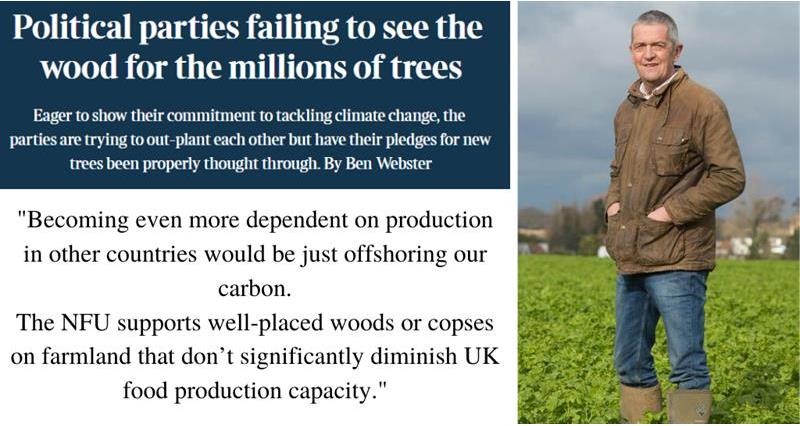 September
Launch of the NFU's net zero report
The NFU launched its Achieving Net Zero report which outlined how the British farming industry can become net zero by 2040, which resulted in plenty of media coverage of its ambitious plan.
The Guardian was given the story as an exclusive and covered the plan in detail, quoting NFU President Minette Batters throughout.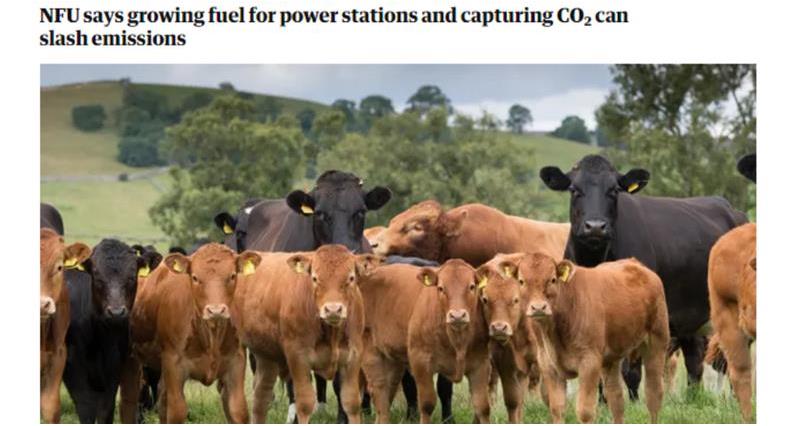 The report was also covered in BBC news bulletins, BBC Farming Today and Sky News Sunrise, featuring officeholders Minette Batters and Guy Smith.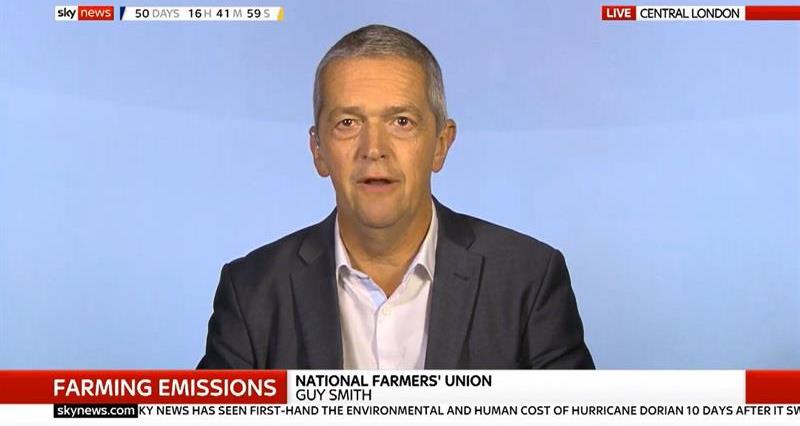 August
BBC Farming Week
The BBC held a Farming Week after conversations between the NFU and BBC about its farming coverage, which covered climate change and other issues.
As part of the coverage, BBC Breakfast spent a week at Leicestershire farmer Joe Stanley's farm, and the Stanley's also featured across BBC News Channel.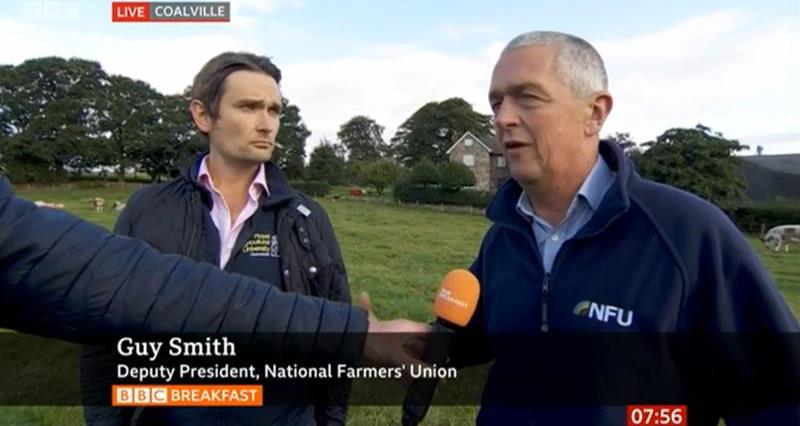 The NFU press team worked with the BBC to produce an article that looks at how farmers are working to tackle climate change.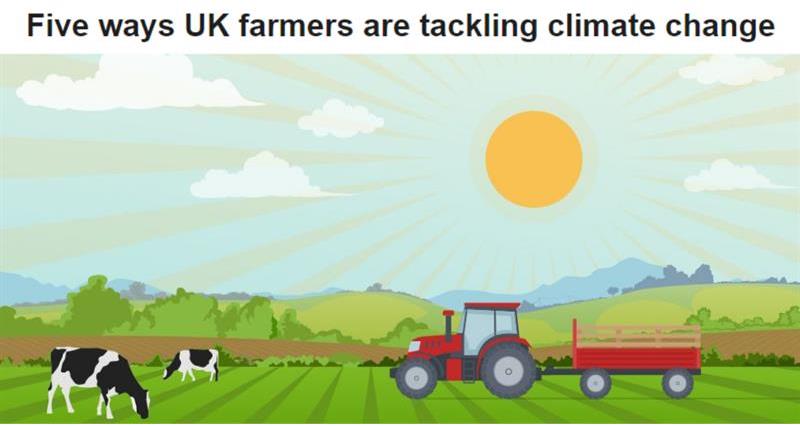 July
The RSA's Food, Farming and Countryside Commission report
NFU Deputy President Guy Smith was interviewed by Sky News saying that the government should help farmers invest so they can maintain production while lowering their carbon footprint.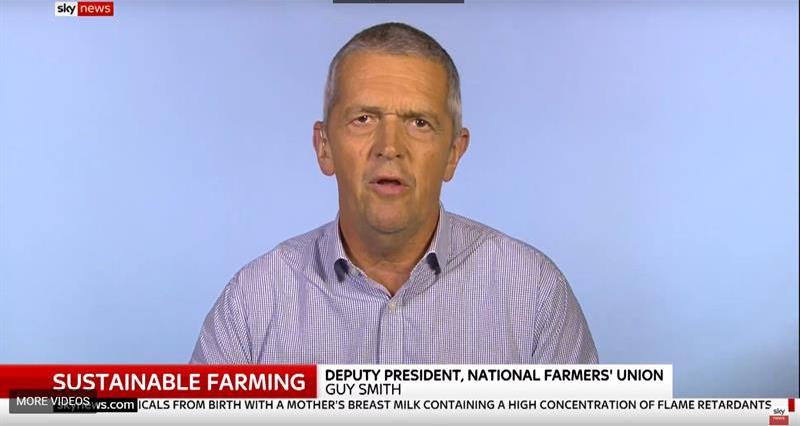 CCC update report
The CCC criticised the UK government and industries for the lack of progress towards a net zero economy.
Channel 4 News interviewed NFU President Minette Batters where she said public investment would be needed to help farmers tackle climate change.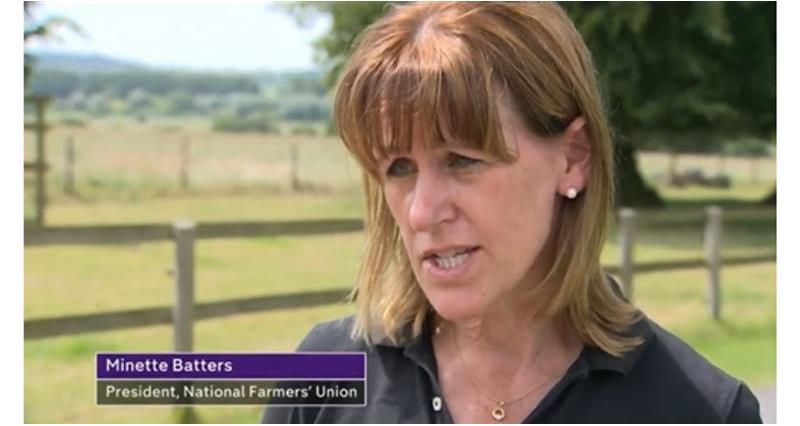 Consumer's role in fighting climate change
Country Life magazine did a piece which explored how consumers can help slow down climate change by buying British produce. NFU Deputy President Guys Smith was interviewed where he highlighted the NFU's net zero ambition.
May
CCC report on reaching net zero by 2050
The CCC issued a report about the UK's contribution to stopping global warming, focusing on changing land use.