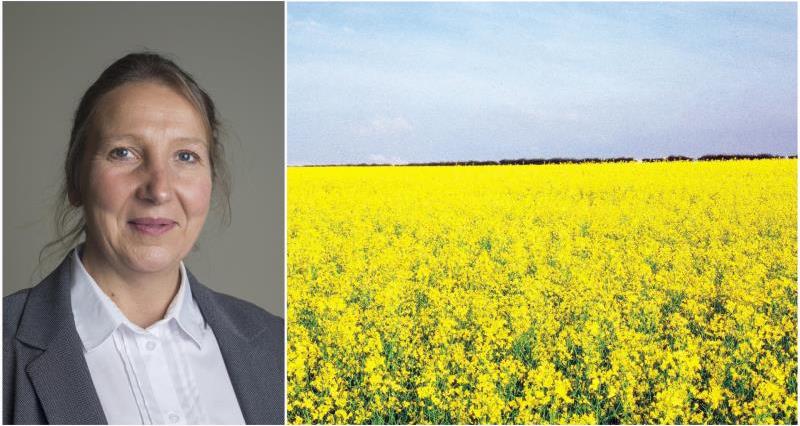 NFU plant health expert Emma Hamer reports back from the British Crop Production Council Pests and Beneficials Review.

She writes:
I attended the British Crop Production Council Pests and Beneficials Review recently.
The title of this review was "Can we continue to grow oilseed rape in the UK?" which seemed like a doom and gloom question. But by the end of the day, I could see that the future of oilseed rape production in the UK is really questionable.
One of the reasons for this is the low price farmers are currently getting for the harvested crop. In 2011 OSR sold at £400/tonne; in 2014 the price was £250. Palm oil can easily be substituted for rapeseed oil. Consequently there is a high degree of risk involved in taking the decision to grow OSR and often this risk does not pay off as it costs more to grow the crop than is returned when the crop is sold. However, OSR is seen as a good break crop in a rotation, so farmers are often prepared to make a loss on one crop some years, if it helps reduce disease pressures in a different crop the next year.
Pest control in OSR is a massive problem. As the acreage grown has increased massively, so have the numbers of cabbage stem flea beetles (CSFB) that feed on it. Farmers deal with these by a number of cultural control methods such as long rotations, early drilling so the plants get away from the pests, good seed beds and chemical sprays. However, the chemistry available for beetle control is dwindling; CSFB is becoming increasingly resistant to pyrethroid sprays and the highly targeted neonicotinoid seed treatments which give plants protection in those vital first few weeks of growth have had their use suspended in the UK.
So a combination of low prices, lack of chemistry and CSFB population explosion have combined to make the growing of OSR in some places at least impossible.
This is a bad thing because OSR fields provide a fantastic habitat for wildlife. The crop hosts numerous species of invertebrates, including honey bees who find the crop very attractive as a source of pollen and nectar. These invertebrates in turn feed songbirds which add to the enhanced biodiversity of UK farmland.
I came to the conclusion that there is no single answer to how OSR can be profitable in this country. It is a combination of a number of factors but just how much longer will farmers have to decide their cropping plan on a throw of the dice, hoping it might come right this year?
So to answer the question 'can we continue to grow OSR in the UK?' – I suspect the answer for many well be "no."