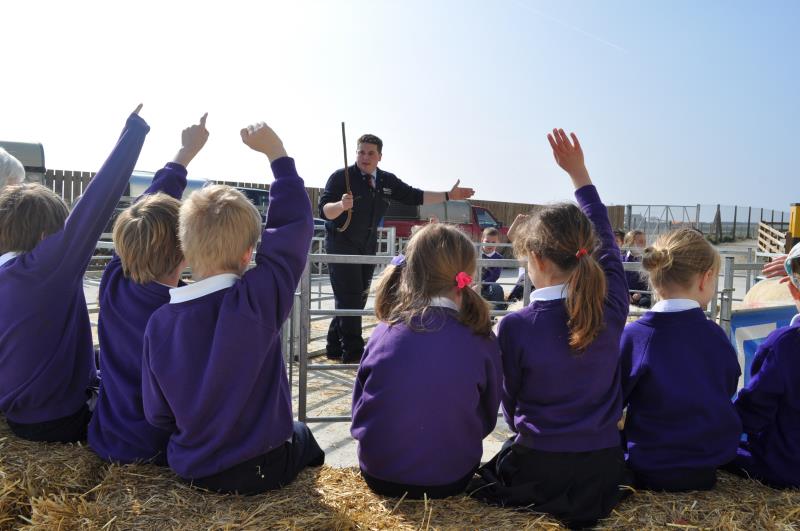 Mark Pope, NFU Environment Forum chairman writes…
Until recently, farming has not been good at telling its story on how it produces sustainable food and for too long children have been removed from the knowing where food comes from and how it is produced.
For the past 12 years Rob Walrond and I have been running large school visits as part of Open Farm School Day. Open Farm School Days get children out onto farms to learn about where their food comes from.
We started our first large school visit back in 2004 Staple Farm, Taunton, running the event for some 800 children. Since then, we have built this up to 3 large school visits to farms in a year, hosting some 1500 children each year.
The farm visits play a vital role to help show the children where their food comes from, how it is grown and in some of the larger events show them how to prepare and cook food, taking them through the journey from farm to plate.
To make these days work well, we rely on the great support of local farmers and other volunteers. It is fantastic to see some of the normally shy farmers come alive when talking about the job that they love while guiding the children round the farms!
And working with FWAG SW, we also use the visits to talk to the children about the work that farmers do to help our environment, by talking about the importance of protecting our soils or the wildlife in our hedgerows.
Importantly, each visit is planned carefully so that the day links to the national curriculum and where possible, we supply teachers with workbooks, such as the NFU's Why Farming Matters booklet and follow up work to be done at a later date.
Our aim is to spread this model, encouraging others to run similar visits - initially within the SW, but then possibly further afield.
I passionately believe that we have huge potential to promote farming and its story.
The farm visits that we organise are invaluable at reconnecting children with farming, food and our vibrant environment. This can only be good for the farming sector and for the education of our children but also their health and wellbeing.