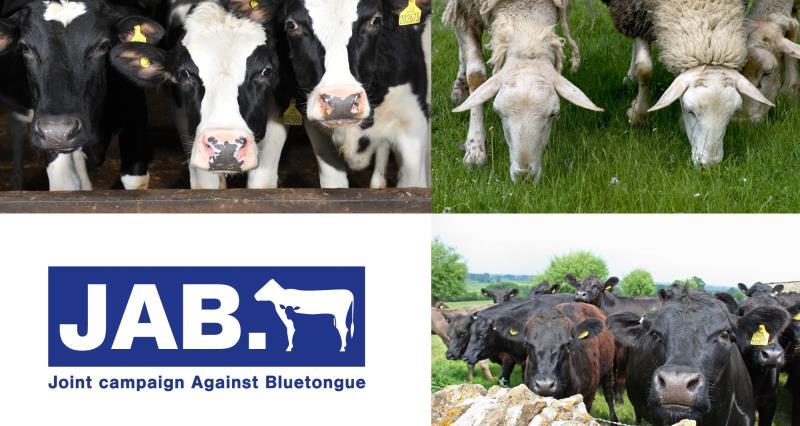 What is bluetongue?
Bluetongue disease is caused by a virus transmitted by biting midges, which are most active between May and October. Bluetongue virus can infect all ruminants (e.g. sheep, cattle, goats and deer) and camelids (e.g. llama and alpaca). Sheep are most severely affected by the disease. Cattle, although infected more frequently than sheep, do not always show signs of the disease.
Outbreaks of bluetongue affect farm incomes through reduced milk yield, sickness, reduced reproductive performance (failed pregnancies, abortion, central nervous system deformities in the calf or lamb) or, in severe cases, the death of adult animals.
Bluetongue virus does not affect people and consumption of meat and milk from infected animals is safe.
Bluetongue is a notifiable disease. That means if you suspect an animal is showing signs of disease you must tell the Animal and Plant and Health Agency (APHA) immediately. Failure to do so is an offence.
::- BACK TO TOP
Current situation
Bluetongue serotype 8 and 4 (BTV-8 and BTV-4) is currently circulating in France.
Since January BTV-4 has been reported in various regions across France including near the northern coast, see blue stars on map. A restriction zone (pink area on map), has been put in place across the whole of mainland France for BTV-4 and BTV-8. Animals must be correctly vaccinated against BTV-4 and BTV-8 or be naturally immune to both virus serotypes, prior to leaving the restriction zone.
The UK remains officially bluetongue-free and the risk is classed as low.
It should be noted that this level of risk may change as the vector active season (May- October) progresses. The impact of BTV8 and BTV4 in particular on the UK livestock industry, may be greater than that observed within France since the UK herd is naïve to the disease.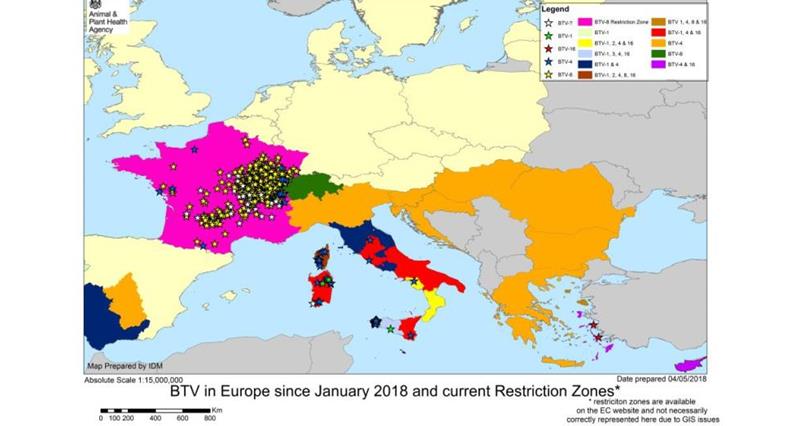 Bluetongue was successfully picked up in one consignment of cattle imported from France through the UK's robust post-import testing regime in 2017. The Animal and Plant Health Agency (APHA) identified the disease in cattle after they were brought to Preston and Kendal in England and two locations in Scotland. Trade of susceptible species may continue from BTV affected regions (such as France) to other Member States, provided the animals are vaccinated or naturally immune against the circulating BTV strains (both BTV4 and BTV8 in the case of France), and transport has been insecticide treated. Any such animals will be required to undergo a post-import blood test on arrival into the UK.
::- BACK TO TOP


Advice for farmers
Bluetongue does not pose a threat to human health or food safety, but can have a negative impact on farm incomes, for example by causing reduced milk yield in cows and infertility in sheep.
The UK has robust disease surveillance procedures and continue to carefully monitor the situation in France, where Bluetongue disease control measures are in place.
The latest assessment shows the risk of outbreak in the UK is currently low, but the detection of further BTV-4 and BTV-8 in France is a reminder for farmers to remain vigilant for disease and report any suspicions to the Animal and Plant Health Agency.
The impact of bluetongue on a farm business
Hear from Ken Proctor, he had Bluetongue on his dairy farm back in 2008, read about his experience, the short and longer term losses that his herd suffered and why the disease must not be treated with complacency.
An outbreak of bluetongue will affect farm incomes directly and indirectly. In addition to direct costs for treatment, loss of production, the necessary imposition of animal movement restrictions during a bluetongue outbreak might have an even greater negative impact on a farm business.
The current bluetongue disease control strategy imposes a control zone (CZ) of at least 20km around an infected premises (IP). No animal movements are permitted within the control zone.
At the same time, a restriction zone, consisting of a protection zone (PZ) and surveillance zone (SZ) is declared. The minimum size of the PZ is 100km and the SZ 150km from the infected premises.
Animals are free to move into the PZ and SZ from zone free areas, but are not then allowed to move out of the zones unless they have been effectively vaccinated at least 60 days previously, or have developed natural full immunity to the BTV serotype circulating. Any such moves maybe be subject to compliance with Government licensing requirements.
Movement within a zone is allowed, assuming that an animal does not show clinical signs of disease on the day of movement. Movement is allowed from the SZ into the PZ, but not from the PZ into the SZ unless certain criteria are fulfilled. Farmers on the border of these zones may also find their business disrupted
The zones may be expanded beyond their minimum, but this decision will only be taken in light of the specific outbreak situation and will be influenced by the rate of spread, time of year (vector activity) and other veterinary and commercial factors.
It is therefore very important, that any farmers who rely on long distance movements of their stock as part of their business model should consider vaccination as a sensible precaution, since if they find their farm premises located in a zone or part of a zone, there could be implications for their ability to trade.
Vaccination
Vaccination remains a proven technique for the prevention and control of Bluetongue and keepers are advised to speak to their private vet.
Although vaccine is not currently available in the UK, where there is a justifiable need, vaccine may be imported from mainland Europe on a case by case basis through a special import licence.
If there is wide demand then vaccine manufacturers may again be persuaded to provide vaccine direct to the UK market.

What you can do now

What to do if you suspect disease
If you suspect bluetongue you must report it immediately to the Animal and Plant Health Agency (APHA).
England: telephone 03000 200 301
Wales: telephone 0300 303 8268
Scotland: contact your local APHA Field Services Office

::- BACK TO TOP


Signs of bluetongue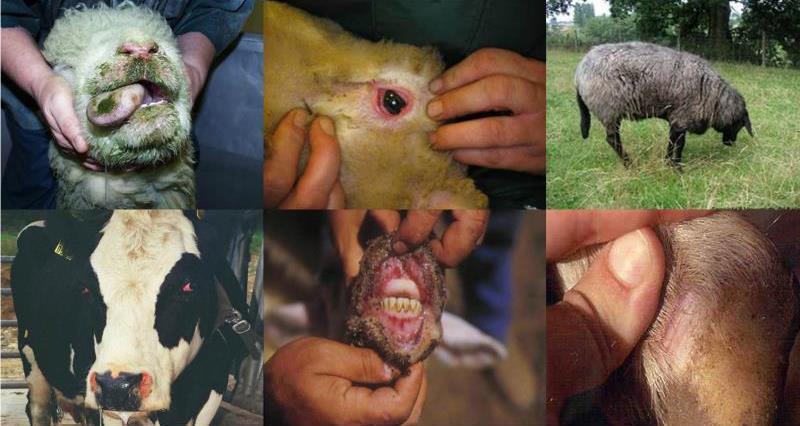 In sheep:
Lethargy, reluctance to move
Crusty erosions around the nostrils and on the muzzle
Discharge of mucus and drooling from mouth and nose
Swelling of the muzzle, face and above the hoof
Reddening of the skin above the hoof
Redness of the mouth, eyes, nose
Breathing problems
Erosions on the teats

In cattle:
Crusty erosions around the nostrils and muzzle
Redness of the mouth, eyes, nose
Redding of the skin above the hoof
Nasal discharge
Reddening and erosions on the teats
Cattle do not often show clear signs of disease so owners should also look out for signs of fatigue and lower productivity including reduced milk yield.
::- BACK TO TOP


Joint campaign Against Bluetongue – JAB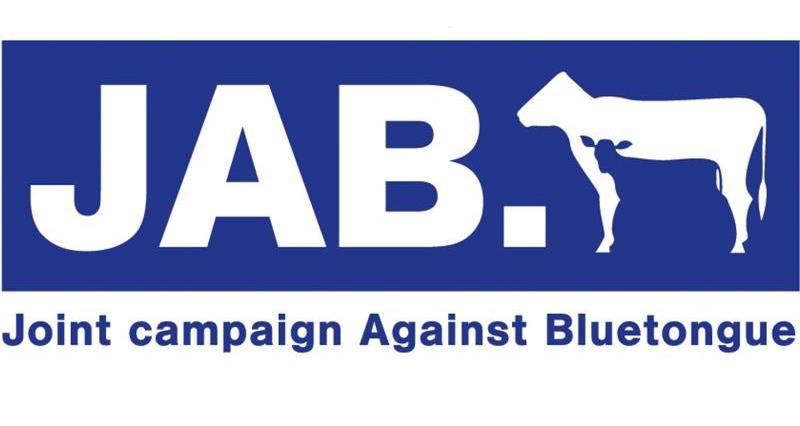 The industry has joined together to ensure that farmers and vets across Great Britain are informed about the risk of Bluetongue, raise awareness about the disease and what to do when they suspect it.
Who is involved…

Useful information
::- BACK TO TOP

Case Study