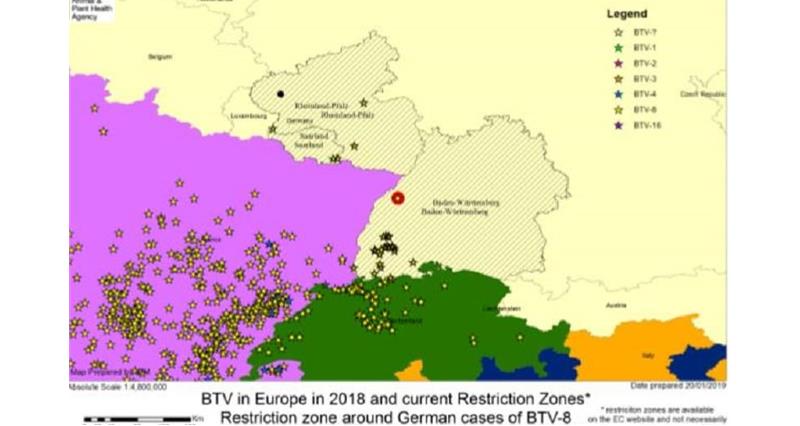 There has been an outbreak of BTV-8 in cattle in Germany.

The Competent Authority in Germany has confirmed 29 infected holdings since mid-December 2018, of these there are 26 in south-west Germany near the borders of France and Switzerland. Five cases are further west and north near Luxembourg, Belgium and the Netherlands – which is of concern.

Germany has a voluntary vaccine campaign with subsidy offered in some regions for vaccination and there has been a 25% uptake; for a vaccine campaign to be successful there needs to be a 70-80% uptake, therefore the subsidy offered is currently under review.

The Competent Authority has put in place the legally required 150 km zone; consigned animals (in particular cattle, sheep and goats) may only be moved from this area to areas not under restriction if the animals have been vaccinated against BTV-8 or tested for Bluetongue with a negative result. In the area around the outbreak population, monitoring will be intensified.

The risk to the UK remains LOW, the average temperatures from mid to end November in

Northern France and Southern England had been on or below the threshold for transmission via midges.

Producers are reminded to stay vigilant, particularly if they are importing livestock from affected countries or countries in close proximity to them. Animals must be correctly vaccinated against BTV-4 and BTV-8 or be naturally immune to both virus serotypes, prior to leaving the Restriction Zone.

Producers are advised to source animals responsibly, working with their private vet and livestock dealers to make sure animals are correctly vaccinated and protected prior to travel.