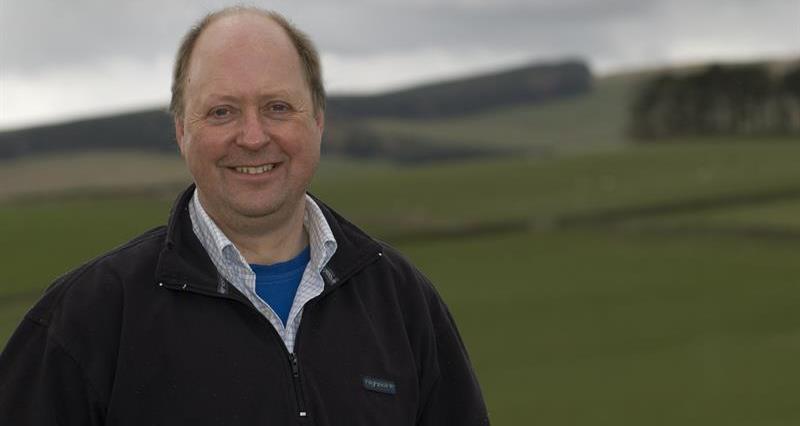 The newly formed Ruminant Health and Welfare Group (RHWG) has appointed Nigel Miller (pictured above) as its first chairman for a two-year term.
Mr Miller, a qualified vet and former NFU Scotland President from 2011-2015, will lead the independent cattle and sheep industry group which is aimed at speeding up progress against endemic diseases and reputational challenges which are costing the cattle and sheep sectors at least £500 million per year.
He was appointed through open competition by a panel consisting of the Chief Veterinary Officer for UK, the Chief Veterinary Officer for Scotland, the CEO of the National Sheep Association and the Chief Technical Officer for AHDB.
NFU chief animal health and welfare adviser Catherine McLoughlin said:
"The NFU has been working hard to help get the Ruminant Health and Welfare Group up and running and we are delighted at the appointment of Nigel Miller as chairman.
"Nigel is well known to the NFU being a former President of NFU Scotland and has been side by side with us over the years in representing our industry in Brussels. He's also been at the forefront of some of Scotland's animal health successes, such as the BVD eradication scheme."
Pictured above:NFU chief animal health and welfare adviser Catherine McLoughlin speaking at NFU Conference 2020
"As a vet and a farmer, he's uniquely qualified to chair this new group and to see the opportunities from both the farmer and veterinary perspectives."
Nigel Miller said:
"Endemic diseases in ruminants do not respect country borders or political boundaries and are a significant concern to farmers, the wider industry, governments and consumers due to their impact on animal health, welfare and food production.
"The RHWG will work independently to bring the industry and governments together to work collaboratively to speed up the fight against endemic disease in ruminants. I am committed to make this work for both sheep and cattle producers and excited to be part of a group that is focused on positive change."
The first meeting of the Ruminant Health and Welfare Group will take place in July 2020.
What is the RHWG?
The RHWG is an independent industry group and has been formed following an industry-wide consultation facilitated on behalf of the ruminant industry by AHDB, Quality Meat Scotland (QMS), Hybu Cig Cymru/Meat Promotion Wales (HCC) and Livestock and Meat Commission (Northern Ireland). It showed a strong majority supporting the move in principle, with many believing it will accelerate work to control conditions like liver fluke, mastitis and lameness.
Technical and scientific expertise will be central to its work and will be sought for individual projects as appropriate. It has been set-up as a committee under the AHDB operating umbrella to minimise operating costs and governance complexities. AHDB will provide beef, sheep and dairy levy-funding for RHWG to cover the cost of the chair and a secretary general. This will predominantly come from the existing AHDB funding for the Cattle Health and Welfare Group (CHAWG) and Sheep Health and Welfare Group (SHAWG), in England. There will be a transition period from 1 April 2020 for these committees to work alongside the RHWG and agree which work streams will be transferred and which will close.
The secretariat for RHWG meetings will be provided by the NFU.
The RHWG is now seeking applications for the role of Secretary General to support the Chairman in ensuring the work of the group is delivered at pace. The closing date for applications is 12 noon on Monday 15 June 2020. More information can be found here.
Who is involved with the RHWG?
The membership is proposed to be:
UK Farming Unions (NFU, NFU Cymru, NFUS, NIAPA, UFU, FUW)
Species Sector Bodies (NBA, NSA, RABDF, Scottish Beef Association)
Veterinary representatives (BVA, BCVA, GVS, SVS)
National Office of Animal Health
Livestock Auctioneers Association
Animal Health Distributors Association
Cattle Health Certification Standards (CHeCS)
RSPCA (Farm Animal Department)
Chairs of devolved animal health and welfare policy groups (Animal Health and Welfare Northern Ireland, Wales Animal Health and Welfare Framework Group and Healthy Livestock Scotland, Animal Health and Welfare Board England)
Government Agencies (APHA Species Expert Groups)
Levy Bodies (AHDB, HCC, LMC / AgriSearch, QMS)
Red Tractor
More from NFUonline: