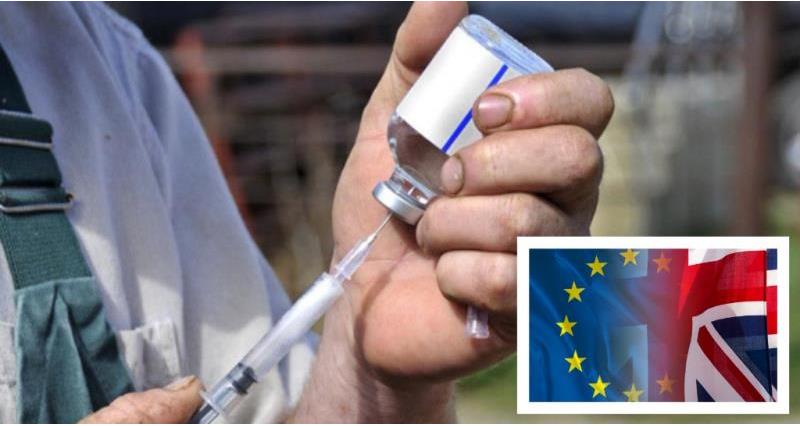 On Tuesday 30 October NOAH, the trade association for veterinary medicine manufacturers, held a conference in London to discuss animal health post Brexit. NFU animal health and welfare adviser Rebecca Veale and NFU EU exit and international trade adviser Tori Morgan report back:
The conference organised by NOAH (National Office of Animal Health), whose members represent over 90% of the UK animal medicines market, brought together stakeholders from across the animal health industry to discuss the challenges and opportunities presented by Brexit.
NFU President Minette Batters spoke on a panel session in the morning which focused on what needs to be done in order to ensure a successful Brexit for UK animal health industry. Alongside Minette on the panel were representatives from APHA Ireland, Animalhealth Europe, the University of Hertfordshire and NOAH. All of the panel stressed that given the integrated nature of the sector, a deal between the UK and the EU is absolutely vital. Dawn Holmes, NOAH Chief Exec, outlined that in the latest survey of her members 80% of NOAH members anticipate that there will be problems bringing products into the country, leading them to estimate that up to 20% of animal health products might face shortages in the event of no deal.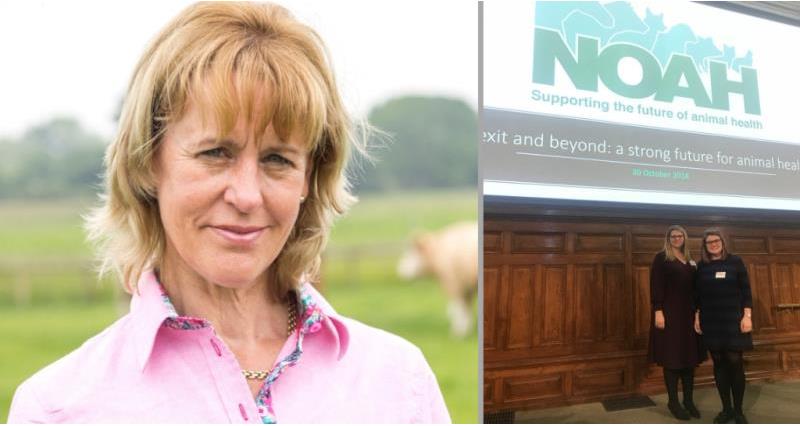 Pictured left: NFU President Minette Batters spoke on a panel at the NOAH conference.
Right: NFU advisers Rebecca Veale and Tori Morgan attended the event.
The NFU President told the conference that UK farmers are proud of the high standards of animal health and welfare that we currently produce to. She stressed that we do not want Brexit to compromise the health of our farm animals and that with the UK currently operating as a leader in this field we cannot afford to be complacent.
Veterinary medications
While longer term concerns were raised about the registration and marketing of animal health products on the UK market, the short term concerns focused very much on logistics. The UK currently imports over 90% of its vet meds and these primarily come from Europe. Many of these products, especially the vaccines, are biological products and as such have strict sell by dates and often require refrigeration, hence stock piling is not a realistic option. If there were any delays at the border (for whatever reason) and vet med products were caught up in this we could face shortages of essential products.
Labour
The afternoon session focused on the people involved in animal health and we heard the vets perspective from the BVA (British Veterinary Association) and the RCVS (Royal College of Veterinary School). The RCVS told the conference that 50% of new vet registrations last year were non-UK residents and this trend is not uncommon over recent years. Also that certain sectors such as government service and the meat hygiene service are particularly reliant on overseas labour, with 60% and 90% of vets in those sectors respectively originating from outside of the UK.
Research and development
We heard about some of the opportunities that research and development offers our industry. While it is positive that there is an increased spend on R&D, productivity has decreased in this area. Some companies have separated to concentrate solely on human or veterinary medicine and therefore the veterinary sector has lost some access to research coming through from human R&D market. Generating new innovation can be more difficult and costly, which is particularly challenging for the livestock sector given the focus on the lucrative companion animal market. However, there is innovation, in both new products and extensions of existing products, with particular importance being placed on preventative health. Whether it is disease prevention via a vaccine, a probiotic or management the benefits go wider than the individual animal; a healthier, more productive herd/flock carries environmental and efficiency gains and in turn often goes hand in hand with reduced usage of antibiotics. But for scientists to thrive in this field there is a need for international collaboration and funding – which further demonstrates the importance of our relationship with both the EU and third countries.
Overall to conclude, the conference offered the NFU an important platform to reaffirm UK farmers commitment to upholding animal health. The overriding message came loudly from across industry that a deal between the UK and the EU is needed in order to provide certainty for industry, whether that be for researchers investing in discovering the latest new product or for vet practises investing in the people and medicines farmers rely on to keep their stock healthy.