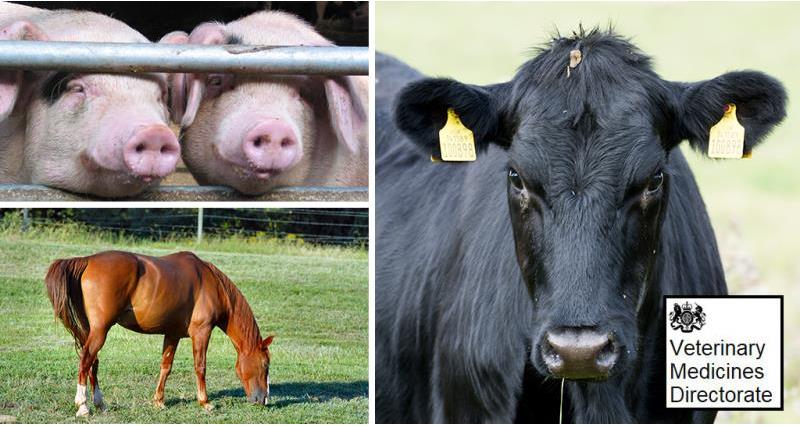 The Veterinary Medicines Directorate (VMD) has suspended products for food-producing animals that contain the excipient diethanolamine (DEA).
See the list of affected products below
The products which contain DEA have NOT been recalled therefore any product already at the wholesaler or vets can be distributed and sold. Any product containing DEA that is on farm can be administered to sick animals under direction from the vet.
Food-producing animals that have already been administered products containing DEA can still enter the food chain.
The VMD judges the consumer safety risk to be very low and are not aware of any problems in animals associated with the use of products containing DEA.
The decision to suspend any products which contain DEA has been based on the scientific opinion of the Committee for Medicinal Products for Veterinary Use (the scientific advisory committee to the European Medicines Agency), the report stated that there may be a risk to humans from consuming food from animals treated with products containing DEA.
DEA is a non-steroidal anti-inflammatory drug which is licenced for use in cattle, pigs and horses. In cattle and pigs the products are used to treat the clinical signs of acute respiratory disease, often alongside other treatments to reduce the infection.
Products containing diethanolamine (DEA)
Product
Marketing Authorisation Holder
Target Species
Allevinix 50 mg/ml Solution for Injection for Cattle, Pigs and Horses
Ceva Animal Health Ltd

Cattle
Pigs
Horses

Cronyxin Injection, 5% w/v Solution for Injection
Cross Vetpharm Group Ltd

Cattle
Horses

Dugnixon 50 mg/ml Solution for Injection for Cattle, Pigs and Horses
Global Vet Health S.L.
Cattle
Pigs
Horses
Finadyne 50 mg/ml Solution for Injection
Intervet UK Ltd
Cattle
Pigs
Horses
Flunixin 50 mg/ml Solution for Injection for Cattle, Horses and Pigs
Norbrook Laboratories Limited
Cattle
Pigs
Horses
Meflosyl 5% Solution for Injection
Zoetis UK Limited
Cattle
Horses
Norixin 5% Solution for Injection
Norbrook Laboratories Limited
Cattle
Horses
Pyroflam 50 mg/ml Solution for Injection for Cattle, Horses and Pigs
Norbrook Laboratories Limited
Cattle
Pigs
Horses
Tribrissen 48% Suspension for Injection
Intervet UK Ltd
Cattle
Pigs
Horses