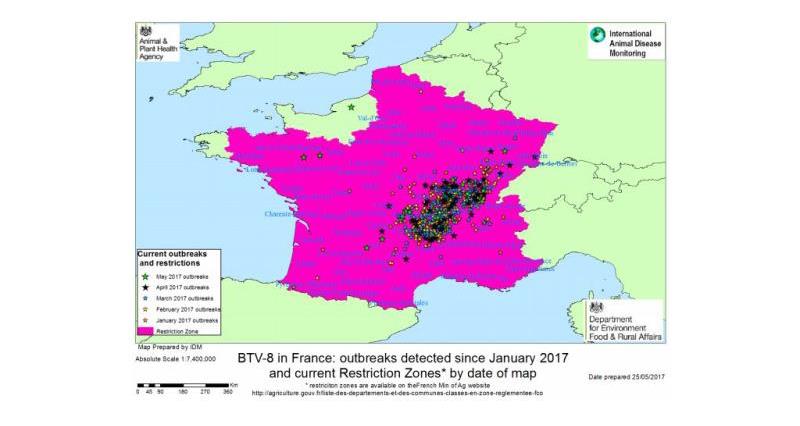 Defra is urging farmers to be vigilant for signs of Bluetongue virus (BTV) and consider vaccinating their livestock after Bluetongue (BTV) serotype 8 was detected in cattle in a previously disease-free area of northern France.
The risk of an outbreak of Bluetongue virus in the UK is currently low.
Read the full risk assessment and the latest situation update from Defra
However, this may change; the risk of incursion via infected midges later in the summer depends on the level of disease on the continent, proximity to the UK, the vaccination status of animals in the UK and weather conditions.
Vaccination is the best way to protect livestock and a safe and effective vaccine is available in Great Britain. Livestock keepers should discuss with their vet if vaccination is an option which would benefit their business and, farmers across the south of England in particular, should look out for clinical signs of disease.
The holding where the virus was detected in northern France, is less than 150km from the south coast of England.
UK Chief Veterinary Officer Nigel Gibbens said: "We have robust disease surveillance procedures and continue to carefully monitor the situation in France, where Bluetongue disease control measures are in place.
"Our latest assessment shows the risk of outbreak in the UK is currently low, but the detection of the virus in northern France is a timely reminder for farmers to remain vigilant for disease and report any suspicions to the Animal and Plant Health Agency. I would also encourage farmers to talk to their vet to consider if vaccination would benefit their business."
Any suspicion of disease must be reported immediately to the Animal and Plant Health Agency (APHA) on 03000 200 301.
More information on Bluetongue from Joint campaign Against Bluetongue (JAB)