BPOA members on why they are part of the Association:
Derek Smith - E Smith & Son, Lymm, Cheshire
The protected ornamentals industry is very insular - quite often small family businesses, independent and isolated. The need to meet and talk to other growers in similar situations is great.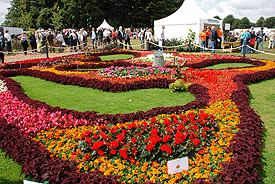 Here in the north west, the BPOA is very proactive. Meetings are held over the winter months, and are very well attended. Topics covered include crop management, current legislation, and recent innovations, together with more light hearted events, such as an evening with the "worm man".

We also have a social event once a year, a visit to one of our members' nurseries, and try to have a visit further afield, to a large commercial grower.
One of our greatest strengths in the north west is our history at the Tatton Park Flower Show: we have put together an exhibit every year since the show began, in order to showcase the best in our industry to the gardening public, and to raise public awareness of the versatility of our produce.

I don't go in much for politics, I suspect most growers don't - we are "doers" rather than "talkers". However, I do recognise there is a need for such people, and respect the work that they do.

I feel that the future of the BPOA nationally should be in promotion of our produce to the public - that locally grown quality produce should extend to all areas of horticulture, not just to food crops. We can produce high quality, uniform, disease and pest free crops, if we are allowed to just get on with it, without all the legislation and paperwork that accompanies almost everything we do. That's what the BPOA should be shouting about. If they could just do something about the weather at the same time, then our future would be rosy!

Ian Riggs -horticultural consultant
Being a member of BPOA is about sharing experiences and knowledge, facing common problems, finding solutions and being with others who are passionate about horticulture.


Paul Freer- Hortipak
Hortipak are proud to be a part of this truly dedicated organization, with an array of small, medium and large industry partners gathered under one umbrella, pooling their knowledge and promoting what s great about British grown products.