A tour of the growers in the US had not been made for some years, so Mike Smith and Chris Need discussed the possibility some months ago. In addition to seeing how the nurseries had developed technologically over the last few years, it was also an opportunity to involve younger members, students and apprentices in the tour, giving them a unique learning experience.
We are grateful to Stanley de Villiers for editing this video which gives you an impression of the tour:
Day One
Day One of our Home Grown on Tour takes us to Metrolina Greenhouses, Huntersville, North Carolina- the largest area of heated glass on one site in the US and home of the van Wingerden family. We were welcomed and introduced to the company by Art and Abe van Wingerden who told us all about their company and how it developed from the early 1970's
with a very small amount of money for a Dutch immigrant family to the 147 acre glass house (on this site) that we see today.
One of the more recent developments has been the introduction of Biomass heating using forestry waste which has been locally sourced to heat their glass using 4 x 8.5MW boilers which use these gigantic 1.9M gallons hot water storage tanks.

At Rockwell Farms, our second visit on this Home Grown on tour event, Tom Abramowski and family showed us the 36 acre nursery and told us how they see the business in their part of the world. Good quality plants in a wide range of containers and interesting product formats. Their interest in developing the business using modern technology and structures extended to their use of new spacing robots seen here working in tandem on larger containers.
Day Two
Visiting the NCSU (North Carolina State University) in Raleigh we met John Dole and Brian Whipker in the horticulture department. Brian, Extension Floriculturist, showed us some of the trials they are doing in their glasshouses including this trial of micronutrient deficiencies. They are cataloguing plant responses and from that they make a photographic guide for grower with high quality images of specific nutritional problems. The main subject on this occasion was Ranunculus.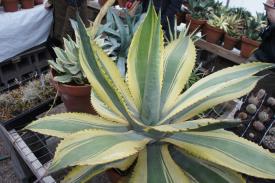 We also received presentations on the IDM position in the US and current issues of interest for US growers including virus alerts; pH management; PGR overdosing and critical photoperiod
After that we made a brief visit to Plant Delights Nursery nearby which was, as the name implies, a complete delight and, to quote one of our group, 'something of a breath of fresh air'.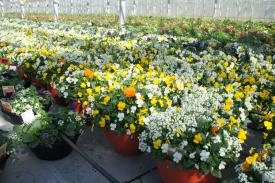 Day Three
Bell Nursery - Their first site in Virginia was very full with high quality plants in large containers ready for market, delayed by the poor weather conditions. Their turnover was $10M on this site and they have 6 sites including a central packing and despatch depot in Emporia, VA.
They use a network of small, independent growers to supply a major part of their production. They will have two turns on their nurseries before closing down the glass in May-you can read more on their website with testimonials from these family farmers - http://bellnursery.com/.
Day Four
George Lucas - George showed us an immaculately clean nursery which is most important as he is rooting young plants for clients. He has the equivalent of one man working full time on nursery cleaning and has a number of routines and installed equipment to do this work. Rooting cuttings from Mexican mother stock for Syngenta accounts for 40% of his business. He has been building up his business since 1978 starting with 9000 sq ft.
Kube Pak put a great deal of effort into prevention with their biological control systems. They even produce their own poinsettia mother plants and are able to offer clients young plants without chemicals and assist with the continuation of the biological IPM approach in the final crop.

Day Five
Plainview Growers: Arie van Vugt gave us a great tour of the nursery and showed us, in some detail, the biomass heating which in this case includes the use of prune pits (a locally available bi-product of the juice industry obtained at low cost). These, when dried, burn at a higher temperature as they contain some oil and are blended 30/70 with wood chip to make the final combustion mix. They clean the boilers every three weeks and have to stop them in order to do the necessary maintenance. They still have their oil burning boilers and use these when demand is high as it was last week when temperatures dipped to -17C. Their silos can hold enough fuel for 40 days in normal use.
After lunch he showed us the orchid unit he started on a different site in 2007 using young plants imported from Taiwan in shipping containers and getting his expert growers also from the same country. It's a huge investment for him and he holds up to $2M stock at any time which seems to have been a factor in limiting local competition. Finally, he showed us a Valentine's pack of which he was especially proud. It does him immense credit that he received the critical comment from one member with extreme politeness and grace.
Thank you
The week's study tour has been a great learning experience for all who took part and a unique opportunity for all to see how the business works in the USA. The BPOA is grateful to all our American hosts for their generosity and frankness in opening up their businesses to our scrutiny and for making us feel so welcome; to Mike Smith for planning the whole trip so carefully and liaising with our hosts regarding the programme of visits; also to Wayne Brough and the HDC for supporting and funding part of the tour, also arranging the RDPE funding for grower members of the group; to the David Colegrave Foundation which sponsored costs for one apprentice and part of another student to attend the visits and finally to all the participants and their companies who all gave to the group experience in different ways.