Over 50 BPOA members and colleagues attended our evening 'Facing Forward' event at Meadowcroft last week. Our Chairman, Ian Riggs started proceedings with a welcome to all those attending and introduced our first speakers.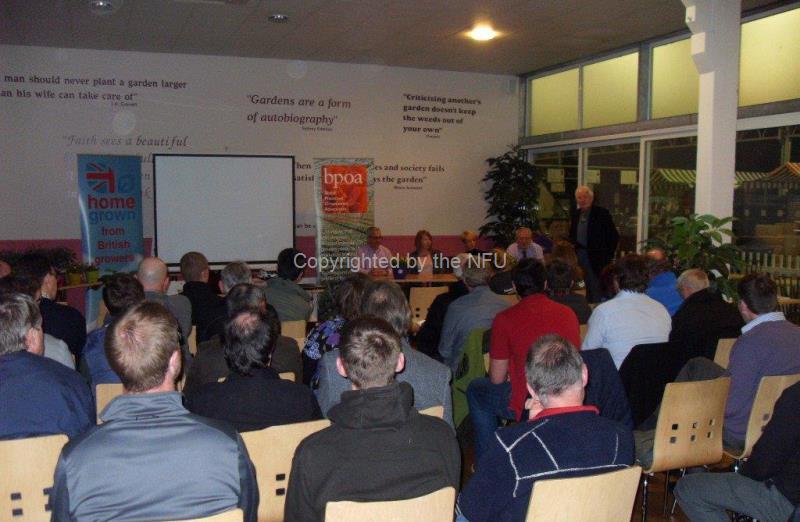 Tracey Dunn and Jacqui Thomas from Hortipak gave a presentation with emphasis on how identifying who is buying what, will produce greater sales success in the future. A family history profile of three generations was used as an example to highlight who would buy what and why; this gave the audience a different angle to consider when targeting different age groups to sell to. Using up to date marketing tools – QR codes and Hortiboard for example - will assist garden centres and nurseries to maximise opportunities to sell.

Roland and Michael Smith from W D Smith & Son found and edited a 20 minute video for us on bygone horticulture, produced by ADAS in 1991. The video showed filling of trays, pricking out, laying out and collation of orders. This proved to be a very humorous 20 minutes and it was good to remember what has changed in 20 years.

Ian Riggs from Desch Plantpak gave a presentation on 'The future is colour – additional colour to the gardens promoting sales'. A thought provoking presentation with figures from the last census stating how 23% of the UK adult population do not garden. 13% of residents are from outside the UK, so identifying the target audience would suggest there is a good proportion of UK residents wanting to be involved with their gardens and perhaps with the influence of other cultures we should embrace colour more than we do. The dramatic effect a coloured pot can have on a plant cannot be ignored – the future is colour!

Neville Stein from Ovation Business Consultancy managed to get the audience thinking from other perspectives. A successful business is one where threats are minimised, however in our industry (and with the majority of the audience agreeing) our greatest threat is the weather which we cannot control. With this in mind perhaps we should look to other areas to maximise our sales. Examples were discussed such as the use of POS material written in plain easy to understand language 'Annuals – plant each year for seasonal colour', 'Perennial – plant once will come back every year'. Consideration of building greater contacts in the community was dicussed, along with selling gardening on its positives like exercise and feel good factor. An inspiring talk with plenty for consideration.

Peter Seabrook brought together the evenings presentations and gave the audience the opportunity to ask the speakers any questions.

For further information on any of the above please contact the BPOA office.