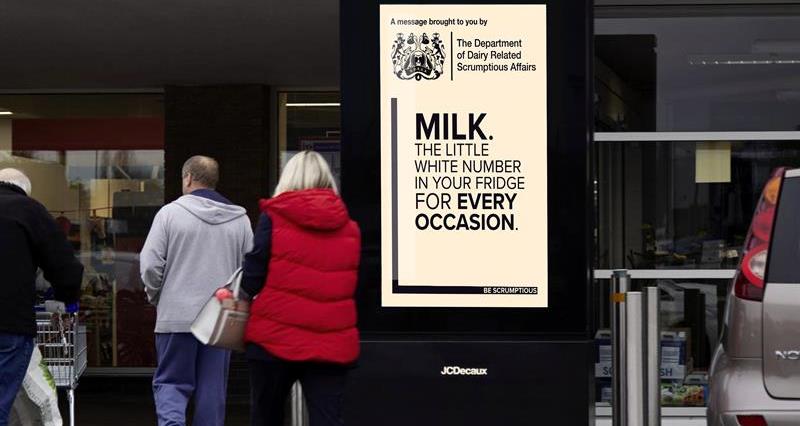 The Department for Dairy Related Scrumptious Affairs is returning complete with 'tongue in cheek' messaging to remind young people about the great taste of dairy products.
Running for 10 weeks from Monday 24 February, the campaign will feature on billboards outside major retailers, as well as Facebook and Instagram and catch-up TV such as ITV and Sky Go.
The initiative, which started in 2017, targets millennials (16 to 35 year olds), using emotive taste messages to remind them of their love of all things dairy.
Research for the initial marketing campaign revealed that 11% more young parents were certain to buy dairy products and that there was an 8% fall in the number of people cutting their dairy consumption now or in the future along with an 11% reduction in intentions to consume plant-based substitutes.
NFU national dairy board chairman Michael Oakes said: "Having seen the results of the previous campaigns, this has proven to be excellent value for money and has exceeded our expectations, so we are really pleased that we have a strong dairy promotional campaign running again this year.
"Many people may have forgotten why they love dairy products like cheese, butter and yogurt, so it's vital we remind them through these adverts, not only on social media and online but outside our supermarkets.
"If we lose the millennials' interest in using dairy products then we don't just lose that generation, we lose their children's interest as well."
Rebecca Miah, AHDB head of dairy marketing, said: "We're building on the success of the previous campaign to change long term attitudes and consumption habits by adding the love and value back into people's dairy favourites like milky porridge and new, trend led ways to include dairy in the diet. These adverts will be targeted to specific times of day and locations when they are most relevant."