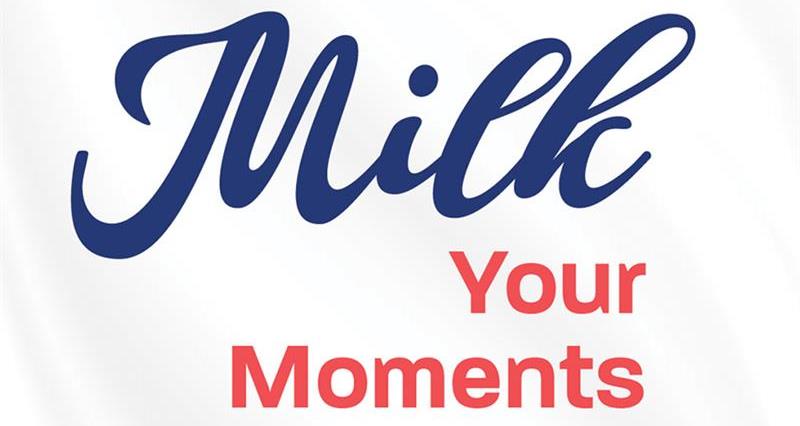 The dairy industry joint-funded marketing campaign Milk Your Moments, supported by the NFU and its members, has been seen by nearly 30 million people since it launched in May.
The promotions encourage people to share moments of personal connection while they are apart during the Covid-19 lockdown through a love of milk and other dairy products.
The £1m, 12-week campaign, is jointly funded by the AHDB, Dairy UK, Defra, the Scottish government, the Welsh government and the Northern Ireland Executive and has received further contributions from a wide range of supporters across the supply chain. This has involved national press coverage and retail instore advertising, as well as messages across social media including Facebook, Instagram and Twitter.
The campaign is also raising money for the UK's leading mental health charities: Mind, the Scottish Association for Mental Health (SAMH) and Inspire.
NFU Cymru Milk Board chair Abi Reader said: "I think the Milk Your Moments campaign is fantastic. Promoting dairy can be complicated because whilst it is in 98% of households it is almost the forgotten food; people buy dairy as a matter of habit. During this pandemic many people are away from friends and loved ones but that doesn't mean they can't connect. The aim of the campaign is to remind people that in those moments shared with friends and family dairy is often there, whether that's with tea or coffee, a pizza with friends, an ice cream for the kids, or more. The new campaign will celebrate and inspire people to come together. Then comes the clever bit – the dairy industry has teamed up with Mind, Mind Cymru, Inspire (Scotland) and SAMH (N Ireland) to highlight how important it is to keep in touch which others, especially now. Consumers will be encouraged to go onto the Milk Your Moments website, select a random moment of inspiration and at the same time £1 will be donated to charity. There is also an opportunity to win prizes. Even more exciting is for the first time in 20 years we will see milk once again being advertised on the TV.
"As if this isn't enough reason to get behind the campaign we should remember as levy payers to AHDB we have also contributed funds to the campaign, giving us ownership of it, along with other stakeholders; so why wouldn't you want to get behind it. The dairy industry has been through some incredibly tough times during Covid-19 and we are appealing to our consumers for help. But we are not holding out a begging bowl, we are saying if you help us, we can help you. I genuinely have not seen this kind of enthusiasm from the industry for marketing dairy for years."
TV presenter Kate Beavan, who is an NFU Cymru member, said: "As a mental health first aider and a farmer, I think the #milkyourmoments campaign is a great way of highlighting the importance of open conversation and how normally, human connections often take place alongside a cuppa.
"Many people are suffering from loneliness, particularly during lockdown. This campaign not only highlights quality dairy products but also offers an opportunity for human connections."
NFU North West member Liz Hoggarth is a passionate supporter of the dairy sector. She said: "The #Milkyourmoments campaign's a brilliant idea to raise the profile not just of the dairy sector but of mental health issues of which I'm a big advocate.
"Throughout the pandemic, farming has been the one consistent in people's lives. This is all about getting the public to realise that a glass of milk does make you feel better – it's the only source of food you can actually just live on."