The NFU is urging dairy farmers to engage with the long-awaited government consultation on dairy contracts and speak up for a more effective dairy supply chain, with fairer terms for farmers.
But tackling a consultation response isn't an everyday task for most of us, particularly one as prominent and long-awaited as the dairy contractual relationships consultation. That's why we've compiled this simple guide to help you find your way around the contracts consultation and submit your response by the 15th September deadline.
It's vital that as many individuals as possible respond to the consultation, to detail to Defra a true picture of the current environment surrounding dairy contracts. Whether or not you currently have concerns with your contract clauses or whether you feel you are in a positive position and have a good relationship with your processor, it's crucial that you respond and showcase what is currently working and what isn't.
First things first – take a look at our Contracts Consultation Hub to find all of the key information and documents to learn more about the NFU's work towards the consultation response.
Then – when you're ready to take a look at the consultation itself, follow this link or search "Defra dairy contracts consultation" into your search engine.
There, you'll be greeted with this page, an overview of the consultation.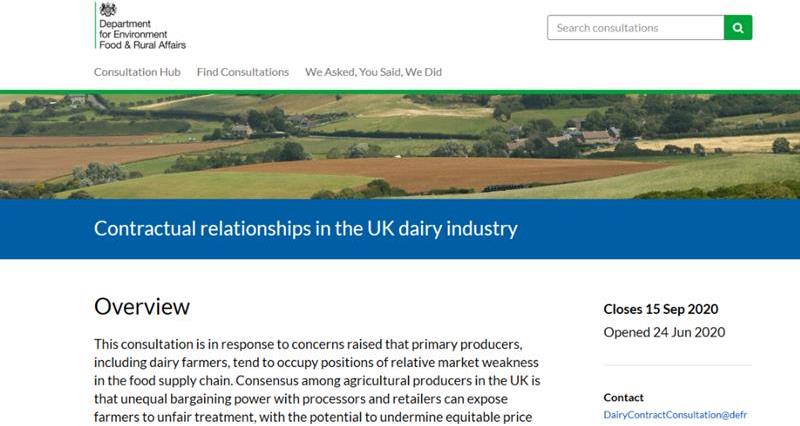 Scroll down and you'll see a link into the consultation itself – "Online Survey" (pictured below).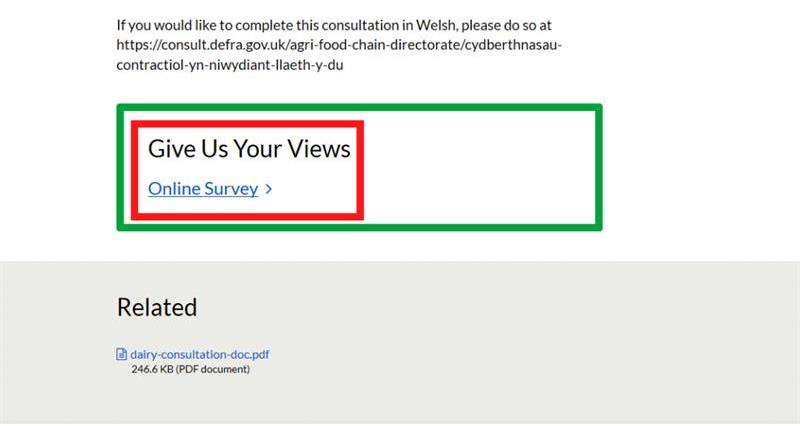 ---
Completing the consultation
Initially you'll see some background information is required on you and your farm business. These are a few web pages of easy questions, which can be answered simply - essentially a brief background on your business (if you are a dairy farmer). This is all helpful for Defra in contextualising responses.
We understand the concerns around responses remaining confidential. Whilst overarching GDPR requirements do apply, there is an additional option for individuals to select a box around your response remaining confidential. To read more about the Consultation Principles issued by the Cabinet Office by which the consultation document and consultation process are planned to adhere to, follow this link.
There is no requirement to complete all elements of the consultation in one sitting, you can save for later if you have a query about a section or other things to be doing, as long as the response is completed by midnight on the 15th September.
---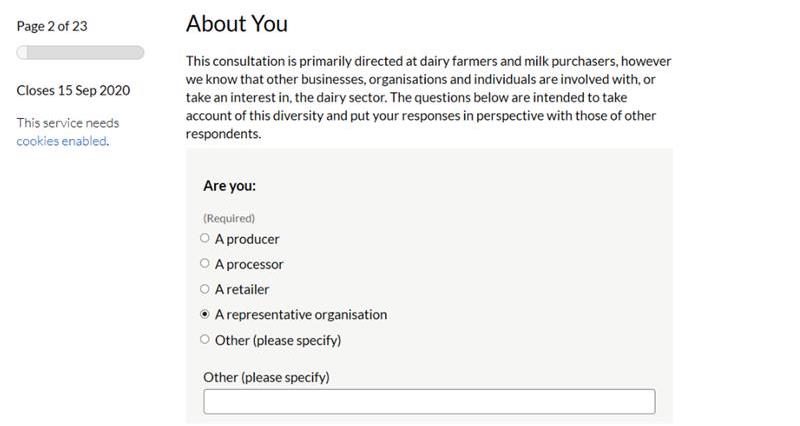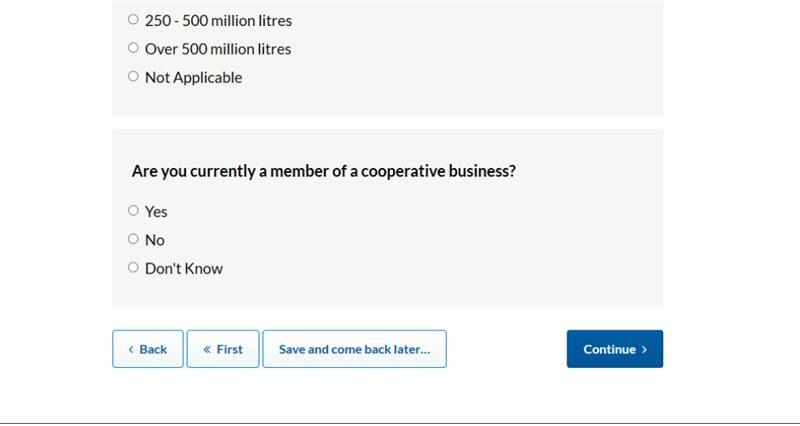 So what is within the consultation?
There are 16 sections, with 32 questions in total – some sections cover a number of elements of the overarching topics that the NFU are keen to see change in – included in our five key points document.
The image below provides an overview of the different sections of the consultation.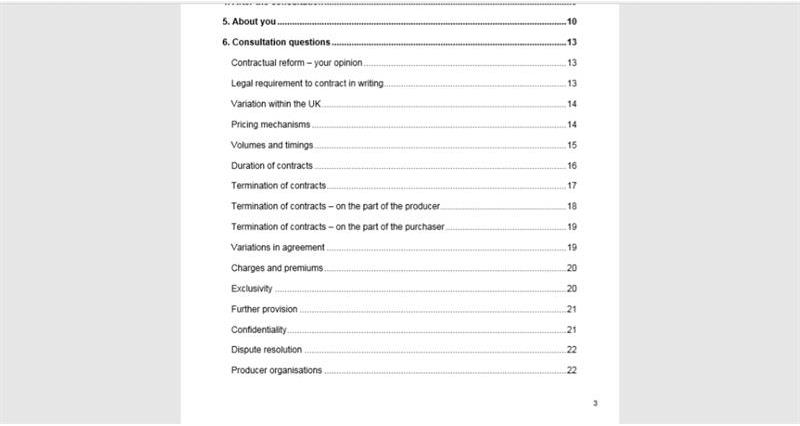 The consultation comprises of multiple choice questions from "strongly agree" through to "strongly disagree" and then it offers respondents the opportunity to elaborate through a "reasons for your answer" box. It is important that each of us take this opportunity to explain our thoughts around these specific areas that Defra are consulting on.
However, we understand that due to the inherent complexity of dairy contracts, this consultation may appear jargon-heavy with technical terminology. To draw out the key context to each question in the consultation, the NFU dairy team have produced some commentary around the background of each question and key themes in the consultation, through this help guide as mentioned earlier.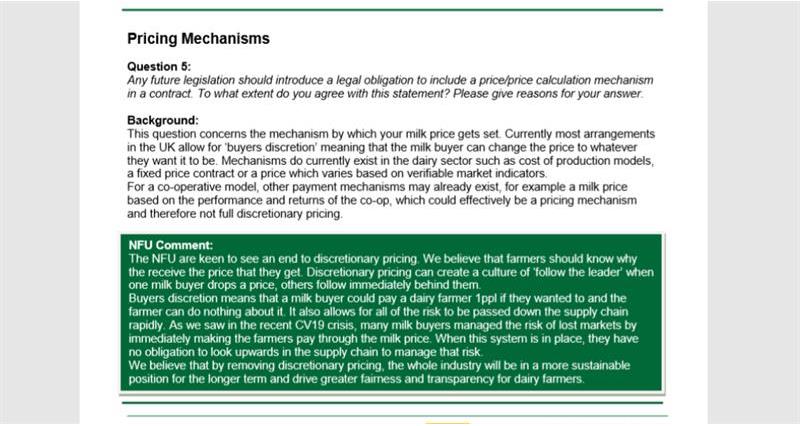 Here's an example of our commentary on one of the consultation questions, in our help guide.
You can see in the above image, that the NFU comment gives more background description as to how a question regarding pricing mechanism relates specifically to discretionary pricing – despite not directly mentioning it in the question. The NFU comment outlines a view which we have established from member feedback and opinion, which we shall look to use ourselves in our overarching consultation response.
Completion and submission of all aspects of the consultation response is required before the consultation closes on 15th September. Then, Defra will spend a review period looking at the consultation responses, looking to share initial statistical analysis on the responses over the coming months. We will keep our members up to date with key announcements and updates as this progresses.
If you require further support in submitting your consultation response, then please get in touch with your regional dairy lead, group secretary or dairy board representative who can give further guidance on completing the consultation.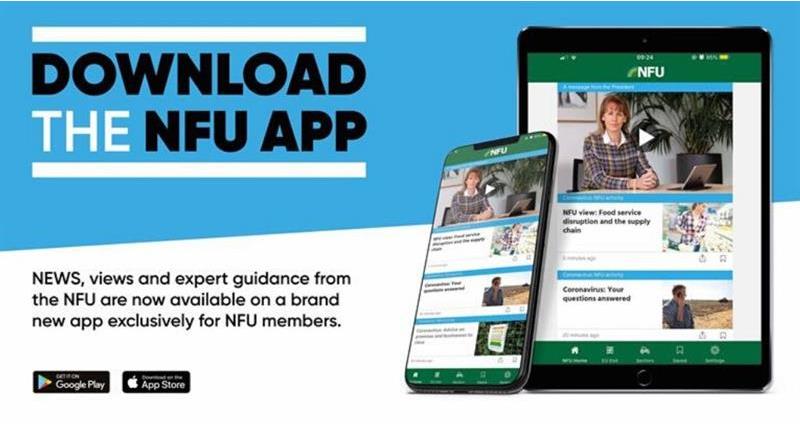 You may also be interested in: