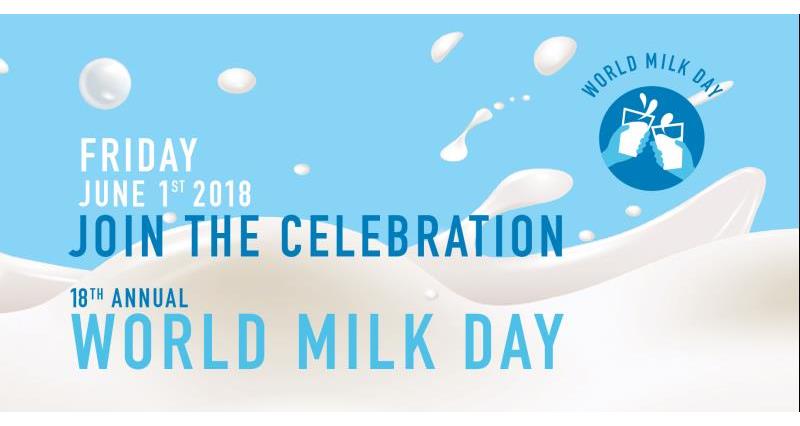 This year's World Milk Day takes place this Friday 1 June and the NFU is encouraging its dairy farmer members to get involved.
It was first established in 2001 by the Food and Agriculture Organisation of the United Nations (FAO) to help raise awareness of the dairy sector and to recognise the importance of milk as a global food. Last year there were an incredible 588 events in 80 countries worldwide.
The overarching theme for 2018 is celebrating the important contributions of dairy to sustainability, economic development, livelihoods and nutrition.
On the day, the NFU is joining forces with a Herefordshire dairy farmer whose farm is also home to a Regional Talent Centre. NFU Member Andy Bevan is staging an Under 9s football tournament on the day with nine local teams competing. The NFU and County Milk, the farm's milk buyer, will be teaming up to help sponsor and promote the event, highlight the positive, nutritional advantages linking dairy and sports and talking to players about why dairy is such an important part of their training routine. Nemi Milk will also be providing refreshing, selenium enriched milk to the players to keep them healthy and hydrated.
This is all part of a wider campaign to link World Milk Day with sport and athletics, especially relevant this year due to the football World Cup starting in a few weeks.
You can get involved by tweeting or retweeting messages showing support for British dairy farmers, promoting the nutritional benefits of milk or simply talking about how much you enjoy the white stuff. We are encouraging all dairy farmers, and anyone who is involved in the dairy industry or who simply enjoys a glass of milk to take part on the day.
The Global Dairy Platform (GDP), which is helping to coordinate global celebrations, has also started a "Raise a Glass' campaign, asking people to take photos and videos of themselves drinking a glass of milk and sharing via social media.
Upload your photos and videos to social media channels such as Twitter, Facebook and Instagram using the hashtags #WorldMilkDay and #RaiseaGlass.