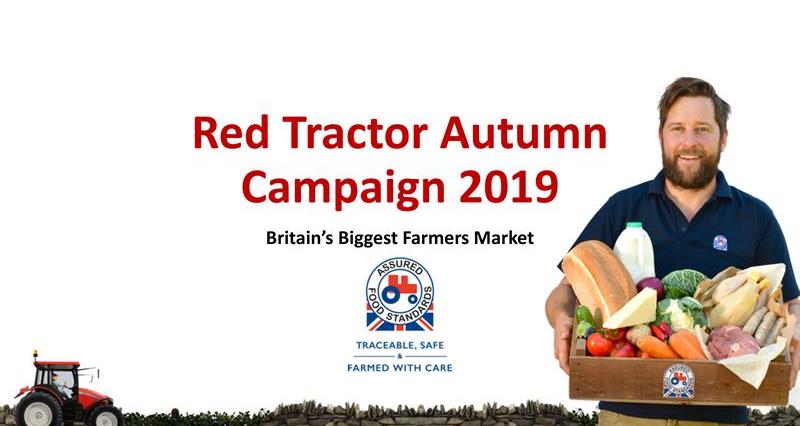 Today (30 September) marks the start of Red Tractor's £1 million campaign 'Britain's Biggest Farmers Market' which aims to showcase the safe, traceable, carefully farmed food and drink which farmers are supplying across the UK. The campaign runs for eight weeks until 10 November 2019.
As part of the campaign, a television advert will be shown across prime daytime and evening time slots including during Emmerdale and Gogglebox. In addition, there will be heavy promotion across Facebook and Instagram as well as direct emails to consumers and farmers showcasing the importance of purchasing products with the Red Tractor logo.
Furthermore, the campaign will see the launch of Red Tractor's new consumer facing website which also includes an opportunity to view the television advert.
Retailers and Red Tractor licensees are supporting the campaign with their own digital and social activity to echo the message that by buying products carrying the Red Tractor logo, consumers are buying safe and fully traceable food from British farmers and food producers.
To encourage consumers to purchase produce with the Red Tractor logo, which is valued at more than £14 billion, Red Tractor is running a competition over the next eight weeks for consumers to win up to £250 in shopping vouchers by taking pictures with their favourite Red Tractor foods.
CEO of Red Tractor Jim Moseley said:
"Looking for Red Tractor is an easy way for people to buy food which is so much more than being British. It signifies that the food has been checked every step of the way from farm to pack, has been produced safely, responsibly sourced and carefully farmed.

"Britain's Biggest Farmers Market' campaign builds on the work Red Tractor has undertaken in recent years to strengthen its farm inspection programme, improve its standard requirements and to develop a new suite of modular standards to broaden its specifications to include organic, enhanced welfare and environmentally sustainable production next year."