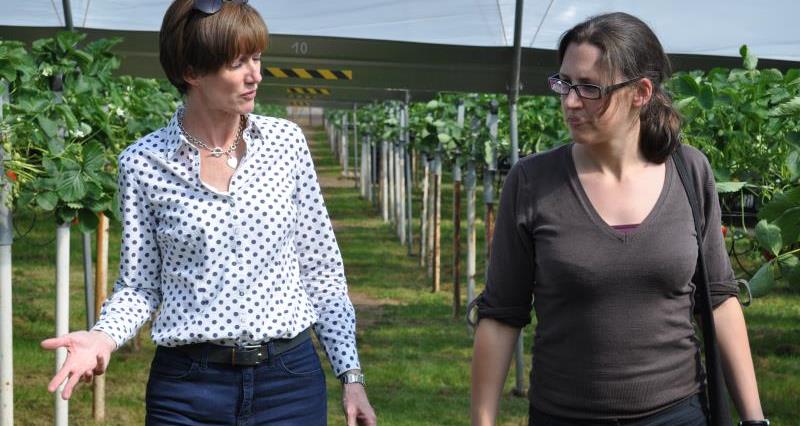 Horticulture and Potatoes board chairman, Ali Capper, provides an update on the board's activities to develop its Brexit strategy and encourages members to get engaged and share their views.
You should already be aware that the NFU's biggest ever member consultation kicked off this week with a series of meetings that will run through until mid-September, and an online member survey which I would urge all horticulture and potatoes growers to fill in to make sure your voice is heard. Importantly, this process will ensure that our emerging thinking on key policy areas is right for our members and will address their concerns in the most appropriate way.
While there are still so many unknowns with how the UK will cope outside of the EU, what is absolutely certain is that we'll need to be flexible in our approach. Most of the key policy issues are intertwined (not least, labour and trade), and much will depend on the negotiations between the UK and EU as to what may be possible. So this consultation is the beginning and not the end. It is an opportunity for members to express their views on the key principles, but the detail will no doubt be discussed for many more months to come.
Within the horticulture and potatoes board, we have already gone some way to developing our thoughts on policy in key areas, and we'll be engaging widely with our members throughout the coming weeks to ensure the options we take forward are the best for our businesses.
The four priority areas of policy that we have identified are: access to labour; crop protection; trade; and plant health. A discussion paper has been prepared for the meeting of the NFU Horticulture and Potatoes Board on 21st September and looks at a range of options and opportunities in trade, crop protection and plant health. In addition, the NFU 'options paper' sets out the pros and cons of different systems for enabling us to access labour from outside the UK. I'd very much welcome your input into these discussions, so please have a read through the papers and contact me with your thoughts.
Given the importance of Brexit, along with a number of other key priorities for our sector such as National living Wage, August has been a slightly frustrating month of inaction politically as our Ministers and MP's enjoy their summer breaks. But the Horticulture & Potatoes Board and HQ team have been very busy. We have met with Home Office to discuss the key issues around Access to Labour, have had a number of member meetings with potato businesses and growers. I have been involved in a number of hop, dessert fruit and cider apple industry meetings and we have met just this week with M&S. And we have been liaising regularly with key trade bodies and associations within our sector to ensure that our post-Brexit priorities are shared.
And with our hop harvest about to start my focus has been on our farm business as much as time has allowed in August. The hops are looking great in places, average in others and one variety did not like the mild winter and cold Spring. The apple harvest starts in about 10 days' time with Red Windsor first to be picked followed by Gala and then Braeburn, with the cider apples following in October and November.
If you want to get in touch, please email me at YWxpY2FwcGVyQG1hYy5jb20=