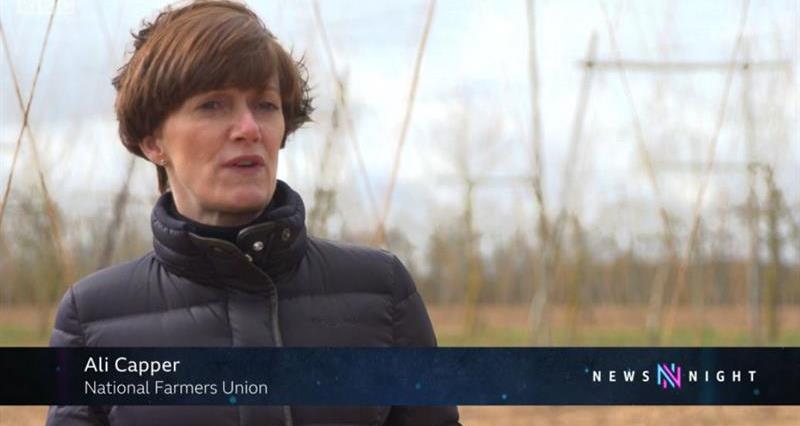 NFU horticulture and potatoes board chairman Ali Capper sets out the priority issues being addressed to support NFU members through these difficult times. She writes:
It is remarkable how much the world seems to have changed in a matter of weeks. As well as the personal challenges we're all facing - whether that is isolating from our friends or family or supporting those around us with extra shopping trips – the impacts on our businesses are wide ranging and in some cases critically damaging. I have spoken to many of you in the last 2 weeks by phone or email. Thank you for helping us shape our understanding of all the issues you are facing.
I must start by highlighting the plight of the ornamentals sector. When garden centres shut, the industry effectively closed down. It is true to say that some businesses that have a good online presence are performing well as demand from the general public for garden products and plants is very high. But many businesses are not set up to sell online and unless they can strike up a relationship with another business, they have nowhere to sell their valuable stock. Supporting the industry to re-open its market and secure funding to cover lost product is a top priority for me and the NFU horticulture & potatoes board. Many businesses are only a matter of weeks away from closure which we just cannot allow to happen. We will maintain the pressure on government until their future is secured. There is useful information here from the HTA about selling direct.
The other major issue for the sector is the ability to secure seasonal workers when international travel is so severely restricted. It is fair to say that the recruitment situation today is under control, as many businesses and labour providers are still able to get some of their much needed experienced returnee workers from the EU. And the response from the UK public to take on seasonal worker roles has also been incredibly encouraging. But the numbers needed on farm ramps up significantly in May and June and we cannot be left in a situation where, as lockdown starts to lift, UK workers go back to their day jobs and EU workers are in short supply. We are in daily dialogue with industry stakeholders, members, labour providers and Defra and are working very hard to ensure we are not left critically short. We will be making the case for compensation on any unpicked crops - the sector has to be confident to produce as much fruit and veg as possible this year. With other markets becoming quite protectionist, we will need British produce to fill the shelves.
There are many other sectors impacted by this outbreak, including potatoes, cider apples and hops, which have all suffered with the closure of food service outlets. The NFU is analysing the potential financial impact on these sectors and is building a case for government support.
I could go on. It is likely that some of the issues from the coronavirus outbreak are still not yet known, but we are working night and day to ensure all issues are identified and all solutions found. For more detailed information on what we are doing for the sector, please visit the NFU website here.
If you are concerned about anything, please look at the NFU's coronavirus hub, contact your local county adviser or get in touch directly at YWxpY2FwcGVyQG1hYy5jb20= - we will ensure you have access to the latest information.
Stay safe, and take care.