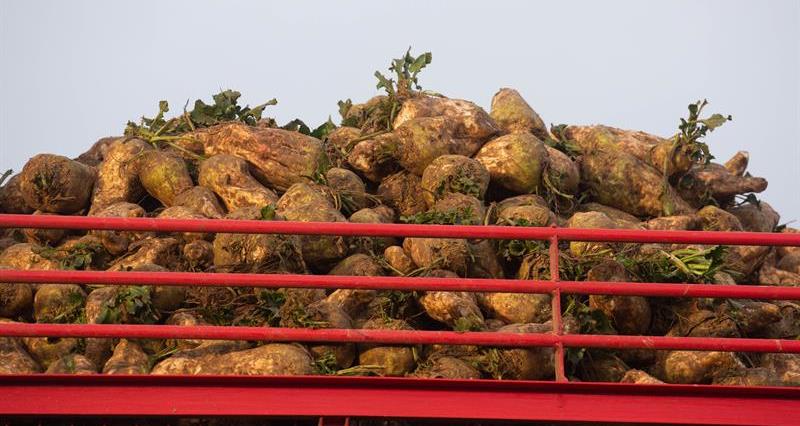 For those growers that were not using the Beet Delivery Service (BDS), there has been an adjustment to the Transport Allowance, as explained below.
You should receive a joint letter from British Sugar and NFU Sugar in the week of 9 June detailing individual payment details.
Each year an Interim Transport Allowance is paid during campaign based on the estimated costs, which are calculated by taking the costs incurred under the BDS during the previous campaign. This means that the Interim Allowance set each year has to be reviewed at the end of the campaign and any difference between the rate paid and the actual BDS costs then adjusted for.
The Transport Allowance has increased, as a result partly of price rises in the haulage rates paid and partly of increases in fuel prices. This has given rise to this payment which will be credited by BACS into your account on 16 June. See below for the full table of interim and final allowances paid.
If you require further clarification or help, please contact the British Sugar Grower Services on 0800 090 2376 or the NFU Sugar Helpline on 0870 066 1974.
2019-20 final transport allowance rates:
| | | | |
| --- | --- | --- | --- |
| Miles | Interim 19-20 | Final 19-20 | Top-up |
| 1 | £2.66 | £3.04 | £0.38 |
| 2 | £2.78 | £3.15 | £0.37 |
| 3 | £2.90 | £3.26 | £0.36 |
| 4 | £3.02 | £3.37 | £0.35 |
| 5 | £3.13 | £3.49 | £0.36 |
| 6 | £3.25 | £3.60 | £0.35 |
| 7 | £3.37 | £3.71 | £0.34 |
| 8 | £3.49 | £3.83 | £0.34 |
| 9 | £3.61 | £3.94 | £0.33 |
| 10 | £3.72 | £4.05 | £0.33 |
| 11 | £3.84 | £4.17 | £0.33 |
| 12 | £3.96 | £4.28 | £0.32 |
| 13 | £4.08 | £4.39 | £0.31 |
| 14 | £4.20 | £4.51 | £0.31 |
| 15 | £4.31 | £4.62 | £0.31 |
| 16 | £4.43 | £4.73 | £0.30 |
| 17 | £4.55 | £4.85 | £0.30 |
| 18 | £4.67 | £4.96 | £0.29 |
| 19 | £4.79 | £5.07 | £0.28 |
| 20 | £4.91 | £5.19 | £0.28 |
| 21 | £5.02 | £5.30 | £0.28 |
| 22 | £5.14 | £5.41 | £0.27 |
| 23 | £5.26 | £5.53 | £0.27 |
| 24 | £5.38 | £5.64 | £0.26 |
| 25 | £5.50 | £5.75 | £0.25 |
| 26 | £5.61 | £5.87 | £0.26 |
| 27 | £5.73 | £5.98 | £0.25 |
| 28 | £5.85 | £6.09 | £0.24 |
| 29 | £5.97 | £6.21 | £0.24 |
| 30 | £6.09 | £6.32 | £0.23 |
| 31 | £6.20 | £6.43 | £0.23 |
| 32 | £6.32 | £6.55 | £0.23 |
| 33 | £6.44 | £6.66 | £0.22 |
| 34 | £6.56 | £6.77 | £0.21 |
| 35 | £6.68 | £6.89 | £0.21 |
| 36 | £6.79 | £7.00 | £0.21 |
| 37 | £6.91 | £7.11 | £0.20 |
| 38 | £7.03 | £7.23 | £0.20 |
| 39 | £7.15 | £7.34 | £0.19 |
| 40 | £7.27 | £7.45 | £0.18 |
| 41 | £7.39 | £7.57 | £0.18 |
| 42 | £7.50 | £7.68 | £0.18 |
| 43 | £7.62 | £7.79 | £0.17 |
| 44 | £7.74 | £7.91 | £0.17 |
| 45 | £7.86 | £8.02 | £0.16 |
| 46 | £7.98 | £8.13 | £0.15 |
| 47 | £8.09 | £8.25 | £0.16 |
| 48 | £8.21 | £8.36 | £0.15 |
| 49 | £8.33 | £8.47 | £0.14 |
| 50 | £8.45 | £8.59 | £0.14 |
| 51 | £8.57 | £8.70 | £0.13 |
| 52 | £8.68 | £8.81 | £0.13 |
| 53 | £8.80 | £8.93 | £0.13 |
| 54 | £8.92 | £9.04 | £0.12 |
| 55 | £9.04 | £9.15 | £0.11 |
| 56 | £9.16 | £9.27 | £0.11 |
| 57 | £9.27 | £9.38 | £0.11 |
| 58 | £9.39 | £9.49 | £0.10 |
| 59 | £9.51 | £9.61 | £0.10 |
| 60 | £9.63 | £9.72 | £0.09 |
More from NFUonline: