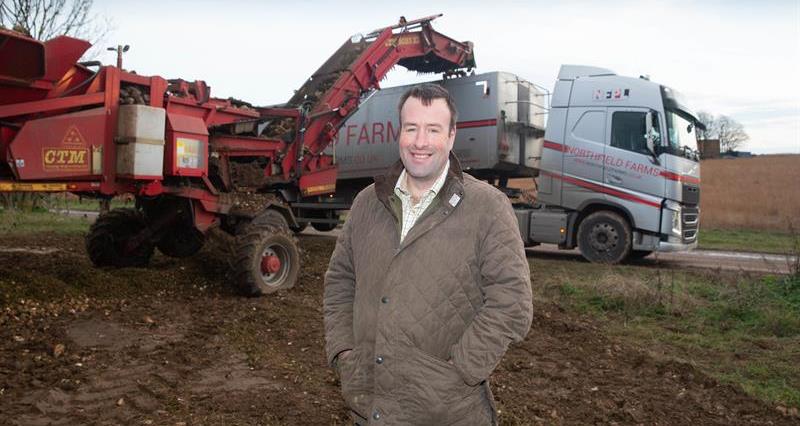 NFU Vice President Stuart Roberts shares his experience of being on-farm and in the factory with NFU Sugar. He writes:
Earlier this month I had the pleasure of joining Michael Sly and Simon Smith for a day of 'Sugar Beet Education'.
I am very happy to admit on being elected Vice President earlier in the year my knowledge of Sugar beet did not go much further than remembering as a nine year old about how my Cousins Sugar Beet harvester always used to get stuck along the banks of the River Wye and the fact that it used to be an annual event - or that's what it felt like to me all those years ago.
I was therefore delighted to accept Michael's invite to explore as many aspects of the sugar sector as we could fit in in one day and I was genuinely blown away with what I saw. From driving Simon's harvester to delivering the beet and then seeing every aspect of the Wissington Factory, very few stones where left unturned.
A few years ago I was told the key to understanding the sugar industry was to first get my head around haulage. I can now see why. I can also see why the harvesting period is almost affectionately called a 'campaign', Simon certainly appears to run his operations with almost military precision and I take my hat off to him for how he has organised his business in a way that appears at times to challenge the status quo.
Having spent a lot of time in the past in a wide range of food processing facilities I thought I'd seen most types of operations however, being stood high above the factory late into the evening you cannot fail to be impressed with the scale of the operation, although I must point out Michael's dislike of heights meant he was not enjoying the view quite as much as I did.
Read more below...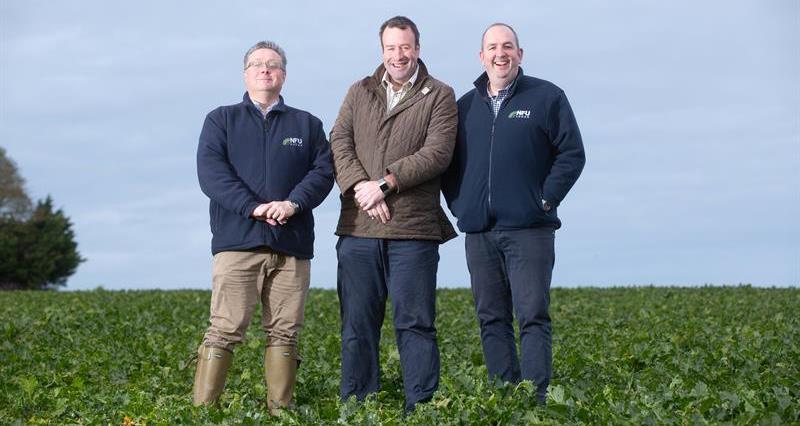 Above: (left to right) Michael Sly, NFU Sugar Board Chairman, Stuart Roberts, Simon Smith, NFU Sugar Board Vice Chairman
A particular highlight of the day was meeting the NFU Sugar team at Wissington and seeing how they operate alongside British Sugar staff to ensure transparency and integrity in the farmer / processor transaction in the Tarehouse and within the beet intake process.
It is a real value to growers to know they have NFU Sugar staff on site looking after their interests as beet is weighed, graded and evaluated.
It was amazing to see the scale of operations at Wissington and you can very much see how British Sugar are able to compete so ably with global sugar processors. After all it is in both farmers and processors interests to make British sugar production a success story which can deliver benefits for all those involved in every aspect of the supply chain.
At the end of a long day I certainly knew more than I did at the start, but equally I suspect I just scratched the surface but what I learnt more than anything is that it is great to see in NFU Sugar we have a team of people who are dedicated to supporting all beet growers from across the UK.
Below: Driving a sugar beet harvester 101. Martin Thompson, Simon's harvester driver talking through the process.