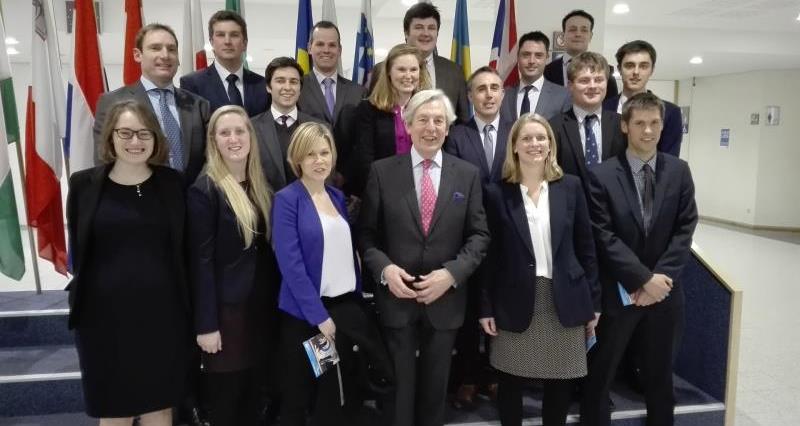 With the EU referendum drawing ever closer it is becoming even more imperative that farmers are fully informed around the whole debate and its impact on UK agriculture.
Diane Armitage, NFU sugar adviser was last week joined in Brussels by beet growers and sugar industry representatives to get some key insights on the 'In or Out' debate:

She writes:
There are a lot of unknowns about what the UK's relationship would be if we left the EU. For example, what tariffs we would have to pay to access European sugar markets, what level, if any, agricultural subsidies we would receive and how this could affect our competitiveness compared to other sugar producing countries in the EU.
To answer some of our questions the NFU arranged for the ten growers and four British Sugar staff who are taking part in this year's Sugar Industry Programme to join us in Brussels to look at the lobbying work that takes place by the NFU in the European Parliament and what an exit would mean for our sector.
Interestingly we were joined by the BBC who were filming a segment for BBC East Sunday Politics Show on farming's relationship with the European Union and were eager to hear the opinions of the growers on this very hot topic.
The group took our opportunity to quiz UKIP MEP Stuart Agnew and Conservative MEP Geoffrey van Orden on their position on the EU referendum and how leaving the EU could potentially affect farming. Mr van Orden made it clear that in his view if the UK was outside the EU, we would have to deal with a similar level of regulations in order to access EU markets.
During our time at the British Agricultural Bureau (the NFU's office in Brussels), we meet with the European Crop Protection Association where we discussed the legislative pressures on plant protection products from the EU. Growers found it very informative to hear how EU policy is created and discussed how the UK can influence policy within the EU.
We finished our trip to Belgium by visiting sugar beet seed breeders Sesvanderhave to find out their research priorities and to discuss what growers would like to see in the sugar beet crop of the
Having spent these few days in Brussels looking closely at the EU debate. it is clear that all farmers and growers need to engage with the discussion surrounding the EU referendum. How many of our questions can be answered conclusively before polling day remains to be seen.